How To Cash a Check on Cash App: 4 Easy Steps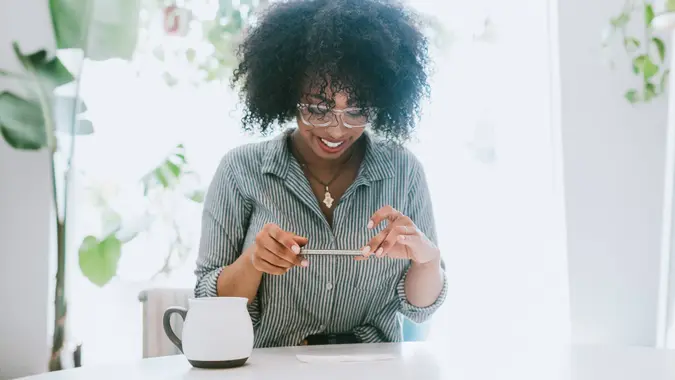 RyanJLane / Getty Images
Can you cash a check on Cash App? You sure can — it's one of the easiest ways to cash a check on the go. Cash App allows you to deposit checks electronically, so you don't have to worry about waiting in line at the bank.
How Do You Deposit a Check on Cash App?
Cashing a check on Cash App is a fast and convenient way to get your money quickly. All you have to do is use the Mobile Check Capture feature. To get started, follow these instructions.
Open Cash App on your mobile device and tap on your account balance.
Next, scroll down and select the "Deposit" option. From there, you'll be able to choose the "Check" option.
Then, take photos of the front and back of your check.
Finally, enter the date and the amount of the check.
After completing these steps, you can submit the check to Cash App for approval. Once your check has been submitted, Cash App will review it and notify you if it has been accepted.
Cash App Check Requirements and Fees
Before submitting a check on Cash App, make sure it meets the eligibility requirements. To use Mobile Check Capture, the check must be:
In your possession and written out to either you or jointly to you and another person.
Denominated in U.S. dollars.
Signed by the issuer.
Below the required maximum amount.
Within the limit of total checks you are allowed to submit for daily, weekly or monthly processing.
Dated not more than 90 days before you submit it.
Not previously processed.
To ensure there are no processing issues, carefully review these requirements before cashing a check on Cash App. Otherwise, your check deposit may be delayed or rejected.
There are some things you should know about Cash App limits. When using Cash App, you can send a maximum of $250 within 7 days and receive up to $1,000 within 30 days. However, you can increase your limit by confirming your identity. Simply submit your full name, date of birth and the last 4 digits of your Social Security number.
Once your account is verified, you'll be eligible to send or receive up to $1,000 within any 30-day period.
What about fees? Fortunately, Cash App doesn't charge any fees for depositing checks.
What Happens After You Have Deposited a Check?
Once you've submitted your check for review, you must wait for Cash App to review the check and notify you if it has been accepted. The funds become available in your Cash App account if your check is accepted. 
Cash App reviews submitted checks every business day, with the cutoff time set to 4 p.m. PST. Some checks, such as U.S. Treasury checks, may clear as early as one business day after submission. However, it could take up to 15 days for the funds to be available, depending on who issued the check.
Make sure to store the original paper check in a safe spot. Cash App instructs users to keep it for two weeks, then discard it unless told otherwise.
It's important to be reachable after you submit a check through Mobile Check Capture. Double-check that all your contact info in Cash App is accurate, and be sure to keep an eye out for emails and texts from Cash App.
Key Takeaways
Cash App is a popular app for making mobile money transfers. Many users have found that depositing a check on Cash App is a fast and convenient way to cash their checks. The app makes it easy to deposit your checks on the go in just a few simple steps. However, make sure that your check meets the eligibility requirements before submitting a deposit. In addition, remember to keep the original check in a safe place for two weeks in case of processing issues. If approved, your funds may show up in your account in as little as one business day.
Editorial Note: This content is not provided by any entity covered in this article. Any opinions, analyses, reviews, ratings or recommendations expressed in this article are those of the author alone and have not been reviewed, approved or otherwise endorsed by any entity named in this article.