Does McDonald's Take Apple Pay?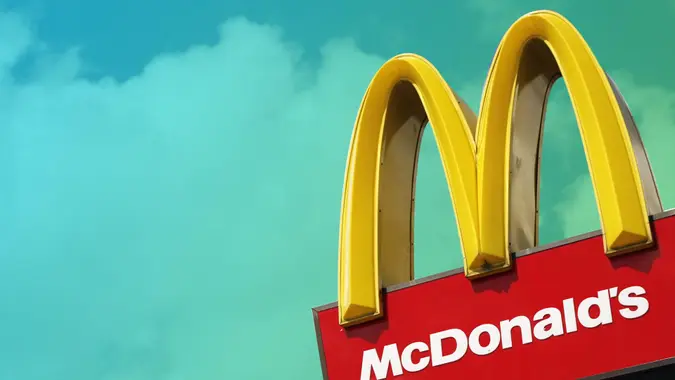 With about 40,000 locations worldwide on almost all continents, McDonald's is one of the largest fast-food chains in the world. As of 2022, McDonald's allows all customers to pay for online, takeaway and eat-in orders using Apple Pay.
Apple Pay is available only on Apple devices including iPhones, iPads, Apple Watches and Macs. To use it, you will need to set up Apple Pay by navigating to Apple Wallet on your Apple device and inputting at least one credit or debit card.
Once you are done with that, here's how you can use Apple Pay in person, on the McDonald's app and more. 
How To Use Apple Pay at McDonald's Restaurants
To pay using Apple Pay on your iPhone or Apple Watch at McDonald's restaurants — including at their cashier counter, self-service kiosk and drive-thru — follow these steps: 
Opt to use Apple Pay on your Apple device after you place an order.
Double-click the side button or Home button on your iPhone — or the side button on your Apple Watch — to bring up the Apple Wallet.
Unlock your Apple device using your passcode, Face ID or Touch ID, if needed. The primary card associated with the Apple Pay account will pop up first on the device's screen. If you do not want to pay using the primary card, you can tap on the stack of cards in the Wallet and select another form of payment. 
Hold the device near the card reader. Because Apple Pay uses radio waves for contactless communication with card readers, you will not need to touch your device to the reader directly.
Wait for the payment to be confirmed. When the payment is complete, you will see the word "Done" with a checkmark on your Apple device.
How To Use Apple Pay on the McDonald's App
You can also use Apple Pay to pay for orders created in the McDonald's app as follows: 
Proceed to checkout after creating an order using the McDonald's app on your iPhone. 
When prompted, select "Buy with Apple Pay" as the payment method. This should automatically appear as a payment option as long as you have Apple Pay set up at the time of purchase. After Apple Pay launches, the pop-up will show your primary card in the Wallet. As in the steps above, you will be able to switch cards used for payment, if needed. 
Confirm the transaction using a double-tap followed by passcode, Face ID or Touch ID, if needed. 
Wait for the payment confirmation — you will see the word "Done" with a checkmark. 
How To Use Apple Pay on Uber Eats
McDonald's also accepts orders via other food delivery apps that support Apple Pay, such as Uber Eats.
Here's how you can pay for your McDonald's order created on Uber Eats with Apple Pay: 
Add Apple Pay to your Uber Eats Wallet. For this, open Uber Eats, go to "Account," and click on "Wallet." Next, click on the Apple Pay logo under "Payment Methods" and follow the instructions that pop up.
Create your McDonald's order and then tap on "Go to checkout."
Tap on the payment method selected under the order total, and choose Apple Pay when the next screen pops up. Next, close that screen and tap on "Next."
Follow the prompts on your screen. You will be guided through a checkout process similar to the one detailed for the McDonald's app. 
What Are the Fees Associated With Using Apple Pay at McDonald's?
Apple Pay is free to use for all Apple users. McDonald's does not levy additional fees for using mobile wallets such as Apple Pay.
Any fees levied on your Apple Pay transaction will most probably come from your bank or credit card company.
Is It Safe To Use Apple Pay at McDonald's?
Apple Pay touts itself as a relatively safe alternative to credit and debit cards or cash because no one can use your account without your passcode, and merchants cannot see your payment data during transactions. 
When you use Apple Pay to make a payment, information transmits via a unique device account number assigned to each method of payment. That is, the payment methods linked to your accounts are encrypted in such a way that when you make a purchase, no one can see your card number, PIN or name on your card. 
Apple does not store payment data on its servers, but Apple Pay users can see their recent transactions through their Wallet app. Therefore, Apple Pay is safe to use at not only McDonald's and other similar fast-food restaurants but also many major retailers that accept it. 
Bottom Line
Does McDonald's take Apple Pay? Yes, Apple Pay is an easy and convenient option that you can use to shop at nearly any store that accepts major credit and debit cards. It can also be an excellent choice for picking up a quick lunch or breakfast at McDonald's without digging through your wallet or counting change. Consider setting up Apple Pay to access quicker payments with less risk of fraud and identity theft. 
Apple Pay at McDonald's FAQ
Do all McDonald's restaurants near me accept Apple Pay?

All McDonald's restaurants in the United States accept Apple Pay on all online and in-person transactions.

Can I use Apple Pay at a McDonald's drive-thru?

You can use Apple Pay when checking out at a McDonald's drive-thru. However, you may need to hand over your device to the cashier to physically reach the card reader and complete the payment. If you are uncomfortable with this, consider using the McDonald's app or self-service kiosk.

How do I use Apple Pay at a McDonald's self-service kiosk?

To use Apple Pay at a McDonald's self-service kiosk, hold your iPhone close to the card reader of the device after placing your order. The kiosks work similarly to other self-checkout units, so you can use the same process detailed above to complete your order.
Information is accurate as of Oct. 21, 2022.
Editorial Note: This content is not provided by any entity covered in this article. Any opinions, analyses, reviews, ratings or recommendations expressed in this article are those of the author alone and have not been reviewed, approved or otherwise endorsed by any entity named in this article.
Our in-house research team and on-site financial experts work together to create content that's accurate, impartial, and up to date. We fact-check every single statistic, quote and fact using trusted primary resources to make sure the information we provide is correct. You can learn more about GOBankingRates' processes and standards in our editorial policy.