Can You Send a Check Through Email?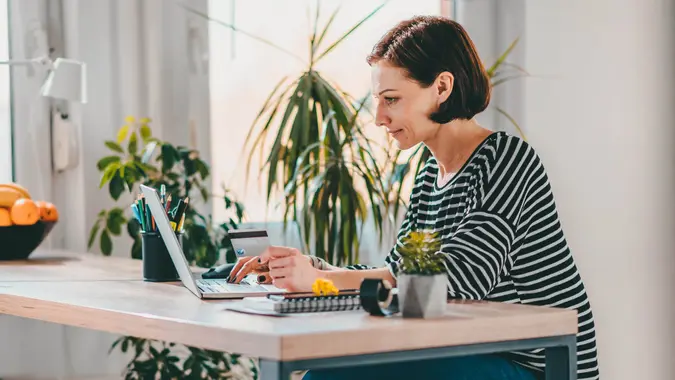 Kerkez / Getty Images/iStockphoto
You have a bill to pay. You write the check, stuff it in the envelope, put the stamp on it and hope it will arrive before the payment deadline so that you don't incur a late fee.
You might find yourself wondering: Can't I just email the check? You can, but it isn't a commonplace occurrence in today's financial system. You're more likely to be on the receiving end of an emailed check than sending one.
Read on to learn more about the world of digital checking.
How To Email a Check
It isn't as easy as writing a paper check, but the recipient will get your check immediately if you send it by email. But there are limitations on who will accept a check by email. Your credit card and utility companies have other systems set up to electronically transfer money, like a check by phone. Instead, ask a small business — your dentist or landscaper, maybe — if paying by a check by email would be acceptable to get it in their hands faster.
You'll need to sign up for third-party help to email a check. Payment platform company Checkbook is one of those companies. To email a check, you'll need to create an account with Checkbook, sharing your personal and banking information, before you can create your first check.
Once that is done, you'll be able to "write" your check and email it to the recipient, who then can access it for printing. You'll pay a fee of $1 per check.
How E-Checks Work
An electronic check, known as an e-check, functions in the same way as a regular paper check and is gaining in popularity among businesses. The check will be paid electronically.
When you write a paper check, you list the recipient's name and the amount you want to transfer from your checking account to the payee, then sign the check.
With an e-check, you agree to the amount you want withdrawn from your account and transmit it electronically to the recipient. Instead of signing the paper check, you'll give your approval electronically, either by accepting a website's terms or conditions, by voice or by a signed contract, according to PaySimple, a company that helps businesses with their billing and payment systems.
You won't be writing a physical check or emailing one.
Who Uses E-Checks?
For now, businesses small and large both use the e-check system to receive and distribute funds. Individual use is less common. Businesses can accept e-checks from customers for payments, pay vendor invoices or distribute employee payroll via e-checks.
Are E-Checks Ever Emailed?
E-checks from businesses can arrive via email. If you sell cakes to a restaurant, for example, you can tell the restaurant you'd like to receive your pay via email through a third-party provider. The Deluxe Payment Exchange is one platform that will email checks to recipients who prefer to be paid that way.
Deluxe Payment Exchange will notify the recipient by email when the check is ready. Recipients can choose whether to deposit the money electronically into their bank account or print the check and take it to the bank.
With Deluxe eChecks, there isn't a fee for the check recipient. The business will pay between 48 and 60 cents per e-check, depending on the plan selected.
How Is an E-Check Paid?
The Automated Clearing House, or ACH, network is used to transfer the money from an e-check from the payer's checking account to the recipient's checking account. It's the same system used to transfer payments such as your payroll check that is directly deposited, government benefit checks and tax refunds.
Should I Be Paying by E-Check?
If you want to send your niece $100 for her 21st birthday, no. Paying by e-check requires a special setup, and that's why e-checks primarily are a tool for small businesses. You're likely to send her a paper check or slip a hundred-dollar bill into a card and hand it to her at her birthday party. If she's a young woman who is all-digital, she probably will prefer payment by the commonly accepted Venmo, PayPal or Zelle methods.
But the truth is, you might already be writing e-checks and not even know it. When you agree to pay your rent, car payment or other monthly bill electronically, you're actually doing so by e-check, according to PaySimple. Those are known as recurring ACH payments or direct debits — synonyms for a recurring e-check payment.
Authorizing an E-Check
Remember when your apartment property manager had you fill out and sign a form agreeing for your rent to be paid automatically, and electronically, on the same date each month? You were authorizing an e-check.
PaySimple says you must give your permission to pay by e-check. A business will request your authorization, input your payment information into its processing software and then hit the "save" button to start the payment process.
Why Do Businesses Accept E-Checks?
Financial software company Intuit, on its QuickBooks blog, says businesses get many benefits if they accept e-checks. They include:
Cost-effectiveness. It costs less for businesses to process e-checks than credit card payments, for example. In fact, Intuit says businesses can reduce their payment processing costs by as much as 60% — helping their bottom line.
Ease of use. That's especially true for businesses that process a large number of paper checks. By converting to e-checks, Intuit says, the chances of human mistakes are reduced, and software makes it easy to reconcile accounts.
Reliability and security. The ACH network has proved to be a reliable way to transfer money. Plus, e-checks have data encryption to protect checking account information.  
How Long Does It Take for an E-Check To Clear?
The time it takes for a business to receive e-check funds varies by financial services provider, but in general, the funds will land in a recipient's account in three to five days, according to PaySimple.
The Takeaway
Digital checking is the future. Records of the Federal Reserve Board, which keeps track of the volume of checks passing through banks, show that in 1992, an average of 19 million checks a day were processed. In 2021, the number was 3.7 million. Digital payments have vastly cut into paper payments.
It might not be too far in the future that you'll email checks for your everyday transactions. While e-checks are popular with businesses, the trend hasn't fully hit the individual market yet.
Information is accurate as of Aug. 23, 2022.
Our in-house research team and on-site financial experts work together to create content that's accurate, impartial, and up to date. We fact-check every single statistic, quote and fact using trusted primary resources to make sure the information we provide is correct. You can learn more about GOBankingRates' processes and standards in our editorial policy.