Starbucks, Best Buy and More: Using the Bakkt App To Pay With Bitcoin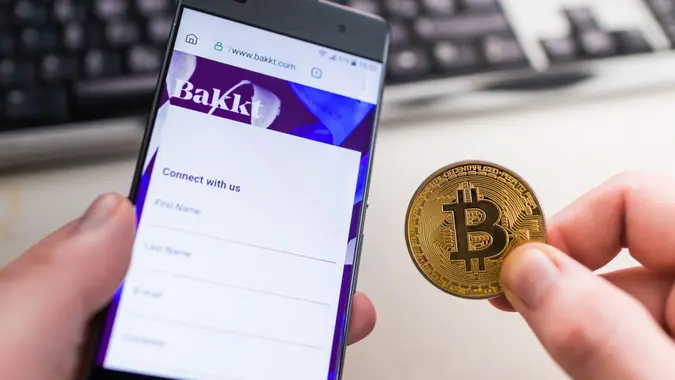 24K-Production / Getty Images
If you're a fan of paying for purchases with Bitcoin and other cryptocurrencies, the Bakkt App may be right up your alley. One of the complaints of cryptocurrencies is that they aren't particularly useful in daily life, but the Bakkt App is seeking to change that. Not only does the Bakkt App function as a digital wallet, allowing you to access your cryptocurrencies, it also allows consumers to spend those assets at an ever-growing list of popular merchants. Here are the ins and outs of how you can use the Bakkt App, along with a list of some popular retailers that accept the app.
See: The Pros and Cons of Getting Paid in Cryptocurrency
Find Out: Where Does Cryptocurrency Come From?
How Does the Digital Wallet Function of the Bakkt App Work?
The Bakkt App is essentially an aggregator of digital assets, even beyond cryptocurrencies. Using the Bakkt App, you can collect your digital gift cards, frequent flyer miles, hotel points and other rewards program assets in a single place and then convert them into cash for use at participating merchants. For example, if you want to use some airline miles to buy a cup of coffee at Starbucks, you can convert those assets to cash right on the app. If you want to make a purchase at Best Buy using your Bitcoin, the same exact process applies.
See: 10 Major Companies That Accept Bitcoin
Find Out: What Is the Next Big Cryptocurrency To Explode in 2021?
Which Merchants Accept the Bakkt App?
When the Bakkt App launched on March 30, it had five consumer partners:
Starbucks

GolfNow

Fiserv

Choice Hotels

Best Buy
In a relatively short time, the app has expanded its reach and now works with seven top financial institutions, two premier airlines and over 1,500 additional companies. Bakkt doesn't provide a list of partners where you can use the app, but it's available at any merchant that accepts Google Pay or Apple Pay. If you want to see if a particular merchant is on the list, simply open the Bakkt App and you'll know whether or not they are a partner.
See: Is It Too Late To Invest In Cryptocurrency?
In addition to simply accepting payments via the Bakkt App, many merchants also offer special deals for app users. Best Buy, for example, provides exclusive deals to Bakkt users, while Choice Hotels is expanding the options for how its members can use their points through the Bakkt App. 
One of the most recent partners to join the Bakkt App is Quizno's, which is offering $15 in Bitcoin for new users who download the app and use it to pay at the store.
Find Out: If You Invested $1,000 in These Cryptocurrencies a Year Ago, Here's How Much You'd Have Now
Is the Bakkt App Secure?
Bakkt prioritizes security through a wide variety of advanced protocols. Bakkt stores client private keys on hardened systems in cold storage and on FIPS 140-2 level 3 HSMs in warm storage. Bakkt uses a full-time cybersecurity time to central control both company-developed applications and those procured from external vendors. In addition to implementing controls for disaster recovery and a business continuity plan, Bakkt hosts on-site, armed security 24 hours a day, seven days a week. 
More From GOBankingRates
Last updated: Aug. 20, 2021