6 Ways To Get Cash Without an ATM Card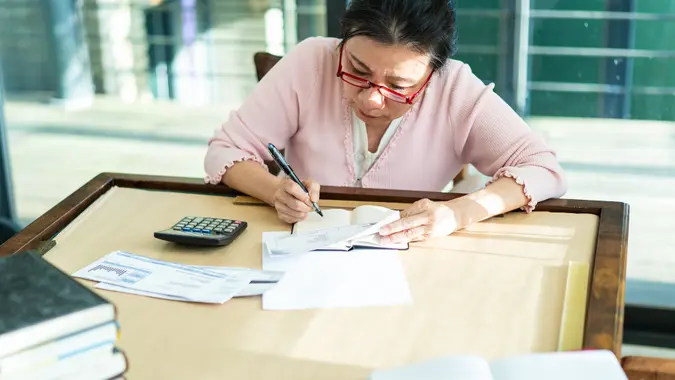 miodrag ignjatovic / Getty Images
If you're in a situation where you need to get cash and don't have an ATM card — whether you lost it, left it at home or simply do not have one — what should you do? 
Explore: GOBankingRates' Best Credit Cards of 2023
Learn More: Protect Your Financial Future With Gold and Silver
The Future of Finances: Gen Z & How They Relate to Money
The good news is there are several options available to securely withdraw cash which do not require an ATM card. Some options are financial stalwarts which can always be relied on when you need help. Others are relatively recent advances for getting cash, like using features in your smartphone. Follow these tips to get cash without an ATM card.
Visit Your Nearest Bank Branch
If you don't have an ATM card but routinely use the ATM services at your nearest bank branch, you can still go inside this branch for cash purposes. 
Andrew Lokenauth, personal finance expert at Fluent in Finance, said one of the most straightforward ways to get cash without an ATM card is to visit a bank branch and withdraw money from your account. Keep in mind the teller will need to see a photo ID and you should be able to share your account information with the teller to make a secure withdrawal.
Write a Physical Check
Do you have a checkbook handy with checks for your account? Lokenauth recommends writing yourself a physical check. Then, take it to a bank branch or check cashing service to cash it.
Take Our Poll: Are You in Favor of More Inflation Relief in 2023?
Use a Virtual Debit Card
"Some banks offer virtual debit card options which can be used to withdraw cash at ATMs without the physical card," said Lokenauth. 
Use a Prepaid Debit Card
If you don't have a virtual debit card option, Lokenauth recommends looking into prepaid debit cards. These cards can be loaded with cash and used to withdraw money at ATMs or make purchases.
Look Into Digital Wallet Options
Do you use Apple Pay or Google Pay? Some digital wallet options, Lokenauth said, allow you to link your debit card to the app. If this is the case, you may be able to link the account and use the app to withdraw cash at participating banks or retailers.
Another digital wallet option worth exploring is PayPal. Lokenauth said this is a widely accepted digital wallet which allows you to access your money through ATMs or by transferring funds to your bank account.
Credit Card Cash Advance
"If you have a credit card, you can withdraw cash at an ATM or bank branch using the credit card," said Lokenauth. However, Lokenauth recommends using this option with caution since cash advance transactions often come with high fees.
More From GOBankingRates