Amazon Stock Price Prediction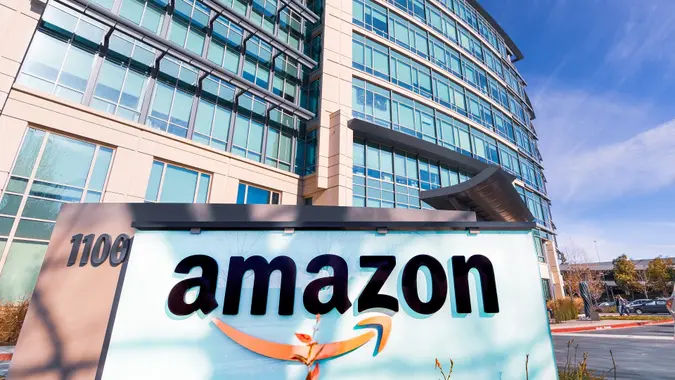 Sundry Photography / iStock.com
Amazon (AMZN) is one of the most dominant companies in the world. Whether it's consumer products or business services, almost everyone has interacted with an Amazon service at some point.
An investment 10 years ago would have produced multi-bagger returns — over six times in Amazon's case. But what's the current Amazon stock price prediction, and will it continue its dominant streak in the future?
About Amazon
Although Amazon needs no introduction, here is a quick breakdown of its core businesses and achievements:
Amazon is the largest online retailer in the world by market capitalization.
Amazon Prime Video is the second-largest streaming service in the world, with roughly 200 million subscribers. 
Amazon Web Services is the largest cloud infrastructure globally.
Along with this, Amazon has a foothold in multiple other industries through strategic acquisitions the company has made over the years. Some of the most notable businesses now owned by Amazon include:
Whole Foods — Groceries
Audible — Audiobooks
Zappos — Apparel
Twitch — Live entertainment streaming
MGM — Content productions
Blink — Home security
Ring — Smart homes
Comixology — Digital comics subscription service
Additionally, Amazon is in the process of acquiring the following:
iRobot — Consumer robots and intelligent home innovation
One Medical — Subscription-based consumer healthcare management
It also has a significant investment in electric vehicle manufacturer Rivian, as well as the food delivery service Grubhub.
Is Amazon a Good Long-Term Investment?
Amazon stock rose sharply during the global COVID-19 pandemic but has since forfeited much of its gains due to uncertain market conditions. Although the stock is off to a great start in 2023, shares are still down 39% in the last year.
In the company's most recent earnings report, released on Feb. 2, Amazon reported revenues that were up 9% compared to a year ago and beat Wall Street's expectations by $4 billion, according to CNBC. However, 2022 was Amazon's slowest year ever in terms of growth due to inflation. Coming on the heels of America's return to in-store shopping, rising prices and interest rates helped slash the value of Amazon stock by nearly half in 2022.
Amazon issued cautious guidance for the first quarter of 2023, forecasting net sales of $121 billion to $126 billion, within the range of Refinitiv analysts' $125.1 billion estimate. Amazon's own estimate anticipates an unfavorable impact of 210 basis points (2.1%) due to foreign exchange rates, according to the earnings release.
Regardless of disappointing results in any given quarter, analysts and investors alike believe that Amazon shows a lot of promise for the long term.
The Bull Case for Amazon
The most powerful force behind Amazon's success has been its ability to operate at scale to increase revenues and profit. One of the major ways it does this is by constant investment in research and development and identification of new market opportunities. Two major pathways that Amazon has targeted in recent years are the digitalization of shopping and telehealth. 
Amazon Go and Amazon's Just Walk Out technology have been developed for cashier-less payments. The self-checkout system market size alone is expected to reach over $10 billion by 2030, according to Global Market Insights.
Amazon Care has been a new avenue the company has explored in telehealth, another market separately estimated to be worth more than $787 billion by 2028, according to Grand View Research.
It's also important to acknowledge the success of existing segments. Amazon Web Services, for example, grew another 20% year over year as of Q4 2022. Even its advertising segment grew 19% year over year, to $11.56 billion — notable in light of weak ad numbers from fellow tech companies like Alphabet, Snap and Meta.
This is a primary wing of the Amazon model that makes up a significant portion of the company's total revenue.
The Bear Case for Amazon
Amazon doesn't necessarily face issues because of its business model — it has ample resources, over $36 billion in cash and a diversified portfolio of investments across sectors. The primary concern is macroeconomic conditions and their knock-on effects.
Less consumer spending and cost-cutting measures by businesses could harm overall revenues and profitability for the business. In addition, widespread inflation is affecting Amazon's foreign exchange transactions.
Additionally, Amazon is being investigated by the Competition and Markets Authority in the U.K. concerning a claim that it uses unfair practices to drive consumers to its own products and those of merchants who use its order fulfillment service. EU regulators are also keeping a close eye on the tech behemoth, which could result in fines if they identify antitrust issues.
Downsides To Consider Before Investing In Amazon Stock
Not all of Amazon's investments have been wise moves. Its recent investment in EV manufacturer Rivian proved to be a questionable bet, as Amazon recorded a $3.9 billion loss in Q2 2022 in relation to the purchase of its shares. By October, Amazon had lost a whopping $11.5 billion on its investment in Rivian in 2022 alone. While Amazon's third-quarter 2022 net income included a pretax valuation gain of $1.1 billion from its Rivian stock, it reported a $2.3 billion loss on its investment in Q4.
Ongoing inflation concerns, dampened consumer sentiment and retractions in spending all have the potential to affect Amazon's core businesses. Despite the rapid growth of AWS, other segments haven't performed quite as well.
Amazon reported a net loss of $2.7 billion for the 2022 fiscal year. The segment that saw declines was Amazon's online stores. Costs to maintain this area of the business have risen, and the worst may be to come as markets come to grips with the possibility of a recession. Even though sales have improved over the last three quarters, a full-blown recession would likely take some of the shine off those results.
Is Amazon a Buy, Hold or Sell?
Amazon has a consensus "buy" rating. Of 56 analysts polled by CNN Business, 43 have a "buy" rating, nine have an "outperform" rating, three have a "hold" rating and one recommends selling.
Final Take
If a severe recession were to take hold in America, Amazon would likely suffer in the short term. However, with Amazon's long-term prospects still shining and the shares currently sitting in value territory, the stock could be a good buy for those with the right investment objectives and risk tolerance.
FAQ
The answers to these frequently asked questions might help you determine whether Amazon stock is a good fit for your portfolio.
Is Amazon stock expected to go up?

Many, but not all, analysts expect Amazon to go up in the next 12 months. According to CNN Business, 47 analysts offering 12-month price forecasts had a median forecast of $135, a nearly 38% increase over the stock price on Feb. 9. The low forecast is $90, which would be an 8% decrease. The high prediction is $164, nearly 68% above the current price.

What will Amazon stock be worth in 2025?

It's impossible to know for sure what stock prices might be several years out. However, Barron's reported that under the right conditions, Amazon stock could more than double over the next few years.

Where will Amazon stock be in five years?

Share prices will depend on many factors that can't be quantified years in advance, which makes five-year stock forecasts purely speculative. But InvestorPlace, relying on an extensive set of assumptions, predicted in November 2022 that Amazon stock could reach or surpass $200 in five years.

What will Amazon be worth in 2030?

Reliable sources of stock analysis have not issued predictions for 2030. However, Amazon is one of the world's largest companies. Its dominance in online retail and cloud infrastructure and strong positions in additional industries ranging from telehealth to robotics make it likely that the company will continue to thrive over the next decade and beyond.
Daria Uhlig and John Csiszar contributed to the reporting for this article.
Data is accurate as of Feb. 10, 2023, and is subject to change.
Our in-house research team and on-site financial experts work together to create content that's accurate, impartial, and up to date. We fact-check every single statistic, quote and fact using trusted primary resources to make sure the information we provide is correct. You can learn more about GOBankingRates' processes and standards in our editorial policy.