Can You Buy Lego Stock?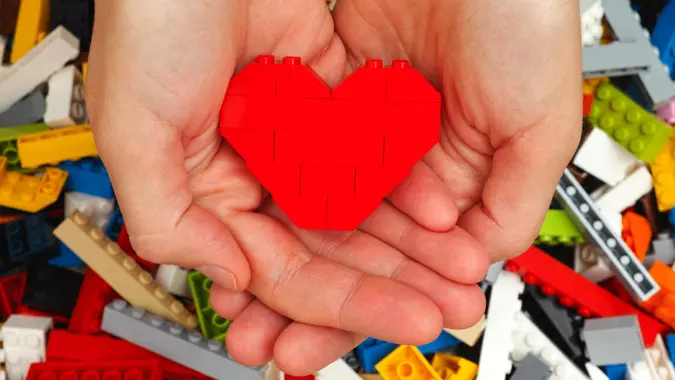 Ekaterina79 / Getty Images
LEGO — those interconnecting building blocks that have stimulated the creativity of generations of children — are toys that are at once classic and cutting edge. Children of all ages can use the blocks to create everything from cars and houses to intricate starships and castles from popular movie franchises like Star Wars and Harry Potter.
The LEGO brand is dedicated to imagination, creativity, fun and learning for children; caring for the customer, company and environment; and continuous improvement in quality.
Does Lego Have Stock?
The LEGO Group is a privately held company, so it does not have stock.
You cannot buy LEGO stock at any price on the NYSE or any other exchange. The company is 75% owned by Kjeld Kirk Kristiansen, grandchild of the founder, Ole Kirk Kristiansen, and 25% by the LEGO Foundation.
The Kristiansen family's holding and investment company, KIRKBI A/S includes the company's strategic and investment activities. The LEGO Foundation is dedicated to improving learning for children through the power of play.
How To Invest in Lego
Even though you cannot invest in LEGO company stock, you can invest in LEGO products. Many LEGO sets are considered to be collectible, and some sell for many times their original retail price, even if they have been used. LEGO introduces new sets all the time, and they often retire older ones. This makes the older, retired sets valuable to collectors, which can drive up their prices in the resale market.
Brick Economy is a website that tracks the prices of LEGO sets. It estimates the following prices for LEGO sets:
The Hogwarts Express set from the Harry Potter Prisoner of Azkaban set: originally retailed for $39.99, is now worth $256.64 after being retired
The Technic Combine Harvester set: originally sold for $69.99 and is now valued at $365.87 after retirement
The Republic Attack Gunship from the Star Wars The Clone Wars collection: originally retailed for $119.99 and is now valued at $691.01
One of the most expensive LEGO sets is the Star Wars Ultimate Collector Millennium Falcon, released in 2007, which has an average selling price of $2,154 for an unopened set, and $972 for a used set.
The History of Lego
LEGO is an abbreviation of "leg godt" which is Danish for "play well." In 1932, LEGO was founded by Ole Kirk Kristiansen.
Kristiansen was born near Billund, Denmark in 1891, one of 13 children. From a young age, he worked on neighboring farms to help support his family, and eventually became a journeyman carpenter. He went into the military, and then traveled to Norway and worked in a factory that produced wood products.
The Stock Market Crash Changes Everything
When the stock market crashed in 1929, restrictions on U.S. and U.K. imports spelled disaster for many Danish farming communities. Most of Kristiansen's customers for his carpentry work were farmers, so the consequences of the Great Depression were felt in his business, too.
Kristiansen read a magazine article about manufacturing products that were easily marketed, including toys. His family didn't agree that making toys would provide a living, but he proved them wrong.
Kristiansen focused on toy production, calling his company LEGO, a word which, in addition to being a contraction of the Danish words for "play well," also means "I put together" in Latin. Early products included toy ducks, cars, yoyos, airplanes and one of the company's mainstay toys, trains.
Plastic Toys Are the Wave of the Future
By the late 1940s, the company added plastic toys to its product line. By 1949, the company had introduced the "Automatic Binding Brick" which was the forerunner of the LEGO we know today.
In 1958, the company introduced the interlocking brick that the company is now known for. Despite its reputation as the bane of every barefoot parent's existence, the LEGO brick offers unlimited opportunities for creative play. It has been named "Toy of the Century" not just once, but twice.
Innovation in the LEGO product line enabled the company to expand and reach new markets. The LEGO wheel, introduced in 1962, enabled children to make their own cars and trains. To appeal to a wider range of ages, the company introduced the LEGO Duplo brick, a larger brick for younger children, and in 1977, it launched the Technic series, which provides more complex components for older children. In 1978, the mini figure was launched, bringing pretend play to the world of LEGO.
Theme Parks
LEGO has expanded into many different areas, and one of the most popular and lucrative is theme parks.
There are ten Legoland parks, located in Billund, Jutland, Denmark — home of Ole Kirk Kristiansen; Winter Haven, Florida; Carlsbad, California; Goshen, New York; Windsor, England; Gunzburg, Bavaria, Germany; Nusajay, Johor, Malaysia; Dubai, Emirate of Dubai, United Arab Emirates; Chuncheon, Gagnwon Province, Korea; and Nagoya, Aichi, Japan.
There are also 23 Legoland Discovery Centers, where kids can come and play with LEGO. There are 13 in the United States, two in Germany, two in Japan and one each in Turkey, China, Canada, the United Kingdom, the Netherlands and Australia. Gardaland Resort in Italy features a Legoland Water Park along with other attractions.
Lego and Technology
The LEGO brick is decidedly a low-tech toy, but the company understands and embraces technology. In 1984, the company partnered with the MIT Media Lab at the Massachusetts Institute of Technology to learn more about adding intelligence and behavior to play.
In 1998, the partnership with MIT resulted in the launch of Mindstorms, integrating the LEGO building system with robot technology to produce an intelligent LEGO brick. And in 2014, "The LEGO Movie" brought the ubiquitous building brick to the big screen.
The Growth of Lego
In 2018, LEGO celebrated the 60th anniversary of the LEGO brick. During those 60 years, the company has fostered creative play in millions of children. It has also done quite well for the Kristiansen family.
In 2021, LEGO saw year-over-year revenue growth of 27% to DKK 55.3 billion — USD 7.6 billion. Consumer sales grew 22% in fiscal year 2021. Operating profit increased 32% over 2020, to DKK 17 billion — USD 2.34 billion. The company now employs 24,000 people.
Takeaway
Investing in shares of The LEGO Group would probably be a good idea if it were possible. But it's not, since the company is privately held.
Even though investors cannot buy shares in the company, it's nice to know that all those LEGO sets you once bought could turn a profit in the resale market one day.
FAQ
Here are the answers to some common questions about LEGO stock.
Is LEGO stock a good buy?

While LEGO has seen recent growth and is a long-standing company, it is privately owned, and so stock is not available.

Is LEGO on NYSE?

No, you cannot buy LEGO stock on the NYSE or any other stock exchange.

What company owns LEGO?

LEGO is owned by two entities: 75% by KIRKBI A/S, the private holding and investment company of the Kristiansen family, and 25% by the LEGO Foundation.
Editorial Note: This content is not provided by The LEGO Group. Any opinions, analyses, reviews, ratings or recommendations expressed in this article are those of the author alone and have not been reviewed, approved or otherwise endorsed by The LEGO Group.
Our in-house research team and on-site financial experts work together to create content that's accurate, impartial, and up to date. We fact-check every single statistic, quote and fact using trusted primary resources to make sure the information we provide is correct. You can learn more about GOBankingRates' processes and standards in our editorial policy.