Middle Atlantic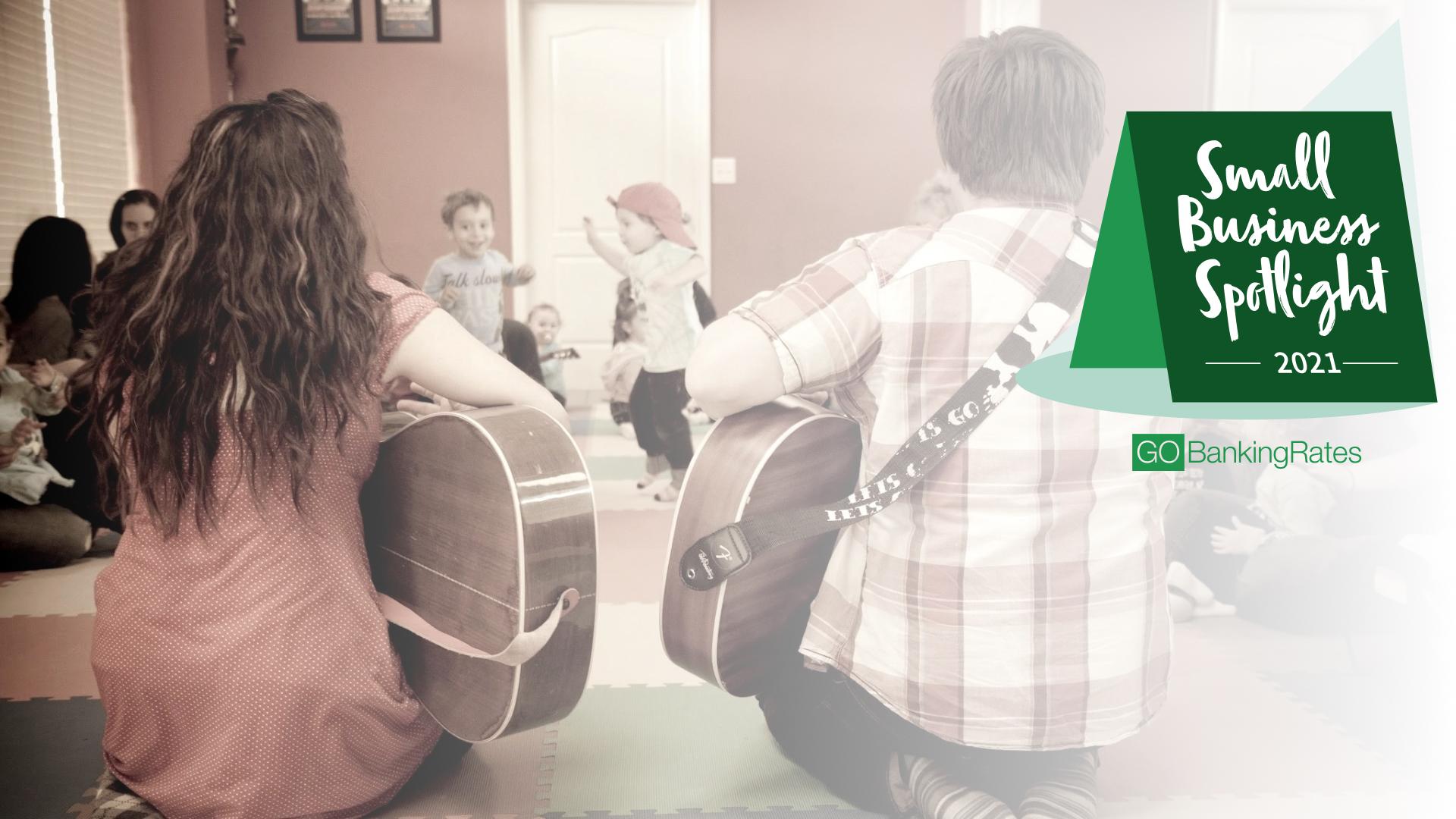 Pictured: Little Rockers
To return to the Small Business Spotlight page click here.
The Middle Atlantic region includes small businesses in New Jersey, New York and Pennsylvania. In this region, New York had the most small businesses nominated.
You can check out the complete list of businesses nominated for GOBankingRates' Small Business Spotlight in this region below — and read more about the region's featured nominees in the links below.
Featured Nominees
Regional Nominees
New Jersey
All Star Dogs (Marlboro, retail store): "

When the pandemic hit … they quickly pivoted [from pet apparel and accessories] to selling branded face masks."

Athlete's Alley (Shrewsbury, sporting goods): "

Personal Service and super friendly owners and staff. Always go out of their way…."

Bagel Masters (Shrewsbury, food): "

Very friendly staff and some of the best bagels in New Jersey."

Best's Fruit Farm (Hackettstown, fruit/vegetable farm and stand): "

[They] remained open through the pandemic. [T]hey sell fresh produce from their own fields seasonally and high quality meats from local sources."

Bizzy Bee'z Creative Learning Center (Northfield, child care/education): "

The learning curriculum is a very good one. The childcare is great."

Brickworks Dental (Mays Landing, dental office): "

The dentists, assistants, hygienists and front office staff are all wonderful at making your dental visit a great experience."

Charlie's Corner (Secaucus, tavern): "

Always fun … Been around 70+years."

China Sea of Absecon (Absecon, restaurant): "

They stayed open throughout the pandemic and still maintained their excellent level of quality and service, offering curbside pick-up, too."

Colonial Dental Lab (West Berlin, dental lab): "

John Belancio and Colonial Dental Lab get my vote for best small company hands down."

East Coast Cleaning Services (Point Pleasant Beach, cleaning services):
More on East Coast Cleaning Services:

"East Coast Cleaning Services has been working tirelessly to help keep people and businesses safe during this pandemic. They offer GBAC Certified Sanitizing against COVID-19, SARS, and other infectious viruses." 
Ekodus Inc. (Cranbury, information technology): "

Innovative company with flagship products in development."

Kelsey's (Atlantic City, restaurant):
More on Kelsey's:

"They stayed open throughout the pandemic and still maintained their excellent level of quality and service, offering curbside pick-up, too. They fed my family once a week and I am so very grateful they are part of our community." 
Ledford Funeral Home Inc (Trenton, mortuary): "

…it's serving the community…great business…"

Little Rockers (Shrewsbury, child music and instrument lessons): "Chris and Jessie are such amazing and caring music teachers for kids/infants- 10 years. … They are still in business and that makes the world a whole lot better."
Luigi's Deli, Butcher Shop and Catering (Toms River, deli)
Luscious-Looks (Blackwood, beauty)
Marketing All Day (Fairfield, marketing):
More on Marketing All Day:

"This small company has grown quickly since its inception. What makes this company exceptional is the fact that it has grown so fast it has turned away work because it refuses to give less than 100% to its established clients before taking on any new. Although this will temporarily stunt growth, in the long run its work ethic will not only aid in growth but also loyalty in its clients."
Nick's Pizzeria (Voorhees, Italian food): "

… best pizza and cheese steaks ever. They know all of the regulars by name and their orders too!"

Stop N Go (Manville, corner store): "

The guys that run this corner store are amazing, very polite and nice … they make great sandwiches."

Taste of Soul by Ms. Nancy (Burlington, restaurant):

"…really makes you feel like you are at home. The owner loves everyone that comes through the door…"

The Fireplace People (West Berlin, retail/fireplaces, stoves): "

… quality work and service."

The Professional Performance Prep (Little Silver, acting and singing studio): "[

Theresa and Jessi] go above and beyond for their students and parents-they moved their entire business online…when the pandemic started."
New York
33 Lafayette Bar & Lounge (Brooklyn, cafe/lounge)
AAA Sound Service & Low Voltage (Rochester, background systems): "

The [Owner/Manager] gives excellent service."

Addy's Power Equipment (King Ferry, lawnmower/handheld equipment/small tractors): "

They service what they sell and take good care of their customers. Great job Addy's!"

Big Inlet Brewing (Mayville, brewery): "

…makes great beer and provides a wonderful community gathering place. They've gone out of their way to keep people safe during this pandemic."

Broadway Bazaar (New York, online marketplace for Broadway memorabilia): "

Awesome items, gives back to charity."

Broken Yolk (East Rochester, breakfast/lunch spot): "

Great food, clean, attractive decor, staff is especially friendly, pricing fair."

Cater Me Home (Hornell, food/cooking/pickup): "

This young mother was just getting a very good start when the pandemic hit. She cooks great meals for pick up for her family owned business. She has a plan for every budget, especially great for senior who can't prepare their meals."

Country Bay Pizza (Bronx):
More on Country Bay Pizza:

"This pizzeria has remained opened and serving the Bronx community during the pandemic in spite of loss of income from less customers, and being robbed. The staff is friendly and upbeat." 
County Deck Services (Saratoga Springs, decks): "

Mark does excellent work."

Diastasis Rehab (New York, medical and fitness): "

Diastasis Rehab treats the condition Diastasis recti … The research and evidenced based Tupler Technique can make a Diastasis 55% smaller in six weeks!!! That's why it such a great business."

Firehouse Apparatus (Locke, services firetrucks): "[This] business keeps several Fire Departments firetrucks in service!"
Fred the Butcher (Clifton Park, butcher/deli): "

They have amazing meats & foods … amazing customer service. Reasonably priced as well."

Freedom Cart (Mohegan Lake, retail): "

It's a friendly low-price, affordable shopping site."

Hong Wah Chinese Restaurant (Penfield, Chinese food): "

The couple that have run it for years are the friendliest and won several awards for their food that is so delicious."

J.Aronson, Inc (Westbury, cleaning)
Kenwal Day Camp (Melville, day camp): "

Kenwal [is a] child's wonderland where friends and dreams are created … learned to swim, golf, rock climb, bungee, archery, mountain biking…"

La Nature (Brooklyn, zero-waste store): "… eco-friendly, sustainable products more accessible for everyone … [There's a] refillery [with] bulk soap, shampoo, conditioner, detergent and body lotion!"
Little Angel WeeCare Daycare (Bronx, day care): "…helps [kids] grow … all before going to kindergarten."
Long Construction (Rochester, roofing and more): "

Honest, respectful and they do a great job … prices are very reasonable."

Manna's Taxi Inc. (Lockport, taxi service): "

Very small operation that does very well and is extremely reliable."

Moniesworth Realty, LLC (Hopewell Junction, real estate): "

Geri/Moniesworth Realty LLC has been actively involved in the community providing jobs to high school and college students, teaching real estate classes at the local community college, mentoring and training new real estate licensees, participating in community day!"

Moonbean Cafe (Briarcliff Manor, cafe):
More on Moonbean Cafe:

"It is an intimate space to meet friends for coffee, breakfast and lunch or take out is great too. The staff is friendly and it has a true at home feel to it. They worked around the COVID shutdown and made it safe to pick up food/drinks."
Panico's Community Market (Smithtown, gourmet deli/grocery): "

They served the community during the COVID-19 crisis … Donated food to local vet run food shelters, police depts, fire dept., hospitals."

 
Pasta Pasta (Port Jefferson, restaurant): "

Great food and it's like being home. Not just pasta!!"

R & C Auto & Tire Center (Poughkeepsie, mechanic): "

This business is an honest, reliable, trustworthy place!!"

Rail House Restaurant (Waverly, restaurant): "

They have super great employees and food. They are always doing things to help their own community and doing for Toys For Tots … if they know you're having a hard time, [they] don't hesitate to pitch in and try to help … I definitely would love to see them get the recognition they so highly deserve!"

Red Chic Boutique (Oneida, clothing/shoes and more): "

Very friendly. Great quality … has great sales."

Ricky's Cafe (Jackson Heights, diner): "

Great food, wonderful service and good prices."

Rudy's Fade Factory (Buffalo, barbershop): "

It's a local struggling hair cutting business with an awesome personable owner."

S&J Construction (Suffolk, remodeling)
Shipwreck Seafood Boutique (Brooklyn, restaurant): "

[It's] so great for the community. They serve the seniors on Thursdays with free fresh fish diners from 11-2."

Shy's Original Steakhouse (Buffalo, restaurant): "

Steak hoagies are delicious: consistently saucy, tasty and filling."

Simple Loaf (Brooklyn, bakery): "

This new bakery opened up during tough times but has the nicest people, the best baked goods, and has kept COVID-safe during tough times."

Southside Bar and Restaurant (Bayshore, restaurant): "

Cool building, great food, great staff."

SPoT Coffee (Glens Falls, cafe): "

The staff are very cordial when waiting on customers"

Stickers N Stitches (Crown Point):
More on Stickers N Stitches:

"This small business is great! They have wrapped big trucks, trailers and shirts for their businesses. They also do seats for ATVs, boats and furniture. The two ladies that are there are very nice. Hard workers. They also help with sponsoring and benefits. They say no job is too big or too small. They are just great!" 
Talk of the Town Cafe (Clifton Springs, eatery)
The Black Whale (Bronx, restaurant): "

[Has] an owner who cares about your dining experiences."

The Coppola Cafe (New York City, Italian cafe): "

Friendly Sicilian service with fresh pastry and luscious gelato. The owners are hard-working, likable, eager to please."

The Pencil Grip, Inc. (Islip, products for teachers/parents/therapists/children): "

They have paints that dry in 90 seconds – kids washable markers that will not dry out even if you leave the cap off for 7 days. All kinds of pencil grips to help kids write or use a stylus properly."

Towers Flowers (West Islip, florist): "

Makes people smile with the high quality flowers and wonderful, dedicated, loyal owner and staff."

Valentina Intervention Homecare (Uniondale, home care/cleaning): "

This business is great because it helps the community that needs assistance in their homes."

Villa Verona Vineyard & Bistro (Verona, winery): "

The owner has worked hard to start this business."

Zippy Tax Service (Brooklyn, income tax office): "They enlighten tax payers with knowledge … They provide many free tax services other than tax filing for their clients … This firm is about giving an education life lesson on tax planning, financial planning, family planning, always a great help to every client."
Pennsylvania
AfFORDable Pet Center (Northampton, pet supply store): "

The owners are very knowledgeable and friendly you feel like family when you go there."

Aman's Artisan Indian Cuisine (Easton, restaurant):
More on Aman's Artisan Indian Cuisine:

"Great food, great staff, great customer service. During the pandemic when many were struggling they made food and grocery deliveries to those in need. They just donated money to aid the pandemic in India and the need for oxygen. They are always helping the community and other small businesses. (They even helped another Indian restaurant start up and show them the ropes!) Amazing people going above and beyond!"
Audiolab Stereo and Video Center (Fairless Hills, high-end home theater needs): "

The customer service is amazing. The knowledge and skills these men and women have. The owner is on top of everything."

Bklassy Beauty Bar (Erie, spa): "

Very professional clean and great environment."

Browns Auto Repair (Berlin, auto repair and more)
C&C Masonry and Concrete (Scranton, construction)
CJ's Ephrata Pizza (Ephrata, restaurant): "

CJ's has the friendliest staff, they treat you as you are family. Their food is phenomenal and authentic."

Critter Country Animal Farm (Smithton, animal petting zoo): "

The owners of this zoo are completely amazing. They love and take care of every animal in their farm … The zoo is so clean and the prices are incredible."

Cucina Vitale (Pittsburgh, restaurant): "

The owner fought from having nothing to now owning the restaurant and is fighting now to make it through the pandemic. His mindset stays positive always."

Curl Up -N- Dye with Melissa Fuller (Pittston, hair and beauty): "

My daughter & I have been clients of Melissa for over 15 yrs & have always been treated with the highest courtesy, respect & quality service … Her Bridal parties are absolutely gorgeous from hair to makeup."

DsNaturalProducts (Pittsburgh, natural products/remedies): "

Not only does D have products that heal and moisturize the skin but they also have a Eucalyptus Pain Oil that relieves pain."

DC Electric & Welding (Morrisville, electrical contractor): "

The owner is very hardworking, honest, reliable and very knowledgeable."

Dosso Beauty (Philadelphia, skin/hair care): "

Kadidja Dosso, a Graduate of Hampton University, started her business in her kitchen … she worked so hard on her product, she is amazing."

Edwards Electric & Telecom (Steven, electrical contractor):
More on Edwards Electric & Telecom:

"The small company paid us through the pandemic and also puts the entry level workers through school free of charge. They treat their employees like family and they think about the safety of the employees." 
Ho Ho Food Mart (New Castle, corner store): "

They are very friendly. They take care of their customers … Just a great little store!"

Honey Bee Bakery (Monongahela, cakes and doughnuts): "

Started out with hardly no customers to being the best cake and donut maker in the city."

K. Astonishing Kader (Philadelphia, soul food cuisine): "A Black-owned business, owned by young lady … She's [an] amazing cook, always get compliments from the community. Always help and provide for her community."
Lit Coffee Roastery & Bakeshop (Bethlehem, coffee roastery): "

[P]rovides a hip, community focused meeting place (in non-COVID times) with coffee roasted on premises as well as an excellent bakery … [features] local artists, fresh produce vendors and a number of charitable events. Vegan options are also available."

Lyndon Diner (Lancaster, restaurant):
More on Lyndon Diner:

"This diner is the best in town. I'm nominating them because the owners don't only care about their establishment but also their employees and customers. They bend over backwards to make everything and everyone feel at home." 
Mary Lou's Pizza (Old Forge, pizza/Italian food): "

They are reasonably priced, their food is great, they are very friendly."

Matrix Tool Inc (Fairview, manufacturing operation): "

It's not just a business, it's family. They care about their employees and it shows."

Melmo's Dog Treats (Philadelphia, dog biscuit business)
Nazareth Army & Navy Store (Nazareth, men's clothing/print business): "

You're treated like family. Plain and simple."

Nick's Roast Beef (Philadelphia, restaurant): "

A fun, delicious and memorable destination … The atmosphere is warm, friendly and inviting … [owner] has gone above and beyond for the business, his staff and the surrounding community."

PB&J Bar (Danville, plant-based food, smoothies & juice bar): "

Great new restaurant with friendly staff and wonderful food."

Piazza Napoli Pizza (Glenolden, pizza): "

The food is unbelievably good and inexpensive, the customer service is superb!"

Pleasant Valley Maintenance (Duncansville, cleaning): "

The best exterior and interior cleaning business around!"

Quadrant Book Mart and Coffee House (Easton, book store/coffee): "

… my happy place. There are books all around to be bought in this historic building, with amazing food and great staff."

Sacred Gem Tattoo Studio (Lewistown, tattoo studio)
Shawna Solomon & Associates (Pittsburgh, business consulting): "

They helped small businesses grow during COVID."

T&J Construction (Easton, home remodeling)
The Broom Closet (Pittsburgh, apothecary shop): "

… for body and soul healing and personal well being."

The Chop Shop (Butler, restaurant)
The Fitness Headquarters (Wilkes-Barre, fitness equipment): "

The owners/workers are so dedicated to their town and people they serve! Very friendly and good hearted."

The Old Library Bookshop (Bethlehem, bookstore): "

A small used bookstore owned by a mother and daughter … The only place in Bethlehem to find used and rare books."

The Tasty (Philadelphia, food): "

The food is great, it's in a nice environment, the customer service is good."

Top Shelf II Auto Body Collision & Repair (Eddystone, autobody): "

Mr. Greer carried over $3,000 worth of parts for a handicapped woman  — she has a van that her son wrecked and he fixed it free of charge also bought her parts … that's just one of the amazing things that he's done."

Travel with Beth Rae (Freeport, travel planning): "

Going the extra mile for your travel needs."
Check out the other regions and their small business nominees: 
East North Central: Indiana, Illinois, Michigan, Ohio and Wisconsin
West North Central:

 

Iowa, Kansas, Minnesota, Missouri, Nebraska, North Dakota, South Dakota
New England:

 

Connecticut, Maine, Massachusetts, New Hampshire, Rhode Island, Vermont
East South Central:

 

Alabama, Kentucky, Mississippi, Tennessee
South Atlantic:

 

Delaware, Florida, Georgia, Maryland, North Carolina, South Carolina, Virginia, West Virginia
Middle Atlantic: New Jersey, New York, Pennsylvania
West South Central:

 

Arkansas, Louisiana, Oklahoma, Texas
Mountain:

 

Arizona, Colorado, Idaho, Montana, Nevada, New Mexico, Utah, Wyoming
Pacific:

 

Alaska, California, Hawaii, Oregon, Washington
And check out more of the featured small businesses:
To return to the Small Business Spotlight page click here.