Sell Your Stuff Safely With These 10 Craigslist Alternatives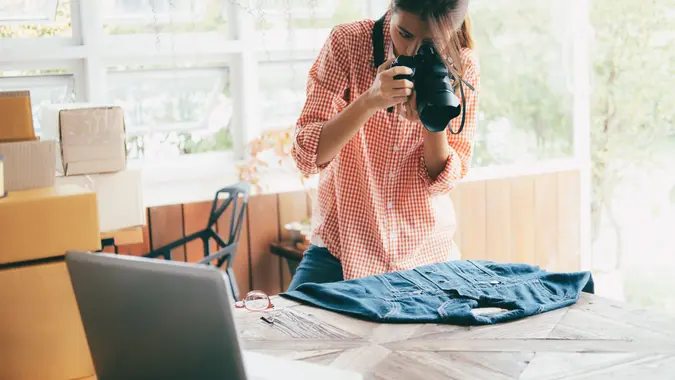 ijeab / Getty Images/iStockphoto
Buying and selling online has quickly become more the rule than the exception. This is particularly true for peer-to-peer exchanges — when one person sells something directly to another, rather than a store or business.
When this type of exchange picked up in popularity, Craigslist was the site most people used. But some people complained that the site wasn't safe, because scammers had found ways to take advantage of both buyers and sellers. There are now many sites you can use as Craigslist alternatives that facilitate private sales in a safer way.
10 Best Craigslist Alternatives
Reselling items you no longer love, need or use is a smart way to put some money back in your pocket and to keep still-useful items out of landfills. But you certainly don't want to get scammed in the process. Here are 10 Craigslist alternatives to know.
Facebook Marketplace
eBay
Nextdoor
Mercari
Poshmark
ThreadUp
Nuuly Thrift
Rebag
Upwork
Etsy
1. Facebook Marketplace
Nearly everyone who uses social media has a Facebook account, so using Facebook Marketplace is easy and fast. You can post pictures of your stuff and, for the big stuff that you don't want to ship, you can restrict the area that sees your posts. Since Facebook requires you to use your real profile, you'll run into fewer scammers.
2. eBay
EBay is popular worldwide, so you can sell your baseball card collection to someone in Tokyo if that's where you can get the best price. You can sell just about anything on eBay — including clothing, household goods, artwork, books, sporting goods and even cars — as long as you can find someone to buy it. PayPal is owned by eBay, so secure payment is integrated into the platform.
Make Your Money Work Better for You
3. Nextdoor
Nextdoor is similar to Facebook Marketplace but with a neighborhood feel. Buyers can limit their search to one, three or five miles from home, making this platform a good one for large items that can be picked up instead of shipped. It's also good if someone needs to see the item before they buy. Nextdoor also has a free section if you have stuff you just want to get rid of.
4. Mercari
You can sell all kinds of stuff, like jewelry, art, home décor, kitchen supplies, crafting supplies and more, on Mercari. This site lets buyers make you an offer for your stuff, or just buy it outright. Like Facebook Marketplace, there are buyer protections, and you can filter by your location. Mercari is a good place to sell hobby supplies and equipment.
5. Poshmark
If your stuff includes designer or high-end clothing, accessories or home décor, Poshmark is where you want to be. You photograph your item, upload it to your Poshmark closet, and share it with your network. When someone buys it, Poshmark will send you a shipping label and you send the item off to the buyer via USPS. Once the buyer receives it and confirms that it's what they ordered, you get paid.
6. ThreadUp
ThreadUp is an online consignment shop that carries clothing, shoes, handbags and accessories. To sell your stuff, you order a kit for $2.99 which includes a bag for you to put your stuff in and a shipping label to send it to ThreadUp. When your items sell, you can choose whether to get cash or a shopping credit after the 14-day return window has passed.
Make Your Money Work Better for You
The selling price is determined by the brand and type of item and how long ThredUp has had it. You get a percentage of the selling price, depending on how high that price is. If an item doesn't sell within 30 or 45 days you can ask for it back or ThreadUp will keep it.
7. Nuuly Thrift
Nuuly Thrift will help you sell your new, like-new and used clothing, shoes and accessories. You take the pictures, write a description and set your price. Once your item sells, you generate a shipping label, pack up the item and take it to the post office. The buyer has three days to reject and return the item — if they don't, you get 80% of the selling price and Nuuly Thrift keeps the remaining 20%. You can transfer the cash to your debit or credit card, or you can get a credit equal to 110% of your earnings.
8. Rebag
If you have designer handbags, jewelry, watches, apparel, shoes and accessories to sell, try Rebag as a Craigslist alternative. Search for your item or use the image recognition feature to determine what you have. Indicate the color and condition, and Rebag will give you the current resale value of the item. If you want to sell it for that price, you can send the item to Rebag or drop it off at a Rebag store. Rebag buys your item and then resells it, so you don't have to wait for someone to buy it before you get your money.  
9. Upwork
If your stuff happens to be graphic design, writing, coding or other creative services, Upwork is a good place to be. This site matches gig workers with those who need them, and payments are held in escrow until you finish the work. This ensures you'll actually get paid as agreed when the job is done.
Make Your Money Work Better for You
10. Etsy
A marketplace for handmade goods, Etsy is the place to sell your stuff if it is handcrafted or personalized. Etsy is the preferred online platform for all kinds of cottage industries, from jewelry to quilts to paintings and more.
Final Take
The next time you are cleaning out your closets or going through those boxes in the basement, be on the lookout for things you can sell to put a few extra bucks in your pocket.
FAQ
Here are the answers to some of the most frequently asked questions regarding Craigslist.
How does Craigslist work?

Craigslist is a forum you can use to post or view online classifieds. You can sell or buy almost anything on the site.

What should I not do when selling on Craigslist?

When selling on Craigslist, you should avoid adding any personal or financial information to your post. When you meet up to exchange the goods, make sure it is in a public place.
Information is accurate as of June 21, 2023.