15 Best Gig Apps for Extra Cash in 2023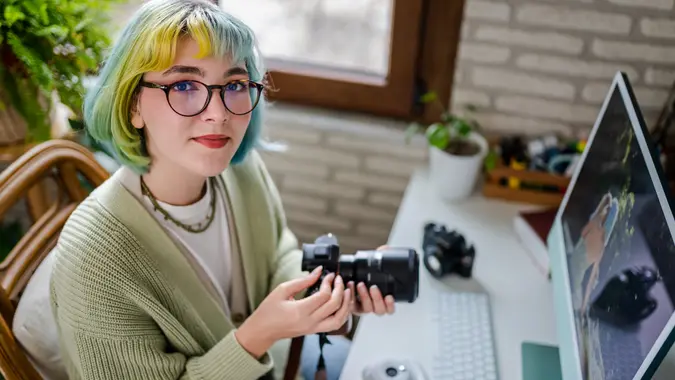 Kemal Yildirim / Getty Images
The dream scenario of life in the United States is when your bank account is flush and you don't have to worry whether or not you can pay your bills or make rent. To achieve that goal though, gig work and side hustles have become part of the DNA of what full-time labor and the workforce look like today.
15 Best Gig Apps That Help You Earn Extra Cash
Independent contractors side hustling by working through gig economy apps know that multiple gig jobs can add up to one steady living. Depending on how much time you want to invest in this form of flexible working, it is good to know with these apps, you can financially plan for both the long and short term.
Here are 15 gig apps to look into if you are searching for ways to earn some additional income:
DoorDash
Uber or Uber Eats
TaskRabbit
Instacart
Airbnb
Amazon Flex
Etsy
Fiverr
Survey Junkie
Lyft
Swagbucks
Upwork
Google Opinion Rewards
Grubhub
Freelancer
1. DoorDash
If you like to be on the move and are good with quick customer interactions, DoorDash might be the best gig app for you.
DoorDash delivery drivers are independent contractors who typically pick up products or food from stores or restaurants and deliver them to customers. All the jobs or tasks are done through the DoorDash app. If you regulate the number of deliveries, acceptance rate and completion rate you fulfill, you can easily make extra cash with DoorDash, as the national average shows drivers making around $25 per hour.
Make Your Money Work Better for You
2. Uber or Uber Eats
Also great options for those who don't like to be stuck in one spot for too long, Uber and Uber Eats can both be lucrative gig apps to work with. If you like to meet new people, Uber especially could be a good fit for you.
You can either be a driver for people with Uber or deliveries with Uber Eats — or both. The amount you make can vary, depending on what hours you choose to work and how busy or populated the area you work within.
3. TaskRabbit
Those who are handy — or at least can handle some heavy lifting — should find plenty of opportunity on TaskRabbit.
As the name would suggest, TaskRabbit is a task-oriented marketplace app where essentially you find odd jobs to do for people for money. It offers a lot of variety, whether it's putting together some patio furniture, cleaning a house, being able to lift at least 100 pounds or just some general maintenance.
If you are handy, there are always people looking for some help with a job, and this is a great place to connect with them for work. 
Make Your Money Work Better for You
4. Instacart
If you find satisfaction in selecting the perfect produce or just perusing supermarket aisles, Instacart is the perfect way to get paid to grocery shop.
This shopping service app operates by organizing drivers for picking up and delivering groceries. It is a go-to place for many people looking to avoid crowded spaces and who want contactless food delivery — or just prefer the convenience of not having to go to the grocery store.
5. Airbnb
Have an empty bedroom? Or even just a reasonably weatherproof treehouse? Rent it out on Airbnb for some extra cash.
Renting out your space for short-term stays is a great way to earn some money as a temporary landlord. The Airbnb app is great for this. No matter if it is your home or apartment, if you are leaving for a bit on a trip, don't let your space go to waste. You can subsidize your vacations with the extra cash you earn by renting out your whole place or rooms you have available.
6. Amazon Flex
If you want to make deliveries but want more of a structured schedule than services like Uber or Instacart offer — but with some freedom to set your own schedule — consider Amazon Flex.
Make Your Money Work Better for You
The booming global conglomerate that is Amazon is always looking for delivery drivers. Gig workers who sign up with this on-demand shopping service have it a little easier with the Amazon Flex app, as you can create your own schedule and map out a delivery route. You'll also be responsible for scanning packages and verifying proof of delivery, which you can do through the app as well. 
7. Etsy
For the craft-inclined or those with an excellent eye for a thrift store gem, Etsy is a fantastic option to set up shop.
The Etsy app allows entrepreneurs to sell thousands of unique or handmade items, from handmade jewelry, art or furniture to vintage clothing or shoes. If you are often making arts and crafts you can turn your hobby into a nice side hustle for some added income. Etsy has a huge following, so it can be a good way not only to make some money but also to get your work in front of a large audience.
8. Fiverr
If you have talent in writing, graphic design or other skills, you can offer your freelance services on Fiverr.
Make Your Money Work Better for You
The Fiverr app caters to all types of freelancers. It takes submissions for many writing ventures, such as transcribing, proofreading, editing or article writing. Graphic designers, animators, musicians and more will find plenty of opportunities for work, as well.
You can set your own rates based on your personal skillset and experience, so the pay will range. Just create a Fiverr profile and upload a resume and samples of your work to get started.
9. Survey Junkie
You have opinions — get paid to share them!
Survey Junkie is an app where you can fill out surveys for cash. You share your opinions through a variety of surveys to provide brands and future customers with needed feedback. In exchange, Survey Junkie rewards you with points, which you can cash in for payment in forms such as Amazon gift cards.
10. Lyft
Another app for those who enjoy meeting new people and keeping on the move, Lyft is a convenient ride-sharing app where you can drive people around for decent money.
Make Your Money Work Better for You
To start, you just need a car in good working order and to pass a background check, after which you are free to work as often as you would like to earn some extra cash.
11. Swagbucks
If you get tired of the same old thing day after day, Swagbucks has plenty of variety for ways you can earn some extra cash.
You can make money on the Swagbucks app by earning points by creating an account with an email and password and then completing tasks, such as filling out surveys, using promo codes, playing online games or watching videos.
12. Upwork
Another app for freelancers, Upwork is the place to market your skills.
Upwork is a great gig app for writers, graphic designers, web developers or even virtual assistants, among other freelancers. You can work remotely straight through the app and apply for, screen and snag any open positions well suited for you.
13. Google Opinion Rewards
Share your opinions about more than just brands you like — or don't — and get paid for them with Google Opinion Rewards.
Google developed this reward-based program where you can fill out surveys or answer questionnaires. When you complete any of these, you earn rewards or Google Play credit. Typically the surveys come about once a week for you to fill out.
Make Your Money Work Better for You
14. Grubhub
Making deliveries can be a great side gig, but if you don't want to work for Uber Eats, Grubhub is an excellent option.
One of the main food delivery apps in the game, Grubhub has a multitude of customers looking for people to pick food up from their favorite restaurants and deliver it right to their doorstep. Your base pay and tip percentages are determined by such factors as delivery type, mileage and overall local delivery market. 
15. Freelancer
If you're looking for some side work where you can come and go as needed, Freelancer is a great app.
The Freelancer gig app connects you to a freelancing and crowdsourcing marketplace. There is a larger employer pool from which you can browse what work is available and how much it will pay.
Final Take To GO
There is no shortage of gig apps out there if you are looking for some extra cash or new opportunities for work. Though there are always downsides to gig working, such as the inconsistency of pay and lack of insurance, the beauty of it is you are your own boss and can create your own schedule.
There is also no need to choose just one side hustle, as you can use multiple gig apps to work through and keep the money rolling in.
FAQ
What gig app pays the most?

Most gig apps will range in pay, as it depends on how much time you can put into the job, as well as whether or not there is a required skillset. However, here are some notable gig apps that help you earn extra money:

– DoorDash
– Uber or Uber Eats
– TaskRabbit
– Instacart
– Airbnb
– Amazon Flex
– Etsy

Are gig apps worth it?

Yes, gig apps can be worth it if you find the right one for your ability level, as well as one that fits your schedule. Here are some popular gig app options:

– Fiverr
– Survey Junkie
– Lyft
– Swagbucks
– Upwork
– Google Opinion Rewards
– Grubhub
– Freelancer

What gig apps have same-day pay?

Both Uber and Lyft offer same-day or instant cashout options.

What is the app that lets you apply for side gigs?

Gig apps such as Fiverr, Upwork and Freelancer allow you to choose from a variety of side gigs or projects, which also helps keep your schedule flexible.
Make Your Money Work Better for You