Get Paid To Listen to Music: 10 Proven Ways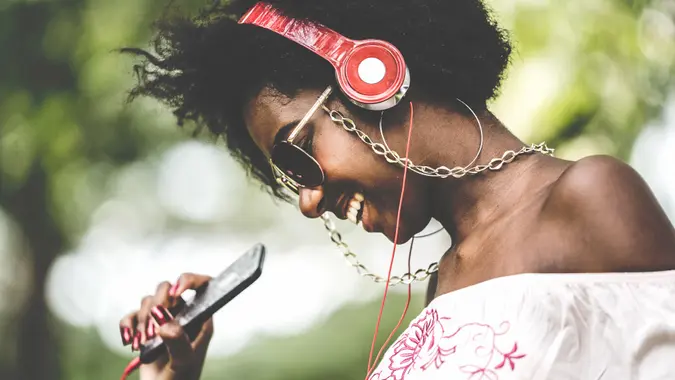 FG Trade / Getty Images
For many, music is an essential part of their daily routine. Whether during a long commute, during work or when simply unwinding, music is a powerful language that affects our lives and emotions. But what most people don't realize is that several apps and websites let you get paid to listen to music and make passive income. Keep reading to learn more.
10 Ways You Can Get Paid To Listen to Music
Whether you're a music enthusiast or just looking for a fun and easy way to earn money, these apps and sites are worth checking out:
1. Spotify
Spotify, a trailblazer since 2008, continues to dominate the music streaming world. Apart from its vast music and podcast library, it offers unique monetization opportunities.
By curating playlists, you can earn through platforms like PlaylistPush, where each song review can fetch you $15-$20, provided you meet their curator criteria.
2. RadioEarn
RadioEarn remains a steady platform for earning by listening to internet radio. Simply sign up, listen and earn points convertible into cash or rewards. The site has updated its payout methods to include more digital currencies, ensuring a broader reach.
3. Earnably
Earnably is an online rewards platform that lets you make money by completing tasks, some of which relate to music. These ways include watching music videos or content related to music. Other ways to generate rewards through the platform are by completing music-related surveys or offers.
Make Your Money Work Better for You
Once you make enough points through the Earnably platform, you can redeem them for cash via PayPal or choose from multiple gift cards.
4. Slicethepie
Slicethepie is an online platform that pays you to review and provide feedback on new music tracks. You can get paid to listen to music by listening to songs and sharing your thoughts on various aspects of the music. You need to create an account and share some of your demographic information to get started. This allows the platform to send you music likely to appeal to your taste.
After submitting your review and rating, the platform credits you a certain amount of money, which you can add to your account balance. The amount you earn per review depends on your feedback quality and star rating.
5. Current
The Current app is a platform that lets you make money and earn rewards by listening to music. By streaming your favorite songs and discovering new ones, you can earn points and redeem them for cash or gift cards.
6. Transcribe Music Lyrics
One lesser-known way to make extra money is transcribing or translating music lyrics. If you know multiple languages and spend a lot of time at home, you can use your time working with companies such as Welocalize.
7. Be Part of a Focus Group
Some companies pay for focus group participation to collect people's opinions about new and upcoming music. These groups pay well — between $75 to $100 — and you don't have to be in a specific location to start.
Make Your Money Work Better for You
8. Use Upwork
Upwork is a platform where professionals connect with freelancers. Well-established freelancers with high ratings can make thousands of dollars annually performing services they love.
Suppose you are a lyric writer or transcriber. In that case, you can create a profile on the platform and advertise your services to artists seeking assistance.
9. Start a YouTube Channel
If you are comfortable being on camera and can build a solid audience, you can create a YouTube channel to review new music. Although it can be tricky due to copyright issues, doing this correctly lets you get paid based on how many people watch and subscribe to your channel.
If your audience gets big enough, you might even be able to find sponsors and sell merchandise.
10. Make Money by Podcasting
Podcasts are popular throughout the world. If you have the time and resources, creating a music podcast can help you make a solid income.
Since plenty of podcasts exist, monetizing your channel is the best way to make money through these platforms. You can build an audience, choose a niche you're comfortable with and create a paid subscription option for loyal listeners.
Final Take
Leveraging your love for music can open up diverse avenues for passive income. While these methods might not replace a full-time job, they offer a valuable source of supplemental income. Whether you're a passionate music lover or just seeking a fun way to earn, these platforms provide exciting opportunities to get paid to listen to music.
Make Your Money Work Better for You
FAQ
Here are the answers to some frequently asked questions about getting paid to listen to music.
Can I earn money by listening to music?

Yes, you can earn money by listening to music. Various platforms like RadioEarn and Slicethepie offer opportunities to earn cash or rewards by listening to music, reviewing tracks or engaging in related activities. These platforms typically pay in small amounts, so while you might not earn a substantial income, it can be a nice source of supplemental earnings, especially for music enthusiasts.

Can I earn money from Spotify?

You cannot earn money just by listening to music on Spotify. However, Spotify does offer indirect ways to monetize your love for music. For instance, if you create and curate popular playlists, you can leverage platforms like PlaylistPush, which pay playlist curators to review songs.

Is Music Xray worth it?

Music Xray is a platform that connects artists with music industry professionals and offers opportunities for music fans to earn by listening and providing feedback on new tracks. While it does offer legitimate opportunities to earn money, the pay is typically low, and the availability of tracks to review can be inconsistent. Therefore, while Music Xray can be a fun way to discover new music and earn a little extra cash, it might not be a reliable source of substantial income.

Does Playlist Push actually pay?

Yes, Playlist Push is a legitimate platform that pays users for reviewing songs. To qualify, you must own a playlist with a significant following and engagement on platforms like Spotify or Apple Music. The payment per review varies based on factors like your playlist's reach and your review's quality. Users have reported earning amounts ranging from a few dollars to higher sums per review, making it a viable option for those with well-established playlists.
Information is accurate as of Nov. 14, 2023.
The article above was refined via automated technology and then fine-tuned and verified for accuracy by a member of our editorial team.