12 Recession-Proof Businesses and Industries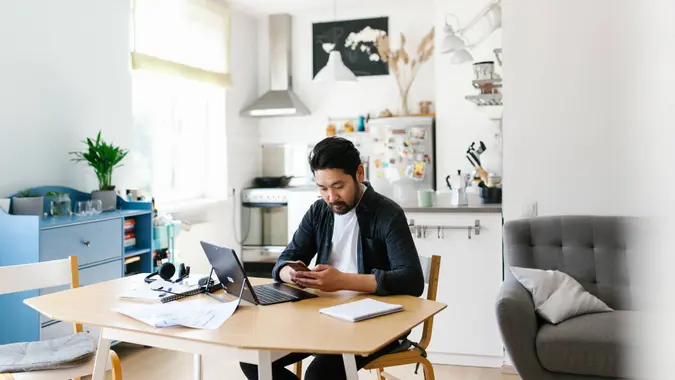 visualspace / Getty Images
A looming recession often makes people rethink their career choices, either because they fear being laid off or because they need a salary boost. But a recession can be a tricky time to try to switch jobs or start a business. Some industries and businesses are more recession-proof than others and knowing which ones they are can help when a recession strikes.
If you want to know what companies do well in a recession, think of those that provide goods and services that people and companies can't do without, or those that provide a way for consumers to save money on what they need. Here are some businesses and industries that are likely to fare better in a downturn than others.
What Businesses Do Well in a Recession?
During a recession, consumers and businesses have to get creative to get what they need at the best price. This can mean paying less for goods and services or getting just what they need and no more. These kinds of businesses can help them do that.
Consulting
If you have specialized expertise in a particular area, a recession can be a good time to hang out a shingle. By providing advice to other companies on an as-needed basis, you help them keep their costs down, even as you can charge more than you would as an employee.
This is an especially good choice right now, as companies are having trouble filling staff vacancies. In order to get projects done while they wait to find the right permanent fit, they may hire a consultant.
Make Your Money Work Better for You
You can start your consulting business on the side, keeping your full-time job until you get off the ground — providing, of course, that your consulting gig doesn't conflict with your day job.
Freelancing
Another sector that will likely do well in a recession is freelancing. Companies hire freelancers for any number of tasks: content writing, graphic design, photography and even finance and accounting. A freelancer is anyone who provides a service on an as-needed basis and is an independent contractor, not an employee.
As with consultants, freelancers provide their services for just the amount of time they are needed. Once the job is done, the freelancer moves on to the next client. Because they don't get paid benefits like vacation time and health insurance, freelancers can charge more than a salaried employee might make. And if you're currently working a full-time job and are just looking to make a little extra money, freelancing makes a great side hustle.
Online Marketing
During a recession, companies often increase their marketing efforts to try to win more customers. TV and print ad budgets may be reduced, while online ads are increased because they are more easily targeted.
Online marketing can be a cost-effective way to increase sales, but you need to know what you're doing. An online marketing business can help by providing advice and services to businesses around e-commerce, website design, social media and more.
Gig Work
Similar to freelancers, gig workers get paid for the services they provide. Rideshare services like Lyft and Uber, and delivery services like GrubHub and Instacart are popular examples of gig work, but there are many more.
Gig workers are independent contractors but use companies to connect them with people looking for their services. For example, Wag connects dog walkers with dog owners, Fiverr connects creatives with companies that may need a logo or a blog post, and Uber connects drivers with those who need a ride.
Make Your Money Work Better for You
Good To Know

If you are planning on doing gig work or becoming a freelancer, keep in mind that you will be responsible for your own health insurance, and there's no paid vacation or sick time. You will also need to pay the self-employment tax, which means you pay the employer and employee portions of Social Security and Medicare tax withholding. Factor these costs in when setting your prices or determining how much you need to work.
Online Instruction
Recessionary times have often seen an increase in do-it-yourself activity, whether it's a homeowner trying to fix a leaking pipe or a business that wants to update a website. These DIYers often look to YouTube or other online channels to learn how to do things they would otherwise have to pay for, so the providers of online instruction often find that recessionary times are good for business.
Home Repair
When money is tight, people are more likely to want to fix what they have rather than buying something new. If a cash-strapped homeowner can just replace a few planks on their deck instead of having a whole new deck built, they're likely to do just that. Plus, for homeowners who may need to sell their home during a recession, making sure that all necessary repairs are done may make the home more attractive to potential buyers.
Auto Repair
During recessionary times, drivers are more likely to want to fix their current car and keep driving it, rather than taking on the expense of buying a new one. This leads to more business for auto repair shops, as people try to keep their cars running longer so they don't have to replace them.
Make Your Money Work Better for You
Online Reselling
Reselling expensive clothing and accessories has long been a popular way to make money. But doing it on the internet gives you a much wider audience. After all, that purple sequined boa may not find a new home in your town, but for someone in another part of the country, it could be exactly what they're looking for. With consumers looking for quality goods and clothing at a bargain price, reselling tends to surge in popularity during a recession.
Social media influencer
When consumer budgets are smaller, companies need to be more innovative to find new customers. They may turn to social media influencers — those with large social media followings who use them to promote products and get paid for it. Since the capacity of a social media influencer is only limited by the number of posts they can produce, if new companies seek their services, they can usually accommodate them.
Food and beverage
Even in a recession, everybody needs to eat. While high-end restaurants and bars may feel the pinch, grocery stores and more affordable restaurants may see a bump in their business as people seek more cost-effective ways to dine.
What industries Are Not Affected by the Recession?
So-called defensive industries are those that do well regardless of consumer spending. Two of the biggest industries that are not affected by recession are:
Health Care
People need health care regardless of the state of the economy. While some people may be able to postpone cosmetic or elective procedures, health care is typically fairly invulnerable to economic conditions. Hospitals still need to operate, so they need to be staffed and consumers will still do what they need to do to take care of their health.
Make Your Money Work Better for You
Government
The government sets its budgets well in advance and provides necessary services. Since the government is funded by taxes, it only needs to cut back if tax revenues are reduced significantly.
Final Take
While living through one can be scary, recessions come and go, so factor that into any decisions you make during one. That said, knowledge is power so knowing how a recession affects different industries will always help.
Information is accurate as of July 16, 2022.
Our in-house research team and on-site financial experts work together to create content that's accurate, impartial, and up to date. We fact-check every single statistic, quote and fact using trusted primary resources to make sure the information we provide is correct. You can learn more about GOBankingRates' processes and standards in our editorial policy.