Former Trump Chief of Staff John Kelly Is Worth Less Than You Think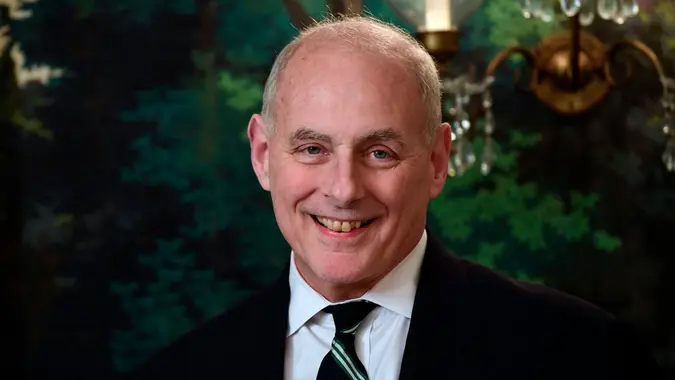 Susan Walsh/AP/REX/ / Shutterstock.com
The departure of John Kelly signals another job vacancy in the Trump White House. Trump announced on Saturday, Dec. 8 that Kelly, his chief of staff, would end his service by the end of the year and will no longer receive his $179,700 annual salary.
Kelly, Trump's second chief of staff in two years, was hired with the hope and expectation that the former Marine Corps general would impose and instill his military ethics and discipline into the West Wing. That dream never materialized.
Read on to find out Kelly's overall net worth and what he earned as a White House employee.
John Kelly Net Worth: $5 million
The career military officer has an estimated net worth of $5 million, Forbes reported in July 2017. The report showed him as one of the least wealthy members of Trump's high net-worth cabinet.
Age: 68
Net worth: $5 million
Primary sources of income: Military service and government appointments and pension
Career highlights: Four-star USMC general; secretary of homeland security; chief of staff
John Kelly vs. His Replacement as Chief of Staff: See Mick Mulvaney's Net Worth
John Kelly as Chief of Staff
Kelly's tenure, which began in July 2017, was plagued by White House rumors that he clashed with two of the president's other top advisers, his daughter and son-in-law, Ivanka Trump and Jared Kushner.
Make Your Money Work Better for You
At the beginning of the Trump administration, Kelly served as the Secretary of Homeland Security for six months. After Reince Priebus' involuntary departure, Kelly was appointed as chief of staff. The Kelly's 17-month stint positions him as one of the longest-serving cabinet members of what can be characterized as the revolving door of the Trump White House.
Also See: What Ex-FBI Director James Comey Is Worth
John Kelly's Career
Kelly's once-close relationship with Trump is now considered tenuous at best and CNN reports that the two are no longer on speaking terms. However, there's much more to the retired four-star military general that Trump deemed a "great guy." Born in 1950 into an Irish Catholic family, Kelly is from the Boston neighborhood of Brighton, where his father was a postal worker.
His military service began in 1970 as an enlisted member of the Marine Corps, but he was discharged in 1972. After his graduation from the University of Massachusetts in 1976, he returned to the Corps to embark on a career that spanned more than 45 years of service, in which he was deployed to Iraq and worked on bases in Washington, D.C., and Camp Pendleton in California, ABC News reported.
Find out the net worths of other former Trump administration staffers.
More on Politicians
Make Your Money Work Better for You
We make money easy. Get weekly email updates, including expert advice to help you Live Richer™.