SpaceX's Starlink Internet: How Much Is It and Should You Get It?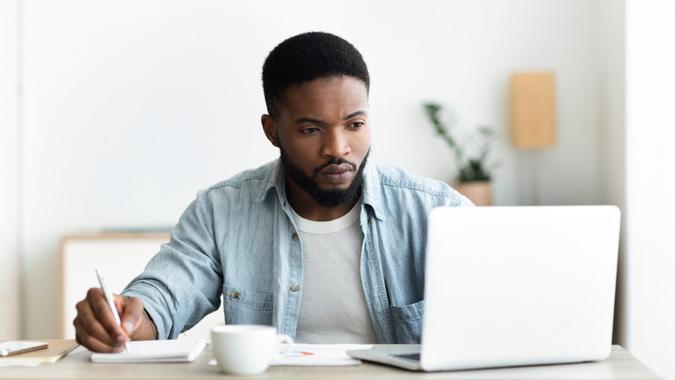 Prostock-Studio / Getty Images/iStockphoto
Elon Musk, the founder of Tesla and SpaceX and potential future majority owner of Twitter, has another venture that may be less familiar to you — but could have a big impact on the lives of people around the world. It's Starlink, and its aim is to provide high-speed internet access to people who don't currently have it.
What Is Starlink?
Starlink is a division of Musk's SpaceX company, and its mission is to provide satellite internet service to rural areas, where broadband internet is prohibitively expensive to install. SpaceX has been launching a network of orbital satellites into space to provide internet capability.
There are other satellite internet providers, but Starlink is unique in that it uses a constellation of multiple satellites that orbit only about 550 km above the earth, reducing latency and improving performance. SpaceX is able to launch increasing numbers of satellites into orbit itself, something other satellite internet providers can't do.
Starlink History
Starlink launched its first prototype satellites in 2018 and had working satellites the following year. Once the program got going, it ramped up quickly. CNBC reported that Starlink had 145,000 users in January 2022, but less than six months later, in May 2022, the company reported 400,000 subscribers.
Make Your Money Work for You
At this point, demand is still outstripping supply by a good bit, and there are many, many areas on the Starlink map where there is a waiting list for service. This means that the service cannot accommodate new customers given the number of satellites it currently has. Potential subscribers can pre-order and put down a deposit to get on the waitlist, and they will be notified when their Starlink is available. In some cases, this could be sometime in 2023.
Speed and Reliability
Starlink was the fastest satellite internet service in the fourth quarter of 2021, according to Ookla, with an average download speed of 104.97 Mbps, significantly better than competitors HughesNet at 20.29 Mbps and Viasat at 21.81 Mbps. Starlink's average download speed was lower than the average of all fixed broadband speeds, which was 131.30.
Upload speeds showed a similar pattern. Starlink, with average upload speeds of 12.04 Mbps, was much faster than HughesNet at 2.54 Mbps and Viasat at 2.88 Mbps. All fixed broadband had an average upload speed of 19.49 Mbps.
Latency, or how long it takes your device to respond to a request, is also much better with Starlink than other satellite internet providers, but not quite as good as fixed broadband. Starlink's average latency was 40 ms, compared to 725 ms for HughesNet and 627 ms for Viasat. Fixed broadband latency averaged 14 ms.
Make Your Money Work for You
How Is Starlink Installed?
When you order Starlink, you'll get the link itself, a wifi router, cables and a base. There's a Starlink app for iOS and Android that will help you determine the best location to install it since it needs a clear view of the sky in order to connect.
When Can I Get Starlink Internet?
That depends on where you live. It's already available in some areas, and you can get on a waitlist if you live in an area that is expected to have service soon.
Will Starlink Give You Internet Anywhere?
Starlink currently provides limited availability as they ramp up the number of satellites. As of June 2020, Starlink was available in most of the United States, particularly rural areas, the southern half of Australia, New Zealand, most of Chile, part of Brazil and much of western Europe with the exception of Scandinavia. Starlink's coverage map indicates that there is a waitlist or that coverage is coming soon in most of the rest of the world, except for Russia, China, Belarus, Iraq, Iran and Pakistan, where it appears there are no plans to make it available.
Make Your Money Work for You
How Much Does Internet From Starlink Cost?
There are 3 Starlink packages: residential, business and RV. For residential use, Starlink costs $110 per month, plus you pay a one-time charge for the hardware of $599. Starlink Business, with twice the antenna capability of the residential offering, plus higher throughput and faster internet speeds, costs $500 per month with a one-time equipment cost of $2,500. Digital nomads can get access to Starlink internet wherever it's available for $135 per month plus $599 for the hardware.
How Long Does It Take To Get Starlink?
It depends on where you live and which package you get. The RV package was recently introduced and there is no waiting list for that — you can get a dish as soon as you sign up. For the residential and business packages, you may need to wait — in some cases, until 2023.
Is Starlink Worth It?
If you live in an area that has high-speed broadband internet service, you're probably paying less than the $110 a month plus $599 for equipment that you would pay for Starlink. And you're probably also getting faster speed and better performance. So if you are well-served by fixed broadband, it probably doesn't make sense for you to switch to Starlink.
Where Starlink shines, however, is in areas that are not currently served by fixed broadband internet. Internet users who live in rural areas would see a marked increase in speed and performance with Starlink as compared to other satellite internet providers, which would make it well worth the cost.
The bottom line is this: Starlink is attempting to bring reliable, high-speed internet service to rural areas where it isn't currently available. Because of the technology the company has developed, and its ability to launch its own satellites, it's well on the way to doing just that.
Information is accurate as of June 27, 2022.
Editorial Note: This content is not provided by Starlink. Any opinions, analyses, reviews, ratings or recommendations expressed in this article are those of the author alone and have not been reviewed, approved or otherwise endorsed by Starlink.
Our in-house research team and on-site financial experts work together to create content that's accurate, impartial, and up to date. We fact-check every single statistic, quote and fact using trusted primary resources to make sure the information we provide is correct. You can learn more about GOBankingRates' processes and standards in our editorial policy.