50 Cheap Stocking Stuffer Ideas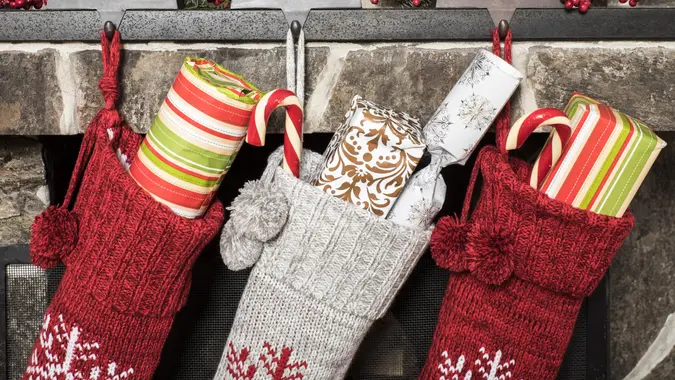 J. Helgason / Shutterstock.com
You have already hung your stockings by the chimney with care, but now what do you put in them? Some families open stockings before the other presents, and some families wait until the end, but either way, the best stockings are typically filled with some surprises. 
Holiday Spending: Get Top Holiday Shopping and Savings Tips
Read More: 3 Easy Tips To Turn Your Credit Woes Into Wows
Christmas shopping can be an expensive endeavor, but there is no need to stress, as you could save money over the holidays with fun, unique, and most importantly, cheap stocking stuffers. 
The Best Cheap Stocking Stuffer Treats
Nothing says the holidays like gleefully over-eating. Giving delicious food items to your loved ones in their stockings ensures the stockings won't be the only things that are stuffed with treats. Here are some tasty and easy things to add to the stocking this year that won't bend your budget. 
Candy: Candy is classic for a reason and a great filler for stockings. You can do anything from chocolates to caramels, to themed holiday candy. Always a crowd pleaser for the young and young at heart. 
Candy canes: These little beauties are great to hang from the mouth of the stocking to be both tasty and decorative. 
Cookies: Nothing says lovin' like something from the oven. You can get someone's favorite store-bought cookies or make some yourself. Pack them with chocolate chips, peanut butter or something else delicious you know to be someone's weakness. If baking isn't your bag, you could also wrap up a cookie mix in cute packaging for them to make at their leisure. 
Cookie cutters: A fun gift to give especially to someone who loves to bake, or to someone you want to bake with later. They can be holiday shapes or even fun random shapes like ninjas. 
Coffee beans: Chances are if you have kids in the house your Christmas morning started early. Give the gift of caffeine as that is the gift that keeps on giving. 
Homemade treats: Sometimes making something with your own two little hands means a lot to someone. It can be a good way to keep memories alive by making your grandmother's peanut brittle, or your uncle's favorite peppermint bark.
Hot cocoa mix: Hot cocoa is a time-honored treat. A few packets of cocoa wrapped with ribbon, and maybe a little bag of marshmallows is a great treat for cold Christmas days.
Nuts: Nuts such as walnuts became a stocking staple during the Great Depression when money was scarce. It was a luxury to find nuts in your stocking as a wholesome treat.  
Oranges: This may sound like an odd one but oranges are a traditional stocking stuffer that in olden times signified that St. Nicholas had been to the house. It's good to get some vitamin C but also keep the legend alive. It's said to represent a gift of gold. 
Pumpkin pie spice: Packed with winter spice, this seasoning is great for sprinkling in lattes, teas, or, obviously, pies.
Tea: Tea bags are a great gift to give someone so they can have a nice warm mug to relax in the morning or at night after all the Christmas chaos has ended. You can give them their favorite variety or even get empty tea bags and make a special mix just for them. 
Make Your Money Work for You
The Best Cheap Stocking Stuffer Accessories
As the stocking is one of original accessories of Christmas you might as well fill your stockings with cheap and cheerful accessories your family will love. 
Hair accessories: Great for all your long-haired family members, hair accessories can range from silk scrunchies to headbands to bobby pins. 
Hats: A cozy gift to give someone, or get a matching set for the whole family for fun photos.
Jewelry: This doesn't have to be diamonds and pearls, you can find fun rings and necklaces at very affordable prices.
Keychains: Everyone uses a keychain and you can customize it or get a more functional one that has a flashlight.
Mittens: Mittens are a great stocking stuffer, especially if you're enjoying a white Christmas. 
Phone case: Grab a phone case for someone in their favorite color, or a more protective one for someone that drops their phone a lot. 
Scarf: Wrap your loved one up like a present in this thoughtful stocking stuffer either from the store or hand-knit. 
Socks: Is it even a holiday if you don't get socks? They are always functional but make them fun by getting holiday-themed, animal prints or even slipper socks. 
Sunglasses: Just because it's winter doesn't mean it isn't bright outside. Cheap sunglasses come in all shapes and sizes.
Temporary tattoos: A bit outside of the box but a fun way to get tatted with the family. Kids go nuts for them and you can get a lot for a little. 
Touchscreen gloves: A bit more functional than mittens, and they will keep fingers warm while still being able to use a smartphone. 
Zodiac accessories: Great for the astrology lover in your family, you can find zodiac signs or constellations printed on mugs, necklaces and more. 
The Best Cheap Stocking Stuffer Toiletries
Toiletries are a great and inexpensive gift if you and your family are staying home or traveling during the holidays.
Bath bombs: Relaxing and aromatic, bath bombs are a great gift you can cheaply buy or make. 
Bluetooth shower speaker: Though not technically a toiletry nothing beats singing in the shower. You can get quality speakers for under $15.
Hand sanitizer: A great gift anytime, but especially the last few years. 
Lip balms: Winter is the time for chapped lips and this is an easy fix that comes in a lot of varieties.
Lotion: Pick some fun-smelling scents and keep your family moisturized this time of year.
Soap: Cute hand soaps or bars of soap are a great cheap gift and easy to pack. 
Make Your Money Work for You
Take Our Poll: How Has Inflation Impacted Your Holiday Shopping Plans?
The Best Cheap Stocking Stuffers for School or Office
Whether it is an inexpensive supply for home, school or the office here are some great goodies to find in a stocking.
Art supplies: Pens, markers, pencils and more are a colorful and fun alternative for a cheap stocking filler. 
Books: Books are always a hit with literature lovers and a small book fits neatly into a stocking. 
Cable protectors: Fun and financially friendly, these little organizers come in many decorative shapes and sizes. 
Coloring books: A great stocking stuffer to go with art supplies and to keep the kids, or even adults entertained. 
Crossword books: This gift gives your favorite wordsmith a fun way to spend the day. 
Framed photos: A photo of the family is wonderful to have on your desk when you are away from them at work. 
Office supplies: Notepads, sticky notes or fun push pins are all functional stocking necessities. 
Reusable straw: Save the turtles by giving a reusable straw in a portable carrier. 
Sticker book: Everyone loves a sticker, these are especially great for cheap gifts for kids.
Stress ball: Work can be stressful and having one of these on your desk at home or in the office can alleviate that.
The Best Cheap Stocking Stuffers for the Home
Home is where the heart is and is also usually where the stockings are, so here are a few stocking finds that fit well within your budget.
Box cutter: Lots of packages arrive during the holidays and this tool is a convenient gift to give an adult in their stocking. 
Candles: Candles come in all sizes and scents so they offer a great variety to choose from for gift-giving. 
Gift cards: These are a great way to let someone pick out something they want or need, and you can determine the price beforehand so it is a win for everyone. 
Holiday mug: A festive mug is great to fill with coffee, cocoa or tea. You can even put some of these items or candy in the mug before adding it to the stocking. 
Magnets: The sky is the limit with magnets. They come in every price point and design imaginable.
Movie tickets: These are great to set a date night during or after the holidays.
Ornaments: Tree ornaments are a festive way to remember this Christmas and decorate the next one. 
Reusable beeswax wraps: These wraps help cut down on plastic wrap waste. They also come in a variety of fun prints. 
Sewing kit: Accidents happen so this is a great gift for someone you live with or even if one of your kids or grandkids is about to move away and will need all the help they can get.
Toys: Christmas and toys are synonymous, but who says they all have to be under the tree? Inexpensive small toys are great stocking stuffers. 
Travel games: There is a lot of traveling over the holidays, so these are great to take in the car from home to home. 
Make Your Money Work for You
Final Thoughts
Stocking stuffers are supposed to be fun so don't overthink it. Cheap stocking stuffer ideas can be fun, functional, homemade and creative and they don't have to cost a pretty penny. 
Stocking Stuffers FAQ
What can I put in a cheap stocking?

Stockings are a great way to give something inexpensive and fun. It can range from traditional to personalized. Here are 50 great and cheap stocking stuffer ideas:

Art supplies
Bath bombs
Bluetooth shower speaker
Books
Box cutter
Cable protectors
Candles
Candy
Candy canes
Coloring books
Cookies
Cookie cutters
Coffee beans
Crossword books
Framed photos
Gift cards
Hair accessories
Hand sanitizer
Hats
Holiday mug
Homemade treats
Hot cocoa mix
Jewelry
Keychain
Lip balms
Lotion
Magnets
Mittens
Movie tickets
Nuts
Office supplies
Oranges
Ornaments
Phone case
Pumpkin pie spice
Reusable beeswax wraps
Reusable straw
Scarf
Sewing kit
Soap
Socks
Sticker book
Stress ball
Sunglasses
Tea
Temporary tattoos
Touchscreen gloves
Toys
Travel games
Zodiac accessories

What do you put in as stocking fillers for adults?

Adults love stocking stuffers too so here are some great inexpensive gifts for around the house:

Candles
Holiday mugs
Magnets
Ornaments
Reusable beeswax wraps

What can you put in stockings other than candy?

Stockings are great for cheap gifts as there are no rules. If you are looking for healthy alternatives to candy you could do fruit or nuts for traditional stocking fare.

What are common stocking stuffers?

Common stocking stuffers include things such as cozy socks, candy, toys and toiletries.
Make Your Money Work for You