14 Best Kirkland Products You Should Buy at Costco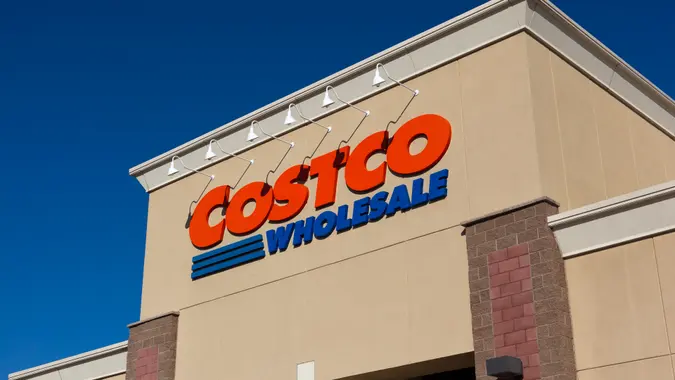 slobo / Getty Images
Costco has long been known for providing great value to its warehouse members, who pay an annual fee just to shop at the store. Some of that value comes in the form of the company's own Kirkland Signature line of products, which not only tends to undercut the pricing of major brands but also offers high-quality items. While not all products will appeal to every single shopper, there are a number of Kirkland Signature products that many consider to be "must buys," based on both their price and their quality.
Read: If Your Credit Score is Under 740, Make These 4 Moves Now
Best Kirkland Products To Buy at Costco
Here's a look at some of the top Kirkland items, including how much you should expect to pay for them at Costco.
1. Kirkland Peanut Butter Pretzels
Peanut butter-filled pretzels are nothing new in the snack scene, but many think that Kirkland's version is a cut above. Filled with Valencia peanut butter, customers love the balance of salt, cream and crunch offered by the Kirkland version. Even on Amazon, where the pretzels go for $21.90 instead of the $12.49 price at Costco — over 1,200 reviewers give the product a rating of 4.5 stars.
Make Your Money Work for You
2. Kirkland Macadamia Milk Chocolate Salted Caramel Clusters 
When it comes to picking out the "best" Kirkland confection, consumers are spoiled for choices. Many enjoy the Kirkland chocolate-covered raisins or almonds, along with countless other options. But the Kirkland Macadamia Milk Chocolate Salted Caramel Clusters are something of a specialty item that satisfies many a craving. A 32-ounce jar can be had for $14.99 at many stores, which is remarkable considering you're getting one of the most expensive nuts in the world — the macadamia nut — in addition to all of the chocolate and caramel on top.
3. Kirkland Microwave Popcorn
Microwave popcorn has always been something of an inexpensive, low-quality product, but Kirkland's version raises the bar. Many users report that it tastes "better than movie-theater popcorn," and it's certainly far less expensive. You can pick up a box of 44 individual packets for about $16.79 at most warehouse locations.
4. Kirkland Bacon
Kirkland bacon is not only cheaper than many store-bought bacon brands, it is also decidedly tasty to many. Consumer Reports called Costco's Kirkland bacon the best, praising its crispness and balance of meat and fat flavors. Consumer Reports also notes that it is about $1.50 per pound less than competing options.
Make Your Money Work for You
5. Kirkland Rotisserie Chicken
It's hard to walk out of a Costco without one of its Kirkland Signature rotisserie chickens, which are massive and yet still only cost $4.99. Costco's rotisserie chickens are said to be a loss leader, placed at the very back of the store so that customers must walk through all of the other enticing items around them. The strategy usually works, as it's hard to find a shopper at a Costco checkout register who is simply buying a rotisserie chicken.
6. Kirkland Batteries
Kirkland batteries are actually produced by Duracell, the top name in the industry, according to Costco executives. But Kirkland batteries are much more inexpensive, particularly when they are on sale, which is frequently the case. You can pick up a 48-pack of Kirkland AA batteries for just $16.49, whereas even at Costco a 40-pack of Duracell AA batteries will run you $20.99.
Make Your Money Work for You
7. Kirkland Chicken Stock
Chicken stock may not sound like the most glamorous product, but it's a staple in kitchens around the world. And when you can get the bulk sizing that Costco is known for at a bargain basement price, Kirkland Chicken Stock is a must-buy for most home cooks. Depending on your store, you can score a 6-pack of 32-ounce chicken stock boxes for $18.99, a much cheaper option than buying individual cans at a supermarket. 
8. Kirkland Eggs
Kirkland sells eggs in packs of 24, but for the real value, you'll want to pick up the brand's 5-dozen pack. Although 60 eggs might seem like a lot, they typically go fast in American households, and when refrigerated they can have long-staying power. A 60-pack of eggs at Costco will run you just $13.59, although this price will vary based on where you live.
9. Kirkland Gasoline
Kirkland gasoline is often the cheapest you can find in any given area, and its customers are willing to wait in lines that are usually long in order to reap the savings. Much like the company's rotisserie chickens, the cheap gasoline serves as a way to get customers to spend more at the store, as few can avoid the temptation of shopping after filling up. But while Kirkland's gasoline is inexpensive, it doesn't lack in quality — the company only sells top-tier gasoline. 
10. Kirkland Golf Balls
Kirkland golf balls are manufactured by the same company that makes Taylor Made products. While not likely the choice of professional golfers, for the average player, Kirkland golf balls offer an amazing blend of quality and value. According to a review in GolfSpan, Kirkland golf balls are a good choice for high handicappers, with a soft cover that offers better performance at a better price than other balls. Costco prices the golf balls at just $34.99 for two dozen, about the same price that many golf balls cost for just a single dozen. 
11. Kirkland Honey
Costco sells its Kirkland Signature wild flower honey in a 5-pound container, so you'll have to really enjoy using honey to make this purchase worthwhile. But then again, honey doesn't spoil, so even if you're a light user you may benefit from the added savings that Costco provides. You can get 5 pounds of highly rated Kirkland honey at Costco for just $20.99, or $0.26 an ounce online — and possibly for even less at your warehouse location. Even noted discount retailer Target can't match that pricing, as it offers 12 ounces of pure clover honey for $3.99, or $0.33 an ounce.
12. Kirkland Organic Extra Virgin Olive Oil
Costco's Organic Extra Virgin Olive Oil has gotten rave reviews in the press, and even some celebrity endorsements. Samin Nosrat, of Netflix's Salt, Fat, Acid, Heat, calls the olive oil "really good," and over 1,000 reviewers on Amazon feel the same way, giving the product 4.6 stars out of 5. A two-liter bottle of the olive oil can be had for $15.99 or less, a great value compared with the cost of some competitor brands that may also be of lesser quality. 
13. Kirkland Hot Dog Special
The Costco food court is well-known for having a wide range of tasty food at low prices, and this is epitomized in the $1.50 hot dog and drink special. The Kirkland hot dog offered in the food court is generous in size and grabs rave reviews from many who would gladly pay more. But Costco's CFO has stated for the record that the $1.50 hot dog and soda special will last "forever."
14. Kirkland Toilet Paper
A 30-pack of Kirkland two-ply toilet paper can be had for $23.99 or even less at Costco, compared with $29.99 for a 30-pack of two-play Charmin Ultra Strong Bath tissue. But the Charmin, while having 30 rolls, only provides 825 square feet of tissue, compared with the 1,425 square feet offered by the Kirkland brand, nearly twice as much.
The Bottom Line
One of the perhaps under-appreciated benefits of a Costco membership is access to a wide range of Kirkland Signature products. Not only are these products available at lower prices than comparable supermarket brands, they are actually high-quality items that consumers crave. The above list is just a sampling over the over-350 Kirkland Signature items that are available, so it's all but certain you could find at least a few that will appeal to you.
Kirkland Signature FAQ
What is Kirkland Signature brand?

Kirkland Signature was named after the location of Costco's original headquarters in Washington State. As the store's private label brand, it allows the company to help keep prices low and control every aspect of product development.

Who is Kirkland brand made by?

Although Costco is the owner of the Kirkland brand, there have long been rumors that many of its products are made by name-brand companies, then simply packaged as Kirkland Signature items. For example, Duracell is said to produce Kirkland batteries, while Kimberly-Clark, the maker of Huggies, is said to produce diapers for Kirkland as well.

Why is Kirkland Signature so cheap?

Kirkland Signature items are cheap for a number of reasons. First, as a private label, there is no added expense for branding or marketing. Second, with Costco in control of product development, it keeps its supply chain as lean as possible to keep costs low for its customers.

Is Kirkland Signature owned by Costco?

Yes, Kirkland Signature is the private-label brand owned and operated by Costco.
Morgan Quinn contributed to the reporting for this article.
Information is accurate as of Nov. 8, 2022.
Editorial Note: This content is not provided by any entity covered in this article. Any opinions, analyses, reviews, ratings or recommendations expressed in this article are those of the author alone and have not been reviewed, approved or otherwise endorsed by any entity named in this article.
Our in-house research team and on-site financial experts work together to create content that's accurate, impartial, and up to date. We fact-check every single statistic, quote and fact using trusted primary resources to make sure the information we provide is correct. You can learn more about GOBankingRates' processes and standards in our editorial policy.
Make Your Money Work for You