Apple's Return Policy: What You Need To Know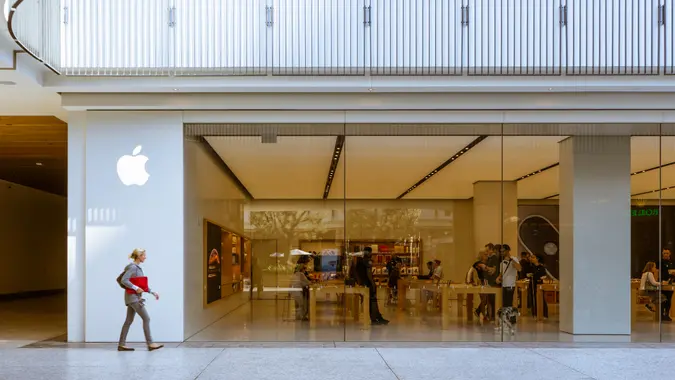 Sue Hwang / GOBankingRates
Sleek packaging, crisp visuals and the power of innovative technology at your fingertips — it's all part of the Apple experience. But what happens when that experience doesn't meet your expectations? Thankfully, Apple has you covered with its return policy. Here's a guide to help you understand what it entails and how to go about returning a product if the need arises. 
See: How To Get Cash Back on Your Everyday Purchases
Apple Only Offers a 14-Day Return Window
Don't make the mistake of thinking you'll have 30 days to return your Apple product. According to Apple's return policy, you only have a 14-day return window. That means from the day you receive your Apple product — whether you made your purchase online or in-store — you have two weeks to decide if you're happy with it. 
Noneligible Items for Returns
Not all items are eligible for returns. These include opened software with a printed license, electronic software downloads, software upgrades, Apple gift cards, Apple Developer products and Apple Print Products. Always check the eligibility of your item before attempting a return.
Apple's Policy for Opened Items
Apple does accept returns of opened items. As long as you've kept all original packaging, including any accessories, manuals and documentation, Apple will accept your return without fees. Unlike some retailers, Apple doesn't charge a restocking fee in the U.S. Just make sure everything is repackaged as it was when you received it.
Can You Return Opened Apple Software?
Software that's unopened can be returned within the 14-day return period.
Make Your Money Work for You
If software is opened, it can still be returned if it hasn't been installed on any computer. However, if the software contains a printed software license on the outside of the packaging that you can view without opening it, the software may not be returned if the seal or sticker on the software packaging is broken.
An exception to this policy is that you can return Apple software if you do not agree with the licensing terms, but you cannot retain or use any copies of the returned software. 
Returning Items Without a Receipt
Apple recommends that you keep your receipt when you purchase items and states in its return policy that you'll need your original receipt or a gift receipt to make a return.
If you can't find your receipt, you can call the Apple store where you bought the product and ask if it has a copy of your receipt. If you bought the product online, go to the Apple website and scroll to the bottom of the page. Find "Apple Store" and click on "Shopping Help." Then, click "Learn more" under "Viewing & Changing Orders." Click the hyperlink for "View or print invoice" and follow the instructions. If you need assistance, call 800-MY-APPLE.
Apple's Extended Holiday Return Policy
During the holiday season, Apple gives shoppers more time for returns. This period usually starts in early November and lasts until early January — but only for items purchased up to Dec. 25. Items purchased after that are subject to Apple's 14-day return policy. Check Apple's website starting in November of each year to view its current holiday return policy. 
Make Your Money Work for You
Apple Watch and iPhone Return Policies
Apple Watches and iPhones follow Apple's standard return policy. However, there's one extra condition for the Apple Watch Edition collection: These items must be in their original, unmarked and undamaged condition upon inspection at an off-site Apple facility.
Additionally, returning an iPhone, iPad or Apple Watch may not automatically cancel or reset your wireless account. You'll need to contact your wireless service provider to cancel the wireless service plan that came with your device.
Buying From Apple vs. Authorized Resellers
Purchasing directly from Apple or its online store guarantees the full Apple return policy. If you buy an Apple product from an authorized reseller or another retailer, you're subject to that retailer's return policy. 
App and Content Purchase Returns 
You can request a refund for Apple apps and content within 14 days of purchase. Go to reportaproblem.apple.com and follow the prompts. If the charge for the app or content is pending, however, you'll have to wait until it posts to request a refund.
Price Adjustments
Additionally, Apple offers price adjustments. If Apple reduces its price on a product within 14 days of you receiving your product, you can request a refund of the difference between the price you paid and the current selling price — as long as you do it within 14 days of the price change. Price protection does not apply to more than 10 units of a specific product, temporary price reductions or special sales events like Black Friday or Cyber Monday.
Returning Gifts Purchased From the Apple Store
If you receive an Apple gift that you don't quite like, you're not stuck with it. Apple also allows gift returns. However, refunds will be issued as an electronic Apple gift card.
Returning AppleCare and Other Services
Services, like AppleCare, can also be returned. If you cancel within 30 days of your initial purchase, you'll receive a full refund minus the value of any service provided. After that, you'll get a prorated refund based on the remaining time.
Returns for Products With Promotional Items
If you received a promotional item with your Apple purchase, such as a gift card, that item must also be returned. If you don't, the value of the promotional item will be deducted from the refund.
How To Start an Apple Return
To begin an Apple return, there are two options: ship your item back or visit an Apple store to make the return. 
Ship Your Item Back
One way is to log in to your Apple account and go to the "Order Listing" page. There, you'll find all the details about your order and you can initiate the return process.
After you start your return, Apple will send you a return label via email.
Print the label and stick it to your package. Make sure you return the item in its original packaging with all accessories, documentation and manuals included. 
Check your order status for updated return and refund information.
Go to an Apple Store To Return Your Item
If you visit an Apple store to return your item, you will receive a refund at that time. 
However, if returning Apple purchases of $750 or more for cash, cash equivalent or check, you'll receive a refund check within 10 business days.
Takeaway
Apple's return policy is comprehensive, so it's always a good idea to read it over before making a purchase to avoid any potential surprises or disappointments. For example, you only have a 14-day window to return items once you receive them. There also may be certain exceptions or exclusions that apply specifically to your purchase. Additionally, Apple's return policy could change at any time.
Editorial Note: This content is not provided by any entity covered in this article. Any opinions, analyses, reviews, ratings or recommendations expressed in this article are those of the author alone and have not been reviewed, approved or otherwise endorsed by any entity named in this article.