Does Best Buy Price Match? And Other Ways To Save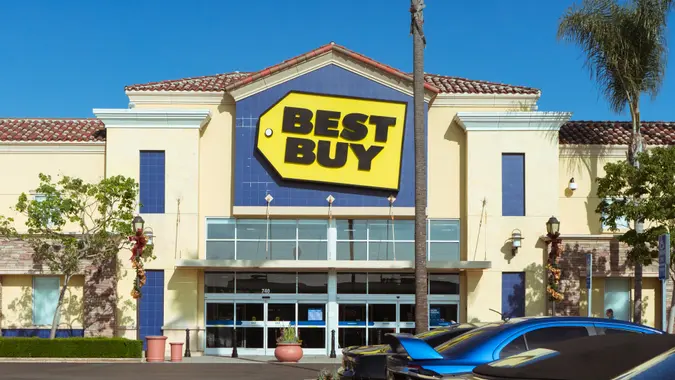 Sue Hwang / GOBankingRates
In addition to its vast catalog, Best Buy has a reasonably robust price match policy. This means that even if the sticker price of an item is lower with other retailers or online, you may still be able to get the item in-store at Best Buy for the same price. Here's what you should know about the Best Buy price match policy and other ways you can save. 
Read: 3 Easy Tips to Turn Your Credit Woes into Wows
Does Best Buy Allow for a Price Match?
Best Buy stores allow customers to bring proof of a lower price from qualifying competitors to get a price match. Best Buy's price match guarantee covers all local retailers as well as select online retailers. To qualify as a local retailer, a store must be within 25 miles of the Best Buy where you would like to make your purchase. These might include warehouse clubs such as Costco or Sam's Club, in addition to any store local to your area.
The online retailers included in Best Buy's price match guarantee are:
Crutchfield.com
Dell.com
HP.com
TigerDirect.com
In order to get a price match, all you need to do is bring proof of the lower price with you when purchasing an item from Best Buy. Proof of a lower price could be a local competitor's print ad or a link to a current online listing. The listing you are price-matching from must be the exact same product as the one you would like to buy, with the exact same brand, model number and color.
Make Your Money Work for You
While Best Buy limits price matching to only a few online retailers, if a local retailer's website lists the price that can be found in-store, this listing can be used as proof in order to get a price match.
Can You Price Match on Bestbuy.com?
Best Buy does allow customers to price match on BestBuy.com when making a purchase or during the return period. A price match request can be made using the online chat feature on the website or by calling the customer service line at ​​1-888-237-8289. 
Price match requests for items bought on the BestBuy.com website cannot be made in-store or by email. Best Buy can also reasonably limit how many items can be bought with price matching per customer.
Shipping and delivery charges will not be considered when price matching items on BestBuy.com. Because of this, if Best Buy's delivery fees are more expensive than those of another online retailer like Amazon, you may still end up paying more total for the item than you would elsewhere.
Make Your Money Work for You
Can I Price Match Something I Already Bought?
What if you've already purchased an item and then the price drops? Does Best Buy do price adjustments? And, if so, how long does Best Buy give you to price match?
Request a Price Adjustment
If the price of an item you've bought drops at Best Buy or on BestBuy.com within the return period, then you can request a price adjustment and get a refund for the difference. Price adjustment requests for items bought on BestBuy.com must be made through the website chat or by calling 1-888-237-8289. Price adjustment requests for items bought in-store can be made at the Customer Service desk or by talking to a Customer Specialist.
Return Policy at Best Buy
The standard return period for Best Buy purchases is 15 days for most items. For Best Buy Totaltech members, that period is extended to 60 days. For both members and nonmembers, the return period for activatable devices — cell phones, cellular wearables and tablets or mobile hotspots — is 14 days.
Tips for Saving on Best Buy Purchases
There are a few tips besides price matching you can keep in mind to save money when shopping at Best Buy.
Keep an eye out for coupons or promo codes, both when buying in-store and online. Digital coupons and offers you get in the mail can sometimes have great deals, and you may be able to use print offers for price matching.
When buying online, you can check for promo codes through one of the many popular browser extensions available to ensure you're paying the lowest possible price.
Make Your Money Work for You
When using coupons, keep in mind that Best Buy allows you to either price match or use coupons, but not both. If you have the option to use either, opt for the choice that will give you the most savings.
Did You Know?

Some credit cards may offer increased cash back on purchases at certain stores. When shopping at Best Buy, using the My Best Buy® Credit Card allows you to save 5% on most purchases.
What Are the Benefits of Price Matching?
The Best Buy price match policy can be a great way to ensure you're paying the best price for your purchases while still taking advantage of Best Buy's in-store shopping experience. You'll also get the added convenience of seeing it in person and not having to wait a few days while it's delivered.
Now that you know everything you need to about the policy, you can feel confident when planning out any future purchases. For more information on how other retailers' price match policies compare, take a look at a list of retailers that offer price matching.
Best Buy Price Match FAQ
Here are the answers to some of the most frequently asked questions about Best Buy's price matching.
Does the price match policy apply to preorders?

If you preorder something from Best Buy and the price drops before the order ships, then Best Buy will charge you the lower price automatically. Best Buy only charges your credit card once a preorder has shipped.

Will Best Buy price match competitors' services?

Because of how much the services offered by competitors may differ, Best Buy will not price match any services offered, including delivery, installation and computer services.

Can I request a price adjustment more than once?

As long as all other requirements are met, you can request a price adjustment anytime the price of your purchase drops during your return period. If the price drops multiple times during that period, it is possible to request multiple price adjustments.
Editorial Note: This content is not provided by any entity covered in this article. Any opinions, analyses, reviews, ratings or recommendations expressed in this article are those of the author alone and have not been reviewed, approved or otherwise endorsed by any entity named in this article.
Make Your Money Work for You