REI Return Policy: The Return Window for Clothing and Gear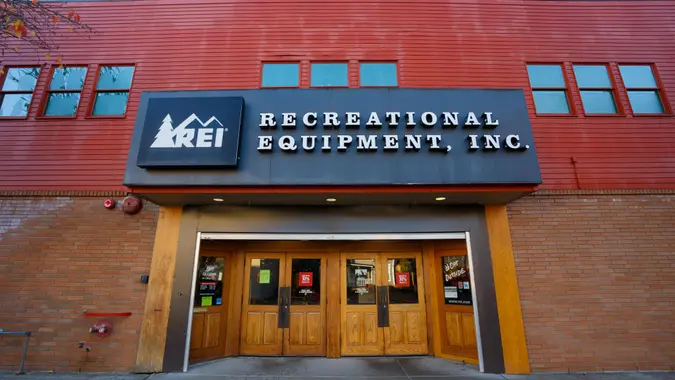 joshuaraineyphotography / iStock.com
REI, a company known for its quality outdoor clothing and gear, once offered a lifetime warranty on products and allowed you to change in certain used products for new ones. However, it changed its return policy in 2013. Though you are still allowed to do this in many capacities, you now only have 365 days in which to do so, as that is REI's current return policy. 
See: 3 Easy Tips to Turn Your Credit Woes into Wows
REI Return Policy
Though REI no longer offers a lifetime warranty, it does try to guarantee customer satisfaction with its still-generous return policy for refunds and exchanges. The policy does affect REI Co-op members and non-members differently, so be aware that if you are not a member of the REI Co-op, you only have 90 days after the date of purchase as a return window. This differs from the 365 days REI Co-op members are granted. 
REI Return Window Breakdown
| Product | REI Co-op Member | Non-member |
| --- | --- | --- |
| Eligible items purchased new | 365 days | 90 days |
| Outdoor electronics | 90 days | 90 days |
| Eligible items purchased used | 30 days | N/A |
REI Return Policy Exceptions and Non-eligible Items
Though REI does allow you to return items for refunds or exchanges for most of their catalog, there are always a few exceptions. Certain items are not eligible for REI's general return policy for both members and non-members of the REI Co-op. They include but are not limited to the following.
Damaged gear
Electronics, such as monitors, cameras, communication devices or GPS-enabled devices
Final sale items
Unwashed gear
Make Your Money Work for You
How to Return Items to REI
If you are returning a holiday gift to REI or just need something that fits better, you don't have to rush right out — REI allows Co-op members up to a year to return an item, and non-members up to 90 days. 
REI In-store Returns
You can return items purchased either in-store or online to any REI location. Once in your local REI, simply take the items you wish to return to the customer service desk and the REI staff will assist you from there. Here is what you'll need.
Original product packaging
Tags, if available
Proof of purchase — either a receipt from in-store purchases or the order number from the email confirmation if you purchased online
Make sure to keep your receipts as proof of purchase, whether it is a paper receipt or email confirmation, since without either of these things, returning items to REI will be difficult. Though there is a chance REI can look up the credit card you used to purchase the item to see if it's in the system and verify your purchase, there are no guarantees it will be found or that you will be refunded.
REI Returns by Mail
It is important to note that when you return items to REI by mail, $5.99 will be deducted from your refund, as they use that to cover the cost of shipping when you use the prepaid shipping label. If you'd prefer not to use the prepaid label, you can mail returns to:
Make Your Money Work for You
REI Returns Department
1700 45th ST E
Sumner, WA 98352
You will be responsible for all shipping costs if you choose not to use REI's prepaid label, even if the cost is more than the $5.99 refund deduction the label would have cost you.
You can return online or in-store purchases through the mail. If you are mailing an in-store purchase, be aware that your refund will be issued via check. Here are the steps you'll need to follow.
Start your return on REI.com and either select the option for Return Online Orders or Return In-store Purchases and fill out the prompts accordingly.
Print your shipping label or get a QR code for paperless drop off.
Take the return package to your preferred mailing facility.
Returning Used Items to REI
As it is known as one of the few companies that will repurpose and upcycle used products, REI does still allow you to return used items with a few stipulations.
Items purchased used from Re/Supply — available to Co-op members only — can only be returned within 30 days of the date of purchase.
Used items must be thoroughly cleaned before returning.
Make Your Money Work for You
Final Take
Though its overall return policy has changed over the last decade, REI still allows a liberal return window for both REI Co-op members and non-members alike. Though REI Co-op members do get 365 days to return an item, non-members still get 90 days, which should be plenty of time to decide on whether or not to return or keep an item. Now, stocking up for a camping or hiking trip comes with a little less pressure and hopefully a little more wiggle room in your new boots.
FAQ
Here are the answers to some common questions about returns at REI.
What is the return policy at REI?

REI Co-op members have 365 days from the date of purchase to return most items, with a few exceptions. Non-members have 90 days to return most items.

How long do you have to return to REI?

For eligible items, REI Co-op members have 365 days to return anything they are unsatisfied with, whereas non-members only have 90 days to return items.

Can I return used items to REI?

Yes, you can return used items to REI. However, you can only return items that are not damaged due to improper use and do not show signs of wear and tear.

Did REI change its return policy?

Yes

–

in 2013 REI changed its return policy from offering a lifetime guarantee to only allowing a 365-day return window for most purchased items.
Editorial Note: This content is not provided by any entity covered in this article. Any opinions, analyses, reviews, ratings or recommendations expressed in this article are those of the author alone and have not been reviewed, approved or otherwise endorsed by any entity named in this article.
Make Your Money Work for You