Zara's Return Policy: What You Need To Know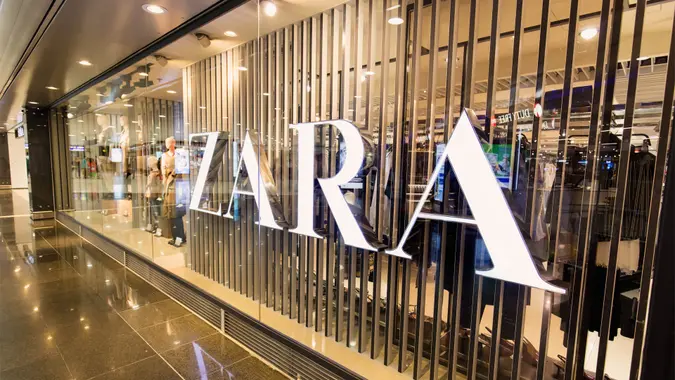 testing / Shutterstock.com
Zara is a multinational fashion powerhouse with more than 2,000 stores around the globe. With all fashion items, returns are important. After all, what happens if you get a new outfit only to find it doesn't fit quite like you thought it would? Read this guide for tips to get the most out of your Zara returns.
Read: 3 Ways Smart People Save Money When Filing Their Taxes
What Is Zara's Return Policy?
You can return most items you purchase at Zara in new or like-new condition within 30 days of your in-store purchase or the shipment date of your online purchase. Here's how the two options work:
Online returns: You must bring online returns to one of Zara's drop points. You don't need to return items in their original packaging unless Zara lists them in the exceptions outlined below. Keep in mind that Zara deducts the cost of shipping the return from your refund amount. 
In-store returns: Bring your items back to any Zara store in the country where you purchased the products. You'll need your receipt or Zara QR code for the return. Also, you cannot return items you purchased in-store at Zara drop points — these points are only for online orders. 
Afterwards, getting your money back is easy. The Zara refund policy states that they provide all refunds via the original source of payment.
Return Policy Exceptions
There are several exceptions to the Zara return policy, including:
Undergarments and swimwear:

You can only exchange or return swimwear and women's undergarments in new condition with the protective bag or sticker in place. You can not return men's undergarments. You can only return or exchange children's undergarments if they're socks, tights, tops, bodysuits or undershirts that are in new condition.

Accessories: You must return accessories in original, intact packaging. 
Fragrances and cosmetics: Returns are only accepted if the original seal is in place. 
Personalized items and magazines: No returns or exchanges. 
Packs: You must return the entire pack inclusive of all items at the same time. 
Make Your Money Work for You
Returning Purchases With a Gift Receipt
Here's how returns with a gift receipt work:
Recipient: You'll receive store credit for the value of the product you return. 
Buyer: You'll receive a full refund to your original payment method as per Zara's standard return policy. 
What If You Made the Purchase With a Gift Card?
If you made your purchase with a gift card, don't worry, you can return your items. The gift card return policy is the same as the standard return policy in that you must return items within 30 days of the purchase or shipment date. 
The difference is how the refund works. Zara provides refunds to the original gift card by updating the balance on the card you used to purchase the item. If you don't have the original gift card, Zara will provide you with a new card for the return.
If you used more than one payment method and are only returning part of the order, Zara will refund the money to your non-gift card payment method first. The retailer will return any remaining balance to a gift card. 
Make Your Money Work for You
How To Modify Your Return Request
Zara lets you change return requests at any time. If you'd like to make a change, simply call the company at 855-635-9272. If you want to cancel your return request, you don't have to do anything. The company only provides a refund once it receives the item back. If you don't send the item back, the return request will be automatically canceled. 
How To Pack Returns
Any time you package returns, it's always best to do so using the original product packaging. However, if you don't have that packaging available, that's acceptable in most cases. One exception is that you must return Zara Home products in their sealed original packaging.
Regardless of which packaging you choose to use, be sure to pack the products securely to avoid anything getting lost on the way back to the warehouse.  
Final Take
If you have a Zara product you're not 100% satisfied with, consider returning it to the store for a refund. Refunds are relatively simple, that is, as long as you follow the rules outlined in the company's refund policy. 
Make Your Money Work for You
FAQ
Find the answers to the most common questions about Zara's return policy below.
Does Zara offer full refunds?

When you return products that you purchased in a Zara store, you can expect to receive a full refund. However, that's not the case if you return online items using a drop-off location. When you do so, ZARA will deduct the shipping cost associated with the return from the refund value. You can avoid this additional shipping cost by returning your items to the nearest Zara location.

Does Zara have a 30-day return policy?

Zara's return policy requires that you bring your items to a store or drop them off for shipping within 30 days of purchase. If more than 30 days have passed since you bought the items, you may not receive a refund.

Does Zara reject returns?

Although most items in Zara stores and online are eligible for returns, there are some items the company will reject. Take a look at the return policy exceptions mentioned above to determine if Zara will accept or reject your return. Additionally, keep in mind that the items must be in new or like-new condition. So if your items are looking worn, even if less than 30 days have passed since your purchase, Zara may not take them.
Information is accurate as of Jan. 31, 2023. 
Editorial Note: This content is not provided by any entity covered in this article. Any opinions, analyses, reviews, ratings or recommendations expressed in this article are those of the author alone and have not been reviewed, approved or otherwise endorsed by any entity named in this article.
Make Your Money Work for You