West South Central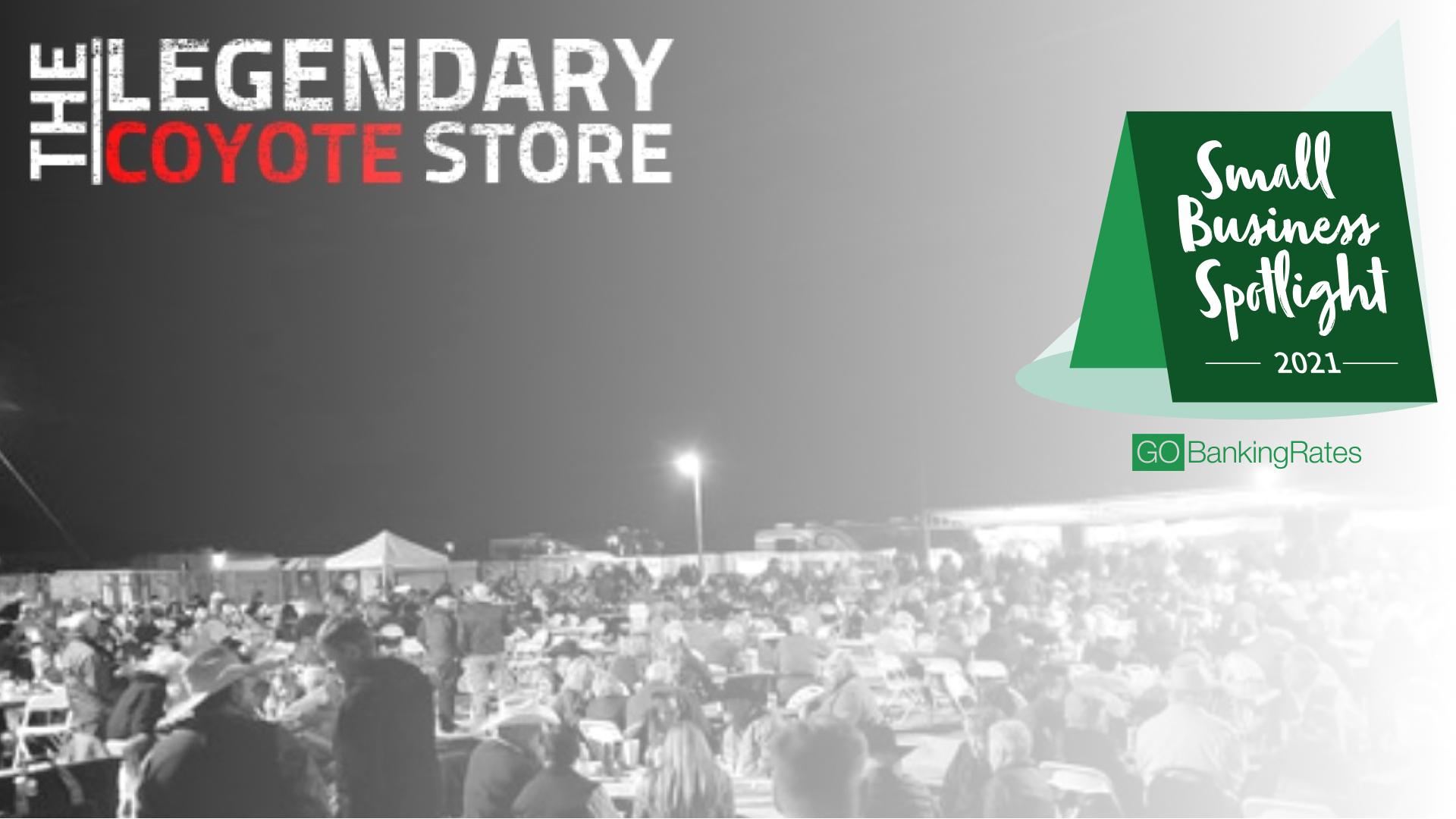 Pictured: The Coyote Store
To return to the Small Business Spotlight page click here.
The West South Central region includes small businesses in Arkansas, Louisiana, Oklahoma and Texas. In this region, Texas had the most small businesses nominated.
You can check out the complete list of businesses nominated for GOBankingRates' Small Business Spotlight in this region below — and read more about the region's featured nominees in the links below.
Featured Nominees
Regional Nominees
Arkansas
Bottom Dollar Mercantile (Bearden, retail/grocery): "With COVID they still upheld our town and [kept] us from driving 25 to 30 miles both ways every time someone needs something! Always a smile and friendly service."
Clif's Cleaners (North Little Rock, laundry and dry cleaning): "The woman who owns this business has been employed there for years — she offers daily specials [and makes sure] the customers are pleased with her services, if not they are redone for complete customer satisfaction."
Hometown Furniture Showroom (Greenbrier, retail furniture sales): "Their prices are the most reasonable in our area and their customer service is second to none, opening the door for lots of repeat business. This store has been very beneficial to the economy of our community and has earned business from all over Arkansas!"
Lori's Signed Sealed Delivered (Springdale, mobile notary and courier services):
More on Lori's Signed Sealed Delivered:

"Throughout the pandemic was working an average of 60 hours per week and still volunteering services for seniors, military and single moms. Her compassion for the community is a rare but treasured find."
Majestic Nails (Jacksonville, nail salon): "Always pleasant following COVID rules to T. They don't come any nicer and very professional."
Malik's Top Of the Line Cleaning (North Little Rock, residential and vehicle cleaning): "He has a passion for his clients and the service provided."
Medic Sav On Drug (Searcy, pharmacy): "They are friendly, they are thorough and they are very helpful. They deliver for free to local residents."
Motley's Pumpkin Patch and Christmas Trees (Little Rock, pumpkin and Christmas trees sales): "It is a hard working business that they get no money for their work all year until the last 3 months of the year! They are very respectable and have great concern for their business and themselves."
Mr. Steve LLC (Hot Springs, contractor): "Great lot developer, 'parkifying' the building lot [and] utilizing natural topography."
Young's Moving Service (Rogers, moving services):
More on Young's Moving Service:
"Young's Moving Service is more than just that. Their daily operation is managed by a young entrepreneur, Ericka Young, 26. Ericka is professional and personable with each customer and guides them through the process in order to relieve much stress caused by moving. She has won Best of the Best of Northwest Arkansas 3 years running, each time up against large movers."
Louisiana
4Kings Photography (New Iberia, photography): "4Kings Photography is a small photography business that was started from a spark of curiosity a few years ago. Now today that curiosity is the motivation, just from one question… 'How can I add to a person's happiness?' 4Kings='Making a Statement, without saying A WORD!'"
AwwShucks (Lafayette, food truck):
More on AwwShucks:
"Started by great people who love and appreciate their customers. The food is awesome and worth every penny."
Bella's Paw Spa (Bogalusa, pet groomers): "They provide excellent service with over 25 years experience. Throughout the COVID crisis they've managed to keep their customers happy and safe."
Buckhorn Taxidermy Studio (Eunice, commissioned taxidermy and art): "With only original one-of-a-kind commissioned creations designed to last for multiple generations, Buckhorn Taxidermy is the best-kept secret of all those who desire the finest in workmanship, creativity, talent, experience and reputation."
Brady's LLC (Westwego, farming)
Cooyons (Dupont, grocery/hot food): "Wonderful employees, very down to earth, they care about community and their customers, have yummy food, etc."
Davis Bush-Hogging & Dozer (Duson, lawn care):
More on Davis Bush-Hogging & Dozer:

"Never has there ever been an unsatisfied customer. Wonderful gentleman who continues to serve thru this pandemic although some customers could not pay at that time. This small business has the best owner for over 20+ yrs. Although he works alone he does the job of three men with a finished job as if he works with a crew."
Dennis Mills Learning Academy (Denham Springs, daycare): "It's great because it serves our little ones."
Friends Nutrition (Shreveport, nutrition): "Great customer service with great products."
From God's Sent (Marrero, food truck): Soul food like "fry fish, potato salad, baked macaroni, green peas, fried chicken, with red beans and rice, bread, cake, etc."
Grace Bookkeeping & Notary Services (Shreveport, DMV, notary, tax preparer, bookkeeping, insurance agency):
More on Grace Bookkeeping & Notary Services:

"Because just like the word said, 'one stop shop' and you can get everything done in one place [without having] to run to so many different places."
Itstyle (Jonesboro, children's retail): "This store is a vision for me and my children."
The Law Office of Lewis-Crawford (Kenner, legal services): "The first young black female [to] open her own law firm in Kenner. She assists low-income families in her community with legal needs."
Le Bourriche Bar & Gifts (Avondale, retail/fashion):
More on Le Bourriche Bar & Gifts:

"Le Bourriche Bar & Gifts create gifts with love and from the heart. Every item is bought with intentions to put a smile on the customer's face."
Mokay Services LLC (New Iberia, small business accounting and tax prep): "Protecting small businesses by educating them according to IRS and Louisiana state rules and how to comply."
Parish Home Furnishings (Monroe, furniture store): "The manager and his wife and staff treat everyone with dignity from the least to the greatest person."
Renovations, Inc. (Larose, hardware, home and marine services): "They employ many local people and care a great deal about their workers and their customers."
R & V Works Cajun Fryers (Homer, gas cookers):
More on R & V Works Cajun Fryers:

"Mr. Robert and Mrs. Vickie are the nicest, most generous people. Mr. Robert believes in helping people that need second chances. He's a boss that doesn't mind getting dirty — he works just as hard as his employees."
Oklahoma
5 Ponies (Keefeton/Martin, convenience store): "Kenny is always great with customer service, reasonable gas prices, fresh hot food, great selection of products."
Bitch'n Stitch'n Upholstery (Tulsa, upholstery shop):
More on Bitch'n Stitch'n Upholstery:

"Heather is the best upholsterer around. She can take something ugly and turn it into the most beautiful creation, plus she's so encouraging."
The Boundary on 66 (Luther, restaurant): "13 years of better than 84% positive rating on the internet and print publications. Located in a historic building on the eastern boundary of the Oklahoma 1889 land run."
Brielle's Bistro (Midwest City, restaurant): "Brielle's Bistro is a small, family-owned and operated business. Even through the tough pandemic they found ways to continue serving amazing food to their customers."
Culture Coffee (Oklahoma City, coffee shop/restaurant): "Culture Coffee brought a coffee shop in primarily African American part of the city. It was much needed! #ForTheCulture"
EEZZY FITNESS LLC (Tulsa, health and wellness):
More on EEZZY FITNESS LLC :

"[They] help overwhelmed moms find balance and live a stress-free life."
Fajitas Grill (Tulsa, restaurant): "Of course the food is great. Although the staff [is] small, service is great."
Fazoli's (Oklahoma City, restaurant): "Great pizza and spaghetti."
GOGI GO! (Oklahoma City, restaurant): "The owners always go out of [their] way to make sure employee morale is up in the kitchen."
Hints4wood (Yukon, artist's wood shop): "Because the money made stays here for our kids and grandkids."
J.Cole Shoes, (Tulsa, clothing, shoes and accessories): "I have seen these small business owners work so hard to make sales during this pandemic by website, packaging seasonal holiday baskets [and] curbside service. They are open seven days a week."
Lulu and Hazel Quilt Shop (Durant, quilt shop):
More on Lulu and Hazel Quilt Shop:

"These two young women decided to open a quilt shop when our only local shop closed. They are doing a spectacular job!"
"Making It Happen" Cleaning Service (Muskogee, home and office cleaning): "Michele, the owner, took time to understand what I needed to be done, was fair on price and [did] a great job. Wonderful business."
OKC Turkish Massage (Midwest City, massage): "Reasonable prices"
The Okie Mercantile (Oklahoma City, retail): "The items in the store are all made by small business owners in the state of Oklahoma. Handmade foods, wood flags, jewelry, dog treats and local honey [and] many more items."
The Riverbank General Store (Byars, convenience store):
More on The Riverbank General Store:

"This is the only business in this little town and people depend on it a lot. Really great burger baskets, too."
Puckett's Food Stores (Sayre, grocery): "Always helping those who need it most, [whether] with a job, having awesome sales or even donating food."
Purple Glaze Studio (Tulsa, ceramic studio): "[It's a] really great place for families to have a good time together and they bring a sense of community to the people in the area."
Searcy Outdoor Power (Woodward, outdoor equipment): "Very nice people and great customer service."
Silver Dollar Jewelry & Pawn (Tulsa, pawn shop):
More on Silver Dollar Jewelry & Pawn:

"This little but almost artisanal pawn shop has been operating for over 35 years, offering saving grace loans to good people just trying to make it from paycheck or stimulus to the next without losing their collateral altogether. At this very unique pawn shop one may find everything from Rolex watches to electronics to vehicles. It's a family run store opened by a couple with four children almost 40 years ago and it is still going strong."
Slover Communications (Tulsa, AV installer): "They are very polite and prompt on their timing of showing up and their prices are very reasonable."
Thirsty's Cold Pop Stop (Comanche, convenience store and cafe): "Always friendly, great spirited local youngsters employees with the best food in 3 counties."
Texas
51 Rainbow Icecreams and Shakes (McKinney, ice cream): "The kids love to watch their ice cream being made right before their eyes."
99Tutors (College Station, education/tutoring):
More on 99Tutors:

"This business provided free tutoring to students underprivileged and underserved and underrepresented during the pandemic and when schools were closed to help them stay up on their academics."
Affordable Services (Mesquite, construction): "Because they care about the work, how they handle their business and the customer is always first and happy."
AGGO Trucking (Edinburg, trucking company): "AGGO trucking company kept up providing essential products to our country during the pandemic and getting them in time. Let's keep America moving!"
Alashlab (Houston, eyelash extensions): "Professional service."
American Solar Group (El Paso, solar panels): "The best prices and financing."
Arnold's Butcher Shop (San Antonio, butcher shop):
More on Arnold's Butcher Shop:

"At Christmas time, [the owner] gave away enough meat to help over 20 families in our area affected by the pandemic."
Aura's Unique Adult Home Care (El Paso, adult home care): "Providing special care and love to veterans is our priority."
Bayside Construction (Sargent, construction): "[It's] a very trustworthy, honest and reliable construction business."
BH Spice Inc (San Antonio, wholesale spices)
Branded Builders (Mexia, remodeling and construction):
More on Branded Builders:

"This young man takes pride in his work and makes beautiful work. He cares about his skill and about people and gives more than most."
Buddy's Snooty Pig Cafe & Catering (Fort Worth, restaurant): "Good home cooking made from scratch daily."
Buenos Dias (Canyon, restaurant): "They have very tasty food, great service, good prices and locally owned and operated."
Burlap N Lace Salon N Boutique (Bertram, salon and boutique): "She has won best stylist and salon two years in a row from Burnet County, Texas. She stays open late to accommodate working women and men! She is the best!"
Cafe Java (Round Rock, restaurant): "The best restaurant in Round Rock with good food, reasonable prices and great service"
Cajun Tex (Marshall, restaurant):
More on Cajun Tex:

"I enjoy how they always serve you with professional courtesy and I have never been disappointed with their service. I realize that when times are hard, even going through a pandemic, this business has helped people in our community. [W]hen it was hard to get a meal in some cases they offered extra help."
Cervera's Custom Construction (San Antonio, construction): "CEO has unique quality in his work."
Cherry Street Investments (Austin, real estate investment education): "Cherry Street Investments provides free investment education by hosting knowledgeable and industry leader speakers via their webinars. The best part of the company is their ages 5-18 free financial education as a giveback to the community."
Counseling With Encouragement (San Antonio, licensed professional counseling): "This small business is great because the L.P.C.-owner, Callie M. Davis-Carr, is very compassionate, and very experienced in her field. Ms. Davis-Carr is also very dedicated, and many days she works long hours."
The Coyote Store (Gail, music venue): "A remarkable story of a family that turned a 32-seat cafe in the desert to a music venue attracting thousands from across the nation!"
Crump's Food Center (Linden, grocery store):
More on Crump's Food Center:

"When the pandemic started and all stores were out of meat and other products, this store kept it going. They hired 5 butchers to keep up supply and demand and they still are. It's all about the customer with them."
Dunn Tax Preparation and Bookkeeping (El Paso, financial services): "My business caters to the trucking industry. My education is in accounting but I also drove a truck over the road for 5 years so I understand over the road expenses very well. There is a need in this industry for tax specialists like myself to help truck drivers whether they own a truck or not."
Eagle Auto Sales (Rusk, used car lot, rental properties and title loans): "In a small country town it's hard to find certain businesses without having to travel to a bigger town, here there are 3 different departments to choose from. We believe in helping out the ones who need it, can't afford much or can't go anywhere else for help."
eAshleyResources (Houston, recruiting and business solutions): "eAshleyResources is a minority-owned, woman-owned and veteran-owned company that provides recruiting, lead generation and appointment setting in the healthcare and IT industries."
Finishing Touches Remodeling, Project Design, and Handyman Services (Texas City, construction):
More on Finishing Touches Remodeling:

"This married couple really know what teamwork is!"
Galavant's Coffee (Conroe, coffee cart): "A small town couple who started out with a coffee cart (that they built) in a driveway are now the talk of the town."
Granny's Restaurant (Lexington, restaurant):
More on Granny's Restaurant:

"Consistently great food and service for years! They treat you like family. Always helping the community."
Gray Acres Country Wedding and Events (Pottsboro, venue): "It's a beautiful property. She is so deserving of any accolades."
Hadaway Collision, Towing, and Automotive (Texarkana, car collision repair): "Fast service, friendly staff, longtime family business owners."
Her Empress Garden (Killeen, spa): "Great atmosphere. The ladies truly define sisterhood. It's so relaxing and calm there."
Holly Bellomy Interiors (Allen, interior design and home staging):
More on Holly Bellomy Interiors:

"Holly brings life, warmth and joy, brightness and cheerfulness into every home she decorates."
Jagged Edge Barber Shop (Arlington, barber shop): "They give free cuts on back to school and some holidays… very good atmosphere."
John Lillies Steakhouse (Waco, restaurant):
More on John Lillies Steakhouse:

"They have great service, wonderful food, great hospitality, great workers and the best double chocolate cake."
JuJack Marketing-YOU WILL BE SEEN! (Dallas, resume writing): "JuJack Marketing is special because the team takes a real interest in helping people revise their resume to fit the job they are looking for. They were good to me because, not only did they revise my resume, they were able to help me apply for specific jobs and I ended up getting the job with their help!"
Kay's Restaurant and Bar (Dallas, restaurant): "Kay is a hands-on owner. She is there 6 days 14 hours a day!"
Koop's BBQ Kitchen & Catering (Galveston, restaurant):
More on Koop's BBQ Kitchen & Catering:

"This family owned business creates amazing food. The owners are super nice and work so hard. They even sleep in a travel trailer to make sure their BBQ is tended to at night. They make everyone feel welcome and during COVID they had to contend with Texans who did not want to follow their mask rules. They are an awesome restaurant and has really helped to transform the restaurant scene in this small town."
Lasagna House – 1960 (Houston, restaurant): "[Open] 75+ years. 8 years ago an employee bought the store, a year in the store was in a fire starting in an adjoining business, needed to rebuild. Took 2 years, then COVID. Owner struggles from day 1 but always gives to local charities and people in need."
Lavish Ladi Boutique and Accessories (Beaumont, retail): "Latoya Nobles cares about her customers and goes out [of] her way to show them."
Lobo Construction Service (San Antonio, construction): "This business is great because we get to help others in homes."
Mary's Car Wash (San Antonio, self-service car wash): "This the best self-service car wash in San Antonio. The owner takes pride and always makes an extra effort to make you feel welcome."
Mundos Tire Shop (Magnolia, tire shop):
More on Mundos Tire Shop:

"This tire shop is known to help all who reach out to them. If someone needs tires for their vehicle and they do not have enough money, the shop owner will work with them. Whether it be charging less for decent used tires, making a payment plan or repairing your old tires, Mundos Tire Shop goes above and beyond to help the community keep rolling along!"
NaNeR'$ GiFtS & More!!! (San Antonio, wholesaler of electronics and fashionable items): "Great and friendly service. Fast response, gifts for EVERY occasion."
Nickell Photography (Cedar Park, photography): "

… trying to make photo shoots more affordable for families and more accessible."

Northwest Rentals (Fort Worth, equipment rental and repair): "Locally owned and operated by knowledgeable, friendly family. Always go out of their way to ensure valuable and expert service."
Not Jus' Donuts Bakery & Cafe (Houston, bakery): "They have the best cakes and pies … delicious."
NTX Fence and Welding (Weatherford, fence and welding and repairs): "They do free estimates and work with you on payments. And it's a family business."
Palmer's Restaurant, Bar & Courtyard (San Marcos, restaurant and bar):
More on Palmer's Restaurant:

"Palmer's has been in business since 1978! They take care of the community and are not all about themselves and always put the guest first!"
Reds Golden Hands (Dallas,  food): "She's a grandmother taking care of just about all her grandkids … she cooks and what she cooks is some good old home cooked meals."
Rejuvenate Wellness Center (El Paso, massage and sauna): "Well trained, skillful personnel."
Roman's Pizza (Denton, restaurant): "Great pizza. Very authentic taste. Very fresh ingredients. Very friendly service."
Rosie's Soul Food (Beaumont, restaurant):
More on Rosie's Soul Food:

"The food is outstanding and the portions are like grandma fixed your plate."
Royalsgttcargo and courier impex group (Houston, local delivery services)
Scott Street Paint And Body Shop (Houston, auto services): "I love painting and building cars."
The Sewing Queens (Sulphur Springs, custom embroidery and clothing alterations): "They work hard to please their clients by personalizing all sorts of items in a timely manner. With COVID-19, they have had many setbacks, but they haven't given up. These ladies' designs are phenomenal."
Shar's Consignment (Temple, clothing resale shop): "Great clothes for great prices. Women's and a few men's and children. Purses and shoes and jewelry. My favorite place to shop and great customer service."
Soapy Sweet Treats (San Antonio, soap): "Super soap and superior service."
Southern Melon Boutique (Edinburg, women's clothing):
More on Southern Melon Boutique:

"The owner managed to keep going by delivering to homes. [S]he was so sweet leaving them in our mailboxes, sometimes even giving extra lil' gifts which would give us a lil' happy moment while in these hard times."
Sonder Life Organics (San Antonio, organic soaps and more): "These soaps are amazing for your skin and they smell good, too."
Stress Away Massage (Fort Worth, massage therapy): "You receive great customer service! Everyone should experience a great massage sometime."
Sugar and Scootie Learning Academy (Houston, child care):
More on Sugar and Scootie Learning Academy:

"Sugar and Scootie Learning Academy is a low-income-based child care that actually care for the children and their families [whether] they enter into care or not. [T]hey go above and beyond to teach and help our kids reach beyond their limits."
Sweet Creations (Lubbock, bakery): "Fast, friendly and efficient service, always coming through for the community."
Tenfold Coffee (Houston, coffee roastery & cafe): "BIPOC-owned business committed to serving the community and furthering other small businesses, women and minority-owned endeavors. Obviously they have ridiculously great coffee."
Texarkana Photo Booth (Texarkana, photobooth/photography): "I like adding to clients' enjoyment of their events such as weddings, graduations, company parties, company functions and so much more."
Tri-Country Disposal (Greenville, garbage collection):
More on Tri-Country Disposal:

"The owner is amazing. During all of the COVID he would not let any of his customers not get their trash picked up because they could not pay. He told them not to worry he would be there on their collection day. He is a true blessing to all of us."
Tome Catering (Lufkin, catering): "The business offers excellent food and service. During the hurricane crisis this business took care of the military personnel. During the Texas snow storm, this business took care of healthcare workers who could not go home. In addition to helping those in need, the food is AWESOME!"
Total Mouth Fitness (San Antonio, holistic dentistry): "The doctor is amazing, Honest, knowledgeable, caring. He has done great things for so many."
Tuttle's Meat Market & Smokehouse (Woodsboro, meat and grocery store): "Family business since 1928 has kept Woodsboro going since Hurricane Harvey devastated this small South Texas town. Tuttle's is an inspiration to small business owners."
Underground Cigar Shop & Lounge (Fort Worth, cigar lounge):
More on Underground Cigar Shop & Lounge:

"A great place to get a cigar and meet new people."
Villavicencio Construction (Mount Pleasant, remodeling and construction): "Homeowners like the way I remodel their dream home."
Wall to Wall Cleaning Services (Sherman, janitorial service): "No matter how dirty or how overwhelmed you may be with what's ahead, Jason Wall and his crew will stop at nothing to see that you're 150% satisfied."
Waters, Snacks & More (Andrews, conveniences store): "Have the best variety of snacks and drinks. Friendly and clean."
WCD Enterprises (Dallas, represents speakers)
Wig Center (Longview, wigs and clothing):
More on Wig Center:

"The owner is simply amazing, giving personal time and attention to every customer that enters her store. People stop in just to say hello after just one encounter."
Whimsy Boutique Forney (Forney, boutique and gifts): "Whimsy is a family-owned small business. It is a great place to shop. She truly cares for her customers. She goes the extra mile to make the experience a good one."
Woody Creek BBQ (Springtown, restaurant): "Woody Creek Bar-B-Q is family owned, most everything is made from scratch and I think we can all appreciate the hard work and dedication it takes to smoke a brisket to perfection! Especially as many as they do on a daily basis. Try the double barrel potato, you wont regret it!"
Zamora's (McAllen, restaurant): "Because besides being an authentic Mexican food place, they try 110%."
Check out all the other regions and their small business nominees: 
East North Central: Indiana, Illinois, Michigan, Ohio and Wisconsin
West North Central:

 

Iowa, Kansas, Minnesota, Missouri, Nebraska, North Dakota, South Dakota
New England:

 

Connecticut, Maine, Massachusetts, New Hampshire, Rhode Island, Vermont
East South Central:

 

Alabama, Kentucky, Mississippi, Tennessee
South Atlantic:

 

Delaware, Florida, Georgia, Maryland, North Carolina, South Carolina, Virginia, West Virginia
Middle Atlantic: New Jersey, New York, Pennsylvania
West South Central:

 

Arkansas, Louisiana, Oklahoma, Texas
Mountain:

 

Arizona, Colorado, Idaho, Montana, Nevada, New Mexico, Utah, Wyoming
Pacific:

 

Alaska, California, Hawaii, Oregon, Washington
And check out more of the featured small businesses:
To return to the Small Business Spotlight page click here.