How to Find Your Bank Routing Number in Seconds
Get access to your bank routing number on your check or on this list of top banks.
Bank routing numbers are made up of a nine-digit code that is used to identify your financial institution in a transaction. It's the first set of numbers printed on the bottom left side of your checks. An account number is usually 10 to 12 digits long and is specific to your personal bank account. It's the second set of numbers printed on the bottom of your check, to the right of the bank routing number.
You might not often think about those little numbers on checks, but they're critical to the banking system. Without them, money can't be transferred electronically between institutions or through the Automated Clearing House network. If you have a bank account, it's likely that at some point you'll need to know how to read a check to find bank routing number information.
Related: How To Read A Bank Statement
How Do I Find My Routing Number on a Check?
Routing numbers are nine digits long and appear on every check issued by all banks. Three numerical strings appear on every check, usually printed in MICR — block-like characters in magnetic ink — to make it easy for computers to read. These numerical strings are the U.S. bank routing number, the account number and the check number. The bottom left corner is where you'll usually find the routing number on a check, as seen on the following check image.
Sponsors of
Next comes the account number, then the individual check number. Check routing number location varies, and in some cases, as with some computer-generated payroll checks, the routing number and account number are not separated and are instead printed in sequence. In those cases, the check routing number is always the first nine digits of any numerical sequence printed on a check.
Related: Here's Your Charles Schwab Routing Number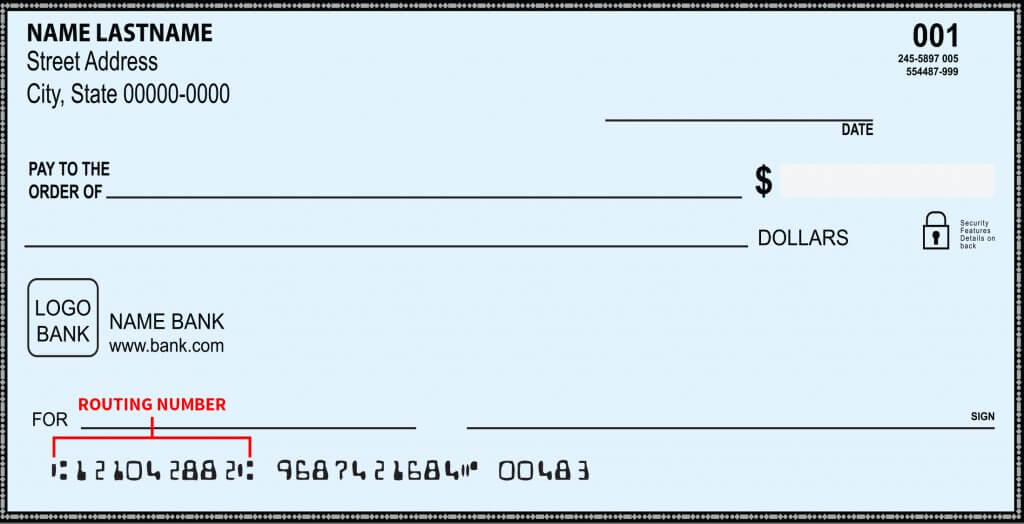 Learn: Every Type of Check Fraud You Have to Worry About
What Is a Routing Number?
Every bank is assigned a unique identifying numerical code, which is the routing number on a check that you write, deposit or cash. The routing number determines who will facilitate and who will receive payment in many kinds of transactions.
See: Here's Your MCU Routing Number
When Is a Routing Number Needed?
You won't likely need your routing number on a daily basis, but you will need it from time to time. Instances in which you'd need to find routing number information include:
Reordering checks: When you run out of checks, your check printer is likely to ask for your routing number before they give you new checks.
Setting up direct deposit: In order to have payroll checks deposited straight to your account, you'll have to submit the routing and account numbers on your check.
Paying bills: Consumer bills paid through ACH also require account and routing numbers.
Tax payments: Whether you're paying a tax bill or receiving a refund, you'll need to know your bank account routing number.
Sponsored: Are you sending money to another country? Watch out for hidden fees and bad exchange rates. Here's what to look for.
Sponsors of
How Are Routing Numbers Determined?
Most small banks and many online banks operate with just a single routing number. Large, multinational banks, however, often use many different routing numbers where the account holder's state determining the check routing number.
Find Your Routing Number
Check out the following table to find the routing numbers for 50 of the largest brick-and-mortar and online banks:
Bank
Routing Number
Link
Ally Bank
124003116
Learn More
Alostar Bank of Commerce
062006330
Learn More
American Express Bank
124085066
Learn More
Associated Bank
075900575
Learn More
Astoria Bank
221472815
Learn More
Bank of America
Varies by state
Learn More
Bank of Hawaii
121301028
Learn More
Bank of Internet USA
122287251
Learn More
Bank5 Connect
211370642
Learn More
Barclays Bank Delaware
031101321
Learn More
BB&T
Varies by state
Learn More
BBVA Bank
Varies by state
Learn More
Capital One
31176110
Learn More
Chase Bank
Varies by state
Learn More
CIT Bank
124084834
Learn More
Citibank
Varies by state
Learn More
Comercia Bank
Varies by state
Learn More
Discover Bank
031100649
Learn More
EverBank
063092110
Learn More
Fifth Third Bank
Varies by state
Learn More
First Bank
081009428
Learn More
First Internet Bank
074014187
Learn More
First Midwest Bank
071901604
Learn More
First Republic Bank
321081669
Learn More

©fnbo

FNBO Direct
104000016
Learn More
Great Western Bank
091408734
Learn More
HSBC Bank USA
021001088
Learn More
Huntington Bank
044000024
Learn More
IberiaBank
265270413
Learn More
Investors Bank
221272031
Learn More
KeyBank
Varies by state
Learn More
M&T Bank
Varies by state
Learn More
Nationwide Bank
44072324
Learn More
New York Community Bank
226071004
Learn More
Northern Trust Bank
0710-00152
Learn More
Old National Bank
86300012
Learn More
Regions Bank
62005690
Learn More
Santander Bank
Varies by account
Learn More
State Farm Bank
071174431
Learn More
SunTrust Bank
061000104
Learn More
Synchrony Bank
021213591
Learn More
 
TCF Bank
122106183
Learn More
 
TD Bank
Varies by state
Learn More
 
U.S. Bank
Varies by state
Learn More
 
Umpqua Bank
123205054
Learn More
 
Union Bank
122000496
Learn More
 
USAA
314074269
Learn More
 
Wells Fargo
Varies by state
Learn More
 
WesBanco
043400036
Learn More
 
Zions Bank
124000054
Learn More
More Routing Numbers
Sponsors of
Editorial Note: This content is not provided by American Express. Any opinions, analyses, reviews or recommendations expressed in this article are those of the author's alone and have not been endorsed by American Express.
Editorial Note: This content is not provided or commissioned by the bank advertiser. Opinions expressed here are author's alone, not those of the bank advertiser, and have not been reviewed, approved or otherwise endorsed by the bank advertiser. This site may be compensated through the bank advertiser Affiliate Program.
Sponsors of
Nationwide, Nationwide Bank, the Nationwide N and Eagle and Nationwide is on your side are service marks of Nationwide Mutual Insurance Company. Member FDIC.