Can You Get a Cashier's Check at a Bank Without an Account?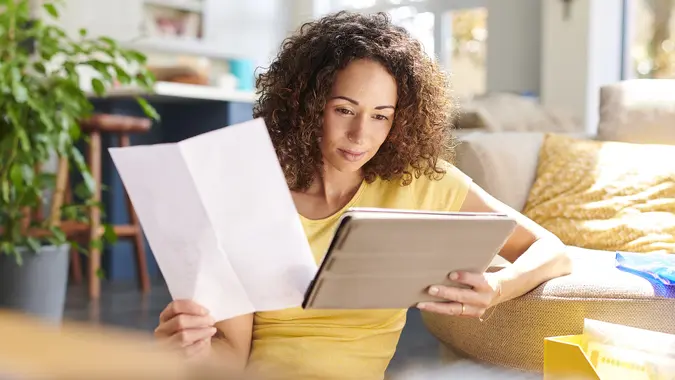 sturti / iStock.com
A cashier's check is like a personal check, but unlike a personal check, it's guaranteed not to bounce or be rejected for insufficient funds. This is because a cashier's check is drawn directly on the bank's own funds, not those of an account holder. Because of this, cashier's checks are often preferred when dealing with large transactions or big-ticket purchases.
But can you get a cashier's check if you don't have a bank account? Keep reading to find out.
Can You Get a Cashier's Check at a Bank Where You Don't Have an Account?
While it is possible to get a cashier's check at a bank without having an account there, not all banks offer this service, and those that do may charge a fee. Your best bet is to call banks in your area or search for information online about whether they offer cashier's checks to non-account holders and their associated fees.
Though not every bank will be able to accommodate you, many will, and the fees are generally reasonable. It's important to note that even if you're getting a cashier's check from a bank without being an account holder, you may need some other form of account, like a savings account at another bank, in order to transfer funds.
What Do You Need for a Cashier's Check?
If you're wondering how to get a cashier's check without a bank account, there are a few steps you need to take. Your first step is to look for different banks that offer this service, either by calling around or finding the information online. Once you find a bank that offers cashier's checks to non-customers, be sure to ask about any fees they might charge for the service.
Upgrade Your Checking Account
When you arrive at the bank, you'll need to bring the following with you:
Identification: You'll need to provide a valid form of government-issued identification, such as a driver's license or passport.
The funds for the cashier's check: Of course, you'll need to pay for the amount of the cashier's check in full, and you may also have to pay a fee for the service. Make sure you bring enough to cover both. Many banks accept cash for cashier's checks, but some banks may also accept debit cards.
Information about the person receiving the funds: You'll also need to provide information about the payee, which is the person you're giving the cashier's check to, such as their name and address.
Once you've provided all the necessary information and the funds for the amount of the check and any additional fees, the bank will issue you a cashier's check. It's a good idea to check the cashier's check carefully for any errors before leaving the bank to make sure all of the information on it is accurate.
When You Might Need a Cashier's Check
Here's a look at some of the most common kinds of transactions that might require you to get a cashier's check:
Making a large purchase: If you're making a down payment on a house, car or other high-priced item, a cashier's check can be a convenient and effective way to transfer funds securely. This is because the bank guarantees cashier's checks, so the recipient doesn't have to worry about the check bouncing.
Specific services that require a cashier's check: You may need to use a cashier's check to complete some transactions, such as renting an apartment, making a security deposit or paying an application fee. Landlords and property managers often prefer cashier's checks because they know they'll receive the funds in full and eliminate the possibility of someone putting a stop payment order on a check they've written.
Sending money to someone who doesn't have a bank account: Though this is less common, you'll have few options if you need to send money to someone who doesn't have a bank account. One of the most common solutions is a cashier's check. The recipient can cash at a bank or business that offers a check-cashing service. Bear in mind there may be additional fees for the recipient, so they may not get the full value of the cashier's check unless they can cover these costs.
Upgrade Your Checking Account
Alternatives To Getting a Cashier's Check Without a Bank Account
If you're unable to find a bank near you that will give you a cashier's check without an account, you still have a few options available to you.
Money orders: Money orders are similar to cashier's checks, but they're issued by money transfer services such as Western Union and MoneyGram and are also available at post offices throughout the U.S. Money orders can also be purchased at many grocery stores, convenience stores and from businesses that offer check-cashing services.
Prepaid debit cards: Prepaid debit cards can be purchased at most major retailers and loaded with cash at the time of purchase or through a direct deposit. Prepaid debit cards can be used the same way as regular debit cards and anywhere debit cards are accepted. 
Wire transfers: Wire transfers are another fast and secure way to send money to someone else, and might be called for if a money order or other alternatives don't offer sufficient security. You can send wire transfers through a bank or a money transfer service such as Western Union or MoneyGram.
FAQ
Here are the answers to some of the most frequently asked questions regarding cashier's checks.
Can you get a cashier's check from the Post Office?

Because cashier's checks are checks directly drawn on a bank's funds, the United States Postal Service isn't able to issue cashier's checks. The USPS has other options for sending money, such as money orders.

Can you get a cashier's check at Bank of America without an account?

No, you can't get a cashier's check from Bank of America, Member FDIC, without being a customer. While Bank of America may offer other options for transferring money to non-customers, such as the digital payment network Zelle, it restricts access to cashier's checks to its current checking account customers.
Upgrade Your Checking Account
Our in-house research team and on-site financial experts work together to create content that's accurate, impartial, and up to date. We fact-check every single statistic, quote and fact using trusted primary resources to make sure the information we provide is correct. You can learn more about GOBankingRates' processes and standards in our editorial policy.