Will Opening a Checking Account Hurt Your Credit Score?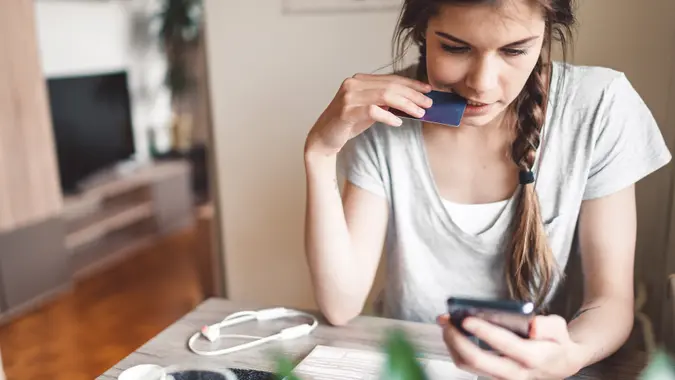 Ziga Plahutar / Getty Images
The simple answer to whether opening a checking account will hurt your credit score is: sometimes. It isn't common for a new checking account to impact your credit score, but there are some exceptions. When you apply to open a checking account, your bank may check your credit score. Depending on how the credit pull is completed, the request may show up on your credit report as an inquiry.
Understand the Application Process
If you're concerned that a hard credit inquiry will lower your credit score, call the bank before applying. Ask about their process for approving a new checking account. If they mention a credit pull, ask if it's a hard or soft inquiry.
Hard and Soft Inquiries
A hard inquiry is usually used by lenders. Your bank may use a hard pull when opening a checking account to approve you for overdraft protection. Some overdraft protection options are considered a line of credit. In addition to hard inquiries' immediate effects on your credit, the bank may also report the use of the credit line to credit bureaus.
A soft inquiry shows up on your credit report but has no negative impact on your score. This is because a soft pull is not tied to a potential loan or line of credit. Soft credit reports are viewed differently since there isn't a chance that you have a new credit account in the process of opening.
Upgrade Your Checking Account
ChexSystems
Banks and credit unions also use ChexSystems to gain more insight into your past account use. This report provides information on your past account history, including:
It is rare to be declined a checking account. However, if you owe money to another bank, you're more likely to be rejected.
What You Need To Open a Checking Account
Once you're ready to open a checking account, you'll need to have a few things handy. Expedite the account opening process by having everything ready when you apply.
If the address listed on your account is different from the one on your driver's license, the bank or credit union may request a document proving where you live.
Banks and credit unions both require an opening deposit for your new account. The amount you need varies from bank to bank. If you open an account in-person, you can take cash. If you open one online, you'll need a different bank account with a positive balance from which you can transfer your opening funds.
Upgrade Your Checking Account
Type
Details
Proof of Identification

Driver's license
State identification card
Passport
Military identification

Proof of Current Address

A mortgage statement
A lease agreement
A utility bill

Cash for Deposit
Benefits of a Checking Account
A checking account is a great way to manage your money, but if you manage your checking account right, you'll see benefits beyond simply having a safe place to store your spending money.
Build Credit
When you first open a checking account, it won't have much impact on your credit report, beyond a possible dip from the credit inquiry. But over time, your checking account is the foundation for a strong credit score. Maintaining the same account for a long period of time shows lenders that you're reliable.
Establish a Banking Relationship
When you open a checking account, you establish a relationship with a financial institution. This opens the door to additional financial products and services like:
Special savings accounts
Auto loans
Mortgages
Maintain Your Banking Relationship
Try not to bounce around from checking account to checking account. Banks often make appealing offers to entice you to switch. However, opening and closing accounts too frequently are red flags to lenders.
If you do close a checking account, make sure you leave on good terms. Always pay off what you owe before you go. Any negative balances get reported to credit agencies.
Upgrade Your Checking Account
Other Considerations
Most banks offer bill pay through online banking. A unique feature to look for is integration with Zelle or PayPal. This allows you to quickly make person-to-person payments on the go.
Do Checking Accounts Affect Credit Score in Other Ways?
Once you open a checking account, dedicate yourself to managing it responsibly. Here are some smart steps to take:
Avoid using overdraft protection.
Don't let your account stay in the negative.
Protect your account from fraud.
If you use checks, maintain a log so none bounce.
While these steps don't have an explicitly positive effect on your credit, they do help prevent negative marks. It's smart to avoid doing something that could hurt your credit for years to come.
Good To Know

Opening a checking account is easy. Don't be fooled by banks that taut standard features as highlights. Think about how you'll use a checking account, and find one that fits your specific needs.
Monitor Your Credit Report
When you're working hard to protect your credit score, be sure to monitor your report.
Upgrade Your Checking Account
How Often To Check
You are legally entitled to download your free credit report from all three credit bureaus — TransUnion, Experian and Equifax — once per year. Set a calendar reminder to check your report at least once per year.
You may consider reviewing the report more frequently if your lending activity is high or if you anticipate making a large purchase soon.
Keep in mind that the information reported to each of the three credit reports may vary. Some financial institutions only report to one bureau.
What To Look For
Ensure all information on your report is correct, including:
Current and past addresses
Employment
Account statuses — open or closed
Negative balances or money owed
It's also important to look at each hard and soft credit inquiry. Did you initiate the inquiries? If not, report them to the credit bureau along with any other discrepancies you identified.
Our in-house research team and on-site financial experts work together to create content that's accurate, impartial, and up to date. We fact-check every single statistic, quote and fact using trusted primary resources to make sure the information we provide is correct. You can learn more about GOBankingRates' processes and standards in our editorial policy.
Upgrade Your Checking Account