How Much Is a USPS Money Order?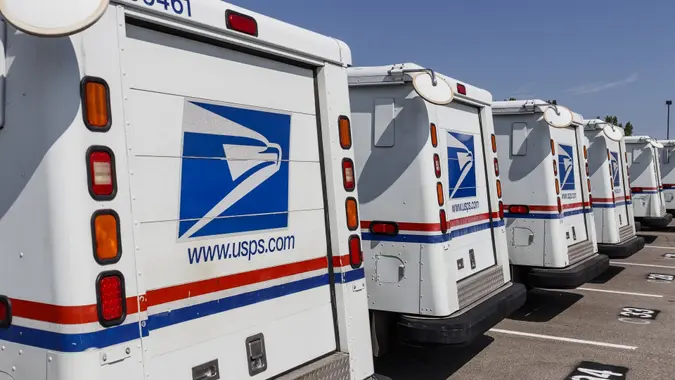 jetcityimage / iStock.com
U.S. Postal Service money orders have been around a long time. The USPS introduced them in 1864 to provide a safe way for soldiers and others to send money over long distances. Money orders have been able to stand the test of time because they are an affordable and safe alternative to cash and checks. Plus, they do not have an expiration date.
To purchase a USPS money order, visit any U.S. post office location. You might also be able to purchase a money order from a rural USPS carrier or a contract postal unit.
How Much Does a Money Order Cost at USPS?
Money order fees will vary depending on the amount of the money order and whether you are sending it domestically, internationally or to a military address. Here's the breakdown.
Fee for Domestic Money Orders
$0.01-$500: $2 
$500.01-$1,000: $2.90 
Fee for International Money Orders
$0.01-$750: $69.30
$750.01-$1,500: $100.25
Fee for Military Money Orders
Postal military money orders, which must be purchased at military facilities, are $0.65 each, no matter the amount. 
What Are the Purchase Limits for USPS Money Orders?
Purchase limits vary depending on whether you are purchasing a domestic or international money order and are as follows:
Domestic money order maximum: $1,000
International money order maximum: $700, but varies depending on country
You can purchase as many money orders as you want at one time. However, if you purchase more than $3,000 in money orders at one time or during the span of one day, you'll have to fill out a Funds Transaction Report and show your ID.
Upgrade Your Checking Account
How To Pay for a Money Order
Neither credit cards or personal or business checks are accepted as payment for a money order. Here are the forms of payment that are acceptable when purchasing a money order: 
U.S. currency and coins
Established traveler's checks payable in U.S. dollars, as long as the purchase is for at least 50% of the value of the checks
ATM or debit cards at locations that have a PIN pad
What Is the Difference Between a USPS Money Order and a Regular Money Order?
As noted by the Postal Service, USPS money orders are prepaid and are drawn from its account with the Federal Reserve. Like other U.S. money orders, the maximum amount you can request in one money order is $1,000.
One difference between a USPS money order and a regular money order is that you can cash a USPS money order at the post office for free. However, you can also cash them at some banks and stores.
Another difference is that the minimum and maximum fees for USPS money orders exceed the minimum and maximum prices of both Western Union and MoneyGram money orders.
Filling Out a USPS Money Order
When you purchase a money order from the USPS, the money order will be printed out with the dollar amount only. The purchaser will fill in the rest of the items, including who the money order is payable to. The money order can only be made out to a single party. It is important to fill the "Pay to" portion of the money order as soon as you purchase it. If you leave it blank, anyone can fill it in and cash it, and you will not be eligible for a refund.
Upgrade Your Checking Account
Can You Send Money Overseas via a USPS Money Order?
Yes, you can send international postal money orders via the following services:
Priority Mail Express International 
Priority Mail International 
First-Class Mail International 
First-Class Package International Service
How Do You Track a USPS Money Order?
You can track a USPS money order by using the Postal Service's "Check Money Order Status" tool. You'll need the following information from the money order:  
Serial number
Post office number
Issued amount
How Can You Verify That a USPS Money Order Is Real?
Unfortunately, as with many forms of payment, fraud can occur. To determine whether a USPS money order you have received is real, hold the money order up to a light. Here's what you should see, according to the USPS:
Repeating watermarks of Ben Franklin on the left side of the money order, from the top to the bottom.
To the right of the watermarks, you should see a vertical multicolored thread weaving in and out of the paper with alternating horizontal dark and light bars behind it. You should also see the letters "USPS" backward and forward along the thread. 
According to the USPS, here are some signs of fraud related to money orders:
The denomination is discolored.
The dollar amount on the money order is printed only once or more than twice. Money order dollar amounts should only be printed twice. 
The value is more than $1,000 on a domestic money order.
The value is more than $700 — or $500 for Guyana and El Salvador — for international money orders. 
You can verify your USPS money order by calling 866-459-7822, which is the money order verification system.
To report fraud, contact the U.S. Postal Inspection Service at 877-876-2455.
The Takeaway
USPS money orders are an affordable, safe alternative to cash and checks and do not have an expiration date. You can purchase domestic money orders in amounts up to $1,000 and international money orders in amounts up to $700, depending on the country. To purchase a USPS money order, visit a post office or a contract postal unit. If you live in a rural area, your rural carrier might also have them for sale. 
Upgrade Your Checking Account