Routing Numbers: What They Are and How To Find Them
You need your bank's routing number for transfers and more.
The American Bankers Association Routing Number, aka a bank routing number or ABA routing number, is a nine-digit code that identifies each individual U.S. federal- or state-chartered bank. This system of identifying financial institutions was adopted for use in the United States in 1911. Different routing numbers, known as SWIFT codes or Bank Identifier Codes, are used to send money to overseas banks.
You'll need your bank's routing number to successfully receive and send funds — for setting up direct deposit or automatic payments, for example. Keep reading to find out more about routing numbers is and how to find it on a check.
Here's what you'll find in this guide to routing numbers:
ABA vs. ACH Routing Numbers
A bank routing number is a unique number assigned to a specific financial institution for the accurate sending of payments and receipt of collections. These codes are essential in that they assist the U.S. banking system to "clear" your financial transaction by matching up the correct financial transactions to the appropriate financial institution. A second number, your account number, is required in addition to the bank routing number, to locate your exact bank account or checking account.
Sponsors of
Your American Bankers Association routing number is usually what people refer to when they bring up routing numbers. Routing numbers were developed by the ABA to identify the financial institutions where funds were allocated to. The number "has evolved to designate participants in automated clearinghouses, electronic funds transfer, and online banking," according to the ABA.
An Automated Clearing House number is the transit number found on your checks. All ACH numbers are ABA numbers, but not vice versa, and are used for different kinds of transfers. Check with your bank to see which number you should use for your transfer.
How Are Bank Routing Numbers Used?
American banks and credit unions use ABA Routing Numbers for the following types of transactions:
Processing checks
Initiating wire transfers or ACH payments
Handling collections
Preauthorized drafts
Receive or transfer payment to the IRS
Deposits for forms of income such as Social Security
Related: How To Write a Check and More of the Most Googled Money Questions
Where Is the Routing Number on a Check?
The routing number on a check is found in the bottom left corner of the document. As well, your personal account number will be found next to it. You usually need these two numbers to initiate transfers.
Sponsors of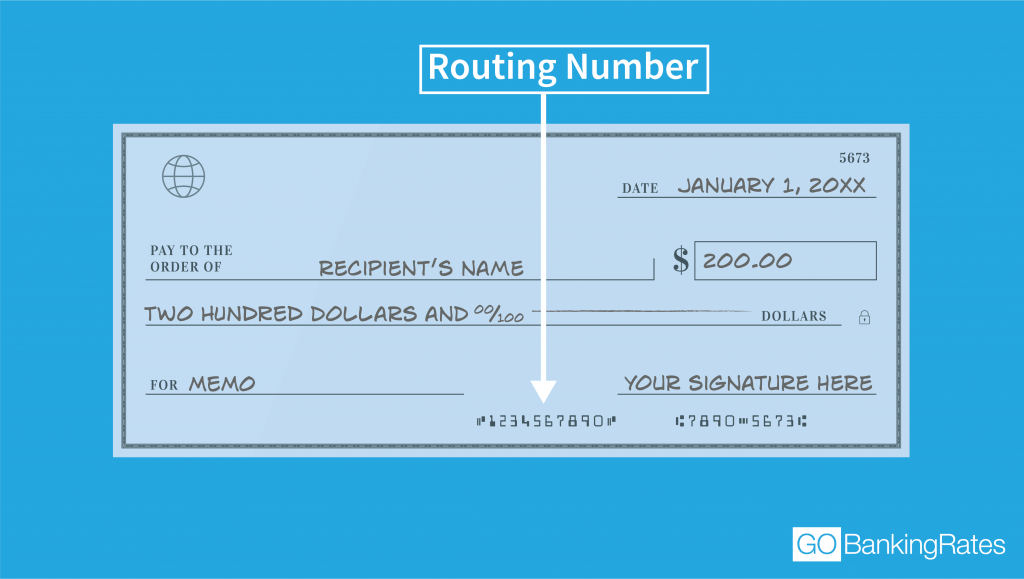 Don't Miss: How To Find Your Bank Routing Number in Seconds
Ways To Find a Routing Number Without a Check
If you don't have your checkbook handy, there are other ways to find your routing number. Banks provide their routing numbers on their websites. In most cases, these numbers are a Google search away, but you can also find your routing number by logging onto your bank account.
You can also use the ABA's Routing Number Lookup tool. If all else fails, contact your bank directly via either a branch visit or online assistance.
Also See: ATM Withdrawal Limits at Chase, Wells Fargo and 39 Other Banks
How To Protect Your Routing Number and Bank Account Information
Truth be told, you can't really protect your routing number. Most routing numbers are available to the public via a search engine query and furthermore, if you engage in check transactions, the routing number is always present on the check, too. As long as someone knows which bank you do business with, they can probably locate your routing number — although your account number is another matter.
Sponsors of
However, there are steps you can take to ensure your transfers go as planned. Here's how you can protect your routing number and bank information:
Confirm the routing number of the other institution. Before initiating a transfer, double-check that both routing numbers are correct. You want to do what you can to ensure the funds will go to the respective institution; an incorrect routing number provided by a scammer means your money will go where it's not supposed to. Incorrect routing numbers can lead to delayed processing or even fees.
Use two-step authentication. You should set this up for your online banking account. A two-step verification process involves your initial password, plus a separate code your bank sends you via text or email that you must input to access your account. Using this extra authentication requirement helps protect against illicit transfers not done in your name.
Update your password. Regularly changing your password makes it more difficult for someone to break into your account.
Sign up for alerts. Banks are more than happy to alert you of suspicious activity going on in your account, and many have options to services such as text-message alerts if your funds look off.
Don't respond to phishing scams. Scammers can sometimes act like they're affiliated with your bank in order to draw out personal banking information from you. Always contact your bank if you suspect something fishy about its correspondence.
Consider These: The Top 4 Tools To Protect Your Identity in 2019
Sponsors of
The Difference Between ACH and Wire Transfers
Account holders use ACH and wire transfers to move money between accounts. Sounds simple enough, so what's the big difference between the two?
ACH transfers focus on recurring and one-time payments, according to Nacha (previously known as National Automated Clearinghouse Association). The ACH network processes direct deposits and direct payments.
Direct deposits include:
Employer-reimbursed expenses
Government benefits
Annuity payments
Interest payments
Direct payments are transactions you would make to pay a bill, such as rent, utilities, debt, etc., which cover recurring payments as well.
ACH transfers usually take at least a couple of business days to clear. Wire transfers, on the other hand, are generally quicker. Wire transfers are also direct transfers between two financial institutions, but unlike ACH transfers, do not use a clearinghouse as a mediator.
The biggest distinction between the two types of transfers is that wire transfers can be made between international accounts. However, fees incurred by wire transfers can carry fees not found in ACH transfers.
Everything You Need To Know: ACH Transfers
Sponsors of
How To Transfer Money Internationally
International wire transfers usually require two things: Society for Worldwide Interbank Financial Telecommunication codes and International Bank Account Numbers are used to transfer funds internationally. A SWIFT code is a unique identifier that lets banks recognize each other during most foreign transactions. An IBAN, on the other hand, identifies an individual's bank account.
While wire transfers are reliable and expedient, they still require fees if done through your bank, which could include foreign currency exchange rates.
Because a bank wire transfer may cost you money, some cheaper alternatives to consider are transfer services such as TransferWise and OFX. Other options include PayPal or services such as Western Union.
Check Out: 12 Free Ways To Send Money to Family and Friends
Why You Need To Know Your Bank Routing Number
It is important to understand your financial institution's specific bank routing number because it will be unique to your specific bank location. Note that larger banks might have more than one bank routing number to signify various bank locations or even different types of financial transactions, whereas online banks might have just one routing number because they don't have multiple bank branches.
Sponsors of
One of the most common uses for a bank routing number is for depositing refunds or making payments on U.S. federal and state tax returns. If you use an incorrect bank routing number in this situation, it could lead to one of the following situations:
Rejection of your U.S. federal or state tax return
Delay in receiving your refund or paying the amount you owe on taxes
Triggering the refund to be mailed to you instead of being automatically deposited into your bank account or checking account
Before sending or requesting payments directly from your financial accounts, including automatic payments, it's essential you double check the bank routing number to avoid late fees, fines and other potentially costly delays.
Bank Routing Numbers
GOBankingRates has compiled a list of routing numbers for various banks as well as credit unions. Note that some of the larger institutions have multiple routing numbers that vary by state. Click through to find the routing numbers for the following banks:
Deb Katula contributed to the reporting of this article.