Wells Fargo Interest Rates: How To Get the Bank's Best Rates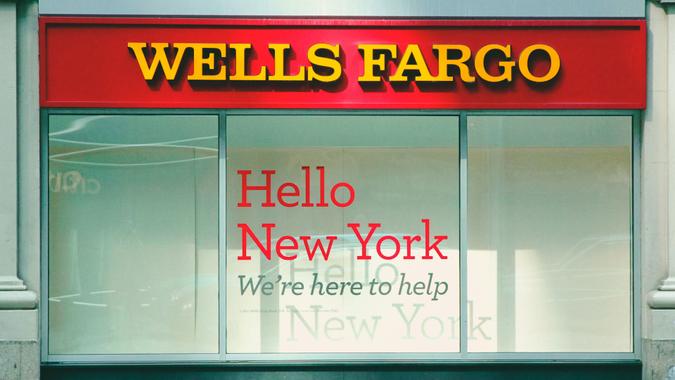 ValeStock / Shutterstock.com
Wells Fargo Bank offers a variety of customer products and services — from checking and savings accounts to personal loans and mortgages. Rates offered by the bank are not the same for every customer, so getting the best rates will require that you shop around.
Here's a look at some of the interest-related accounts at Wells Fargo, along with current interest rates and suggestions on how you can get the best interest rates at this national bank.
How To Get the Best Wells Fargo Interest Rates
When it comes to getting the best Wells Fargo interest rates, you want higher rates on checking and savings accounts and lower rates on credit accounts, such as personal loans. Factors that can affect the rate you earn on checking and savings accounts at Wells Fargo include the type of account you open, the amount of money you deposit and your existing banking relationship. For loans, a high credit score is the best way to keep your rate low.
Wells Fargo Checking Account Interest Rates
Wells Fargo offers two interest-bearing checking accounts: the Wells Fargo Portfolio Checking account and the Wells Fargo Preferred Checking account. Unless you get a special in-branch rate for meeting a minimum deposit, you'll earn a rate of 0.01% APY, regardless of the account or the amount you deposit.
Except for larger deposits in the Portfolio Checking account, the Wells Fargo checking account interest rates are below the national average checking interest rate, which stood at 0.03% APY as of last year in 2021.
Wells Fargo Checking  Account Rates
Account/Product
APY
Wells Fargo Portfolio Checking

0.01%

Wells Fargo Preferred Checking

0.01%
Wells Fargo Savings Account Interest Rates
Wells Fargo offers three types of savings accounts:
Way2Save Savings Account
Platinum Savings Account
Unfortunately, depositing additional money does not get you the highest Wells Fargo savings account interest rates, as all three accounts pay the same 0.01% rate.
Look: Best Banks of 2022
Wells Fargo Savings Account Rates
Account/Product
APY
Wells Fargo Way2Save Savings

0.01%

Wells Fargo Platinum Savings (not including bonus)

0.02%
See: Best Savings Accounts of 2022
Wells Fargo Personal Loan Interest Rates
Because personal loans don't require any collateral, rates tend to be higher than for other types of loans. At Wells Fargo, you can get a personal loan for between $3,000 and $100,000, and you'll pay no origination fees or prepayment penalties.
Rates vary based on your credit history and the amount of credit you request. For a $10,000 loan with a three-year term, your personal loan interest rate could be as low as 5.74% APR. An additional 0.25% discount if you have a relationship account.
Wells Fargo Personal Loan Rates
Loan/Credit Type
APR 
Personal loan
From 5.74%
Personal line of credit
From 9.50%
Good To Know: Questions To Ask Before Taking Out a Personal Loan
Wells Fargo Mortgage Interest Rates
Wells Fargo offers two types of mortgages: fixed-rate and adjustable-rate. The company offers fixed-rate terms of 30 or 15 years.
After the period for the fixed rate ends, interest rates can adjust every year. The mortgage agreement will denote a range where the interest rate can lie once the adjustable period begins.
Closing costs can vary based on the loan type and loan amount. Wells Fargo also offers a 30-year Veterans Affairs loan that does not require any money down.
Wells Fargo also offers jumbo mortgages. Jumbo mortgages exceed the maximum rate for conforming loans.
Consumers who want the best Wells Fargo mortgage interest rates should choose the 15-year loan if possible. Consumers can also lower costs by putting at least 20% down. Borrowers who put 20% or more down benefit from both a smaller loan amount and the avoidance of the mortgage insurance requirement. In higher-cost areas, a larger down payment may mean you do not need a jumbo loan, which typically brings with it higher interest rates.
The current rates based on loan type are listed here:
Wells Fargo Conforming and Government Mortgage Rates
Loan Type
APR
30-Year Fixed-Rate
4.125%
30-Year Fixed-Rate VA
3.994%
15-Year Fixed-Rate
3.593%
Find Out: Best New Bank Promotions and Offers
Wells Fargo Jumbo Mortgage Rates
Loan Type
APR
30-Year Fixed-Rate
3.662%
15-Year Fixed-Rate
3.448%
Wells Fargo Certificate of Deposit Interest Rates
A certificate of deposit is a special type of savings account. It typically offers higher interest rates in exchange for keeping your money locked up for a specified period. Though early withdrawals are still possible, depositors typically have to pay a penalty in such instances.
Wells Fargo offers CDs ranging from three months to 12 months. If you have a relationship account, a bonus APY that pays a slightly higher rate may apply. However, you must participate in the Portfolio by Wells Fargo program to receive this bonus. Under this program, your CD must link to a separate Wells Fargo account. As of now, participation in this program is 0.02 percentage to the APY.
Wells Fargo Standard CD Rates
CD Term
APY 
3-month CD

0.01%

6-month CD

0.01%

1-year CD

0.01%
Compare: Best CD Rates and Accounts of 2022
Getting the Best Interest Rates Depends on a Number of Factors
Wells Fargo pays interest on a complete range of products, from checking and savings accounts to CDs. It also charges interest on personal loans, auto loans and home mortgages. The best way to get better rates across the board is to have a combination of good credit, higher amounts on deposit and a good banking relationship with the company.
More on Wells Fargo:
More Interest Rates
Will Healy contributed to the reporting for this article.
This content is not provided by Wells Fargo. Any opinions, analyses, reviews or recommendations expressed in this article are those of the author alone and have not been reviewed, approved or otherwise endorsed by Wells Fargo. Rates are accurate as of Mar. 10, 2022. All fees and rates are subject to change at the bank's discretion.