How To Activate Your Chime Card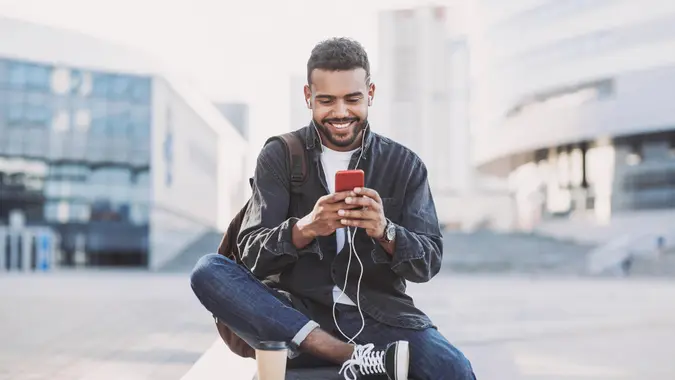 Poike / Getty Images/iStockphoto
Chime has been named one of the best neobanks for 2023 by GOBankingRates. It has also earned accolades from many other consumer review and personal finance sites. Chime is not a bank*, but a financial technology company that provides many of the same services as banks, including the ability to save your money, earn interest and access your money through a debit card.
But what should you know about Chime and how can you activate your debit card to easily access the funds held in your Chime account?
What Is Chime?
Let's start with the basics. Chime is a financial technology company backed by The Bancorp Bank and Stride Bank, both members of FDIC. That means your money held in Chime is FDIC-insured up to the maximum of $250,000 per accountholder, per account.
Chime offers an online checking account with no monthly fees and no overdraft fees. There is also the High-Yield Chime Savings Account currently offering Annual Percentage Yield (APY)1. You must have a Chime Checking Account to be eligible for the High-Yield Chime Savings Account
Benefits of the Chime Visa Debit Card
Chime also gives you a free debit card that allows you to make purchases online and anywhere Visa is accepted. You can also withdraw your money with no fees at a network of 60,000 ATMs3, which include MoneyPass ATMs at 7-Eleven convenience stores, Allpoint ATMs and Visa Plus Alliance ATMs. But first, you'll need to activate your Chime card.
Does Your Chime Debit Card Come Activated?
Your Chime debit card does not arrive in the mail already activated. Debit and credit cards are not shipped pre-activated. If your card gets lost in the mail, you wouldn't want someone else to be able to use it. Since someone can make online or point-of-sale transactions without a PIN, requiring users to activate the card before use helps protect from fraud.
How Do You Activate the Chime Debit Card?
Fortunately, Chime offers three easy ways to activate your card before use:
By calling customer service
Online at the Chime website
Through the Chime App
Whatever method you choose, Chime says it takes only two minutes to activate your card.
What Is The Number to Activate the Chime Card?
The easiest way to activate your Chime card is by calling customer service at 844-244-6363. The lines are open 24/7 and 365 days a year, including weekends and bank holidays.
When you call Chime, you'll want to have your Chime card and your Social Security number handy. If you don't have your Chime card nearby, you'll need your Chime card account number, expiration date, and the three-digit number CVV printed on the back of the card.
Simply provide the Chime representative with your name and the above information and they can activate your card in seconds.
Can I Activate My Chime Card Online?
If you prefer, you can activate your Chime card online. First, you'll want to sign into your Chime account with your username and password. Click on the "Activate my card" option in your account.
You'll need to enter your Chime card information to activate your card. When you're done, you should receive an email and text notification that your card has been activated and is ready for use at ATMs, in stores, and online.
Activate Your Chime Card in the App
Once you log in to the Chime app, you'll find two ways to activate your new Chime debit card. You can use the widget at the top of the app that says "Card status." Click it and then select the green button that says, "Activate card."
If you find it easier, you can ask the Chime Chatbot to activate your card by typing "Activate my card."
In both cases, you'll need to provide the appropriate information, including the card number, expiration date and CVV.
How To Activate Your Chime Credit Builder Secured Visa Credit Card
In addition to a debit card that you can use without fees at over 60,000 ATMs nationwide, Chime also offers a secured Visa credit card. The Chime Credit Builder Secured Visa Credit Card4 can help you build your credit through responsible use. The Chime Secured Visa card has no annual fee and no interest charges. Chime doesn't require a credit check for you to open the card, and there's no minimum security deposit.
Instead, your Chime Secured Visa is backed by the money you move from your Chime checking account into your Chime Credit Builder account. You can make purchases up to the amount in your Chime Credit Builder account.
You can activate your Chime Credit Builder Secured Visa the same way you activate your Chime debit card. Simply call customer service, use the app, or log in to your Chime account online to activate your Chime Credit Builder Secured Visa card.
How To Block Transactions on Your Chime Credit Card or Debit Card
If you ever misplace your Chime debit or credit card, or if you believe the card has been stolen, you can immediately stop all transactions. Open the Chime app and toggle the button "off" that says "Allow transactions" to prevent your card from being used. You can also turn off capabilities for international transactions while allowing domestic transactions.
If you don't plan to travel overseas, it's smart to keep international transactions off as a measure to prevent fraud.
How To Reach Chime Customer Service
If you ever have questions about your Chime account, you'll want to call the same phone number you used to activate your card: 844-244-6363.
Chime customer service phone lines are open seven days a week, 24 hours a day, including weekends and bank holidays.
If you'd prefer not to speak with a representative, you can email customer support at support@chime.com or chat with a Chime agent through the app.
Final Note
Chime is not a bank, but it provides many of the same features as a bank, without the monthly service charges or high fees often associated with traditional banks.
It is easy to activate and use Chime's debit and credit cards by phone, online or in the app.
*Chime is a financial technology company, not a bank. Banking services provided by, and debit card issued by, The Bancorp Bank, N.A. or Stride Bank, N.A., Members FDIC
1The Annual Percentage Yield ("APY") for the Chime Savings Account is variable and may change at any time. The disclosed APY is effective as of September 20, 2023. No minimum balance required. Must have $0.01 in savings to earn interest.
2The Chime Credit Builder Visa® Card is issued by Stride Bank, N.A., Member FDIC, pursuant to a license from Visa U.S.A. Inc. and may be used everywhere Visa credit cards are accepted.
3Out-of-network ATM withdrawal and over the counter advance fees may apply. See here for details.
4To apply for Credit Builder, you must have received a single qualifying direct deposit of $200 or more to your Checking Account. The qualifying direct deposit must be from your employer, payroll provider, gig economy payer, or benefits payer by Automated Clearing House (ACH) deposit OR Original Credit Transaction (OCT). Bank ACH transfers, Pay Anyone transfers, verification or trial deposits from financial institutions, peer to peer transfers from services such as PayPal, Cash App, or Venmo, mobile check deposits, cash loads or deposits, one-time direct deposits, such as tax refunds and other similar transactions, and any deposit to which Chime deems to not be a qualifying direct deposit are not qualifying direct deposits.
Rates are subject to change; unless otherwise noted, rates are updated periodically. All other information on accounts is accurate as of April 20, 2023.
Editorial Note: This content is not provided by any entity covered in this article. Any opinions, analyses, reviews, ratings or recommendations expressed in this article are those of the author alone and have not been reviewed, approved or otherwise endorsed by any entity named in this article.