Mobile Banking Apps: Current Trends and What the Future Holds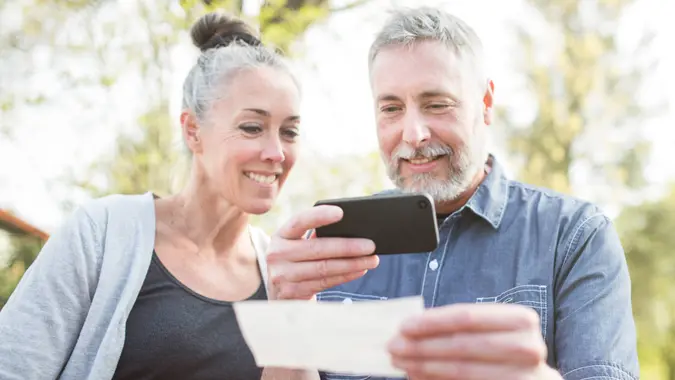 RyanJLane / Getty Images
It's been over a decade and a half since the first mobile banking apps appeared — around the same time that Apple released its first smartphone with a touchscreen and full internet access in 2007. Since then, both smartphones and mobile banking apps have evolved and become extremely popular among consumers.
See the List: GOBankingRates' Best Banks of 2023
Find Out: Here's How Much Americans Have in Their Savings Accounts in 2023
Check Out: GOBankingRates' Best Credit Unions 2023
According to Ankit Bhatt, EVP, Consumer and Chief Digital Officer at U.S. Bank, the rise of mobile banking can be attributed largely to convenience.
"The world is becoming a more digital place, and our customers want their banking experiences to be as simple and convenient as everything else they do on their mobile device," he said. "It became imperative that customers be able to DIY their banking needs — they needed a bank in their pocket that never closes."
Keep reading to find out more about the current and future trends of mobile banking apps. 
Current Trends With Mobile Banking Apps
Mobile banking app leaders, including U.S. Bank, all have apps with certain features in common, such as depositing checks, locking and unlocking cards, making mobile payments, paying bills and transferring money.
However, Bhatt said that's not enough — apps also need to be smart and personalized for each customer. 
"That means using the data and interactions we have with our customers to make our experiences more rich, more useful and more informative for them," he said. "We do that through things like financial insights that pop up in our mobile app and tell customers how they're doing on their budget, their savings goals, their investment objectives and more. Helping them with their financial wellness is hugely important. We give them tools to help them set, track and reach their goals, and we have automated savings and budgeting tools that suggest smart ways to grow their savings and manage their spending."
Take Our Poll: How Big of a Sign-Up Bonus Would It Take for You To Change Banks?
Bhatt also said that although customers have gravitated toward digital tools for their daily needs, such as check deposits and sending money, they still desire to have human interaction and guidance when it comes to more complex financial matters. 
"That became very apparent during the pandemic," he said. "So where we find real value is in using technology to make those human connections — through things like our cobrowse feature, which allows customers to screenshare with a banker as they navigate the U.S. Bank Mobile App together."
Bhatt added, "It's become a key way our bankers help customers and offer guidance, and we get so much positive feedback from our customers. It's convenient for them, it's fast and it's secure. The takeaway is that ultimately digital will make human interaction all the more valuable, as technology will allow for better customer interactions and experiences."
Predictions for the Future
So what does the future hold for mobile banking apps? How will they continue to evolve?
"Customers' expectations for digital banking are not being set by banks, but rather, they are judged against best-in-class digital experience across industries — from pizza delivery to ride sharing," Bhatt said. "The key is using data to better understand our customers' needs, in order to best position our solutions. For example, if we see a customer has a revolving balance on a credit card, we can offer them a 0% balance transfer. Or if they recently paid off their student loans, we can offer them a high-interest savings opportunity — automatically — all right in our mobile app or online banking. This drives value for the customer because it's helping them. That's the power of personalization."
Bhatt said there will also be a greater integration of digital plus human features in future mobile banking applications. As to how that will look, Bhatt offered the following:
"For example, our Goals portal: This is a connected digital and human experience, where our bankers know the goals customers have established in the mobile app and can then speak with them about solutions that align to those goals," he said. "It allows our bankers to pivot from a transactional capacity to more of an advisory role, which is what customers want."
More From GOBankingRates