Venmo App From PayPal Lets You Send Money and Emojis to Your Friends Instantly
In this Venmo review, see how the social wallet app compares to Square Cash, Chase QuickPay and other ways to send money.
The Venmo app, a payment exchange app that was acquired by PayPal in 2013, is popular among millennials. Venmo's account holders are typically young, tech-savvy people who have transformed the app name into a verb, as in "Can you Venmo me your share of the rent?" This pay-by-phone-app method is making it easier than ever for people to forgo cash exchanges.
Although banks and businesses are quickly bringing their own money transfer apps — like Chase QuickPay and Android Pay — to the market, there's nothing quite like Venmo. Only Venmo lets users make their transactions — complete with text and emoji memos — visible to other users. Venmo is free to download, so if you're looking for a peer-to-peer payment app, there's no cost to try it.
Venmo App Review at a Glance
Cost to Download
Free
Where Available
Downloads

iTunes: info not available
Google Play: 1 to 5 million installs

iTunes App Store Rating
4.5 stars
Google Play Rating
4.7 stars
Advantages

Can pay fellow Venmo users instantly
No fees if you use a bank or major debit card
More social capabilities than other P2P apps

Disadvantages

Doesn't work outside of U.S.
Restrictive transfer limits
Money not directly transferred to bank account
Sponsors of
Venmo Features
Venmo offers several features that make it stand out from other person-to-person payment methods:
Social financial transactions: Venmo requires users to create payment memos, which appear on your friends' feeds. Friends can "like" or comment on memos for their own and others' transactions. These memos are the equivalent to the memo lines on paper checks; you can fill in a description of the purpose for payment, but in a more casual way — and with emojis, if you want. Transactions can be set to private, and the amount you send is never disclosed, so you still have options for privacy with this more-social payment app.
Instant payment: Now, paying your friends can be quick and easy. Just add your friend to your Venmo account if he is there already, type in the amount you want to send, enter a memo and press the "Pay" button. The funds are sent immediately.
Mostly free: Avoid fees for sending money when you link a bank account or most major debit cards to your Venmo account. The good news is that receiving money is always free.
Security: Venmo safeguards your money in a few ways: Your data is encrypted, stored and protected on secure servers. Second, you can halt all activity at any time by deactivating your account online. This security feature is useful if you lose your phone or if your account is hacked. If you lose your phone, you can prevent it from accessing your Venmo account by visiting the authorizations section of your account settings online.
Sponsors of
You might be wondering, if it doesn't charge fees, how does Venmo make money? The company is launching its efforts to profit on its popularity. Venmo is now accepted as a form of payment with food-delivery service Munchery and ticket-selling app Gametime. Venmo charges merchants a fee for the ability to use its service.
Read: What Is Chase Quickpay with Zelle
How to Sign Up for Venmo
Signing up for Venmo is free and easy. Using either your computer or smartphone, you can choose to sign up through your Facebook account or email address. Download the app — which is compatible with both Android and Apple phones — and choose your login method plus a password.
Next, you'll need to verify both your email address and phone number. Finally, you will add your bank account info and verify that it's yours. Once those steps are completed, you're ready to enjoy a cashless night out, while still paying your fair share.
How to Send Money Using Venmo
There are two ways you can request or send money via Venmo: through your smartphone or online through Venmo.com. To send money using your iPhone or Android phone, open the app and choose the friend you want to send money to or request a payment from.
Sponsors of
If you use your Venmo smartphone app, simply log on, and on the home page, you'll see an icon — a circle with a dollar sign and pen inside — in the upper-right corner of the screen; click on that icon.
Next, choose the friend you want to pay, using his username, phone number or email address. Once you choose your recipient, you'll have a chance to specify the amount and what the funds are for. You can include a note or even emojis. Then click the "Pay" button.
If you don't want your payment and note published on the public feed, set your transaction to private on the same screen.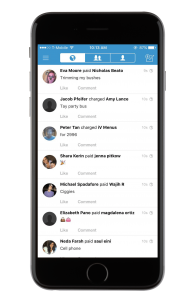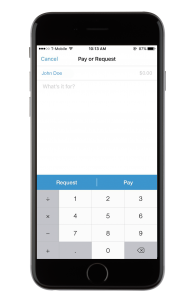 Venmo Fees and Requirements
Receiving money from Venmo is always free. Sending is free if you use a bank or a major debit card. For customers who use some types of debit cards and credit cards, there's a 3 percent fee for each transaction. To verify that your debit or credit card can be used without a charge, go to the app settings and check in the "Banks & Cards" section.
Sponsors of
To use this app, you must have an iOS or Android device and:
Live within the United States
Have an American cell phone number that can send and receive text messages
Pros and Cons of Venmo
To help you decide whether Venmo is the right P2P payment app for you, check out some of the advantages and disadvantages of this tool.
Pros of Venmo App
PayPal's Venmo app offers a number of advantages that make it a popular pick:
Fun way to pay friends: Venmo users check the app even when they're not sending or receiving money. This is because users want to see — via the memos and comments — who their friends are hanging out with and what they're up to.
Relatively fast: A bank transfer typically takes just one business day if the funds are sent before 7 p.m. EST.
No need for cash: Instead of going out with a wallet full of cash, use Venmo to split the drink tab and cab fare. It can be safer than cash or cards in case your wallet is stolen, and if your phone is lost or stolen, you can immediately halt activity on your Venmo account.
Sponsors of
Read: 58% of Millennials Still Prefer to Get Paid With Cash
Cons of Venmo App
Despite the unique conveniences and fun features Venmo offers, there are a few negative details to consider:
Doesn't work outside of U.S.: International transfers are not allowed, so forget about using Venmo while traveling abroad. Also, the app is only available to U.S. residents.
Extra steps: Venmo doesn't automatically deposit funds you receive into your bank account. Instead, the money sits in your Venmo account until you manually transfer them over, and the transfer process can take one business day. So to get Venmo cash out of your account, you have to log in to your app, select the amount you want to transfer, hit the transfer button and wait.
Restrictive transfer limit: The transfer limit is just $299.99 for users who have not yet confirmed their identity. Once it's confirmed, you're bumped up to a weekly rolling limit of $2999.99.
Is Venmo safe?
Venmo protects the accounts, passwords and financial information of its users by encrypting their data and storing it on protected servers. If unauthorized purchases are made on your Venmo account, you can call the company directly to report the fraudulent activity. You can also log in with your credentials to deactivate your account from any computer.
Sponsors of
Venmo Competitors
Square Cash: This popular mobile payment app makes paying friends a little easier than Venmo. Unlike Venmo, people don't have to have a Square Cash account to receive funds. Square Cash also offers a handy dashboard where users can get a quick view of daily activities, including where money is coming from. Businesses can refer to the dashboard for data like top-selling items.
Google Wallet: This mobile option lets you transfer money with more flexible spending limits. Venmo caps transfers at $2999.99 per week, whereas Google Wallet's limit is $50,000 per five-day period. You can also make a Google Wallet transfer by attaching a payment in any Gmail message.
Read: 5 Reasons Why No One Goes to the Bank Anymore
Venmo vs. PayPal
PayPal, which acquired Venmo in 2013 through its acquisition of startup Braintree, is one of the more robust mobile payment systems available. Venmo is limited to use within the U.S., but PayPal is available in 202 countries and 25 currencies.
Unlike Venmo, PayPal is structured for both business and pleasure. PayPal offers an impressive suite of financial tools for entrepreneurs, including loans, online invoices, and mobile card readers; Venmo offers none of those features.
Venmo Works for Fun and Efficient Payments
Where Venmo succeeds and stands out is in its social features. Through its newsfeed feature, Venmo has brought an element of fun into paying a friend back. Because of this app, something that's usually dreaded — splitting a dinner check five ways, for example — is now something users can actually enjoy. If a cashless society is the future, Venmo might be a trailblazer.
Editorial Note: This content is not provided or commissioned by the bank advertiser. Opinions expressed here are author's alone, not those of the bank advertiser, and have not been reviewed, approved or otherwise endorsed by the bank advertiser. This site may be compensated through the bank advertiser Affiliate Program.