How to Find Your Bank Routing Number in Seconds

Get access to your bank routing number on your check or on this list of top banks.
For more than a century, financial institutions have been using routing numbers. You might not often think about those little numbers on checks, but they're critical to the banking system. Without them, money can't be transferred electronically between institutions or through the Automatic Clearing House network. If you have a bank account, it's likely that at some point you'll need to know how to read a check to find bank routing number information.
How Do I Find My Routing Number on a Check?
The answer for how to find your routing number is straightforward: Routing numbers are nine digits long and appear on every check issued by all banks. Three numerical strings appear on every check, usually printed in MICR — block-like characters in magnetic ink — to make it easy for computers to read. These numerical strings are the U.S. bank routing number, the account number and the check number. The bottom left corner is where you'll usually find the routing number on a check, as seen on the following check image.
Next comes the account number, then the individual check number. Check routing number location varies, and in some cases, as with some computer-generated payroll checks, the routing number and account number are not separated and are instead printed in sequence. In those cases, the check routing number is always the first nine digits of any numerical sequence printed on a check.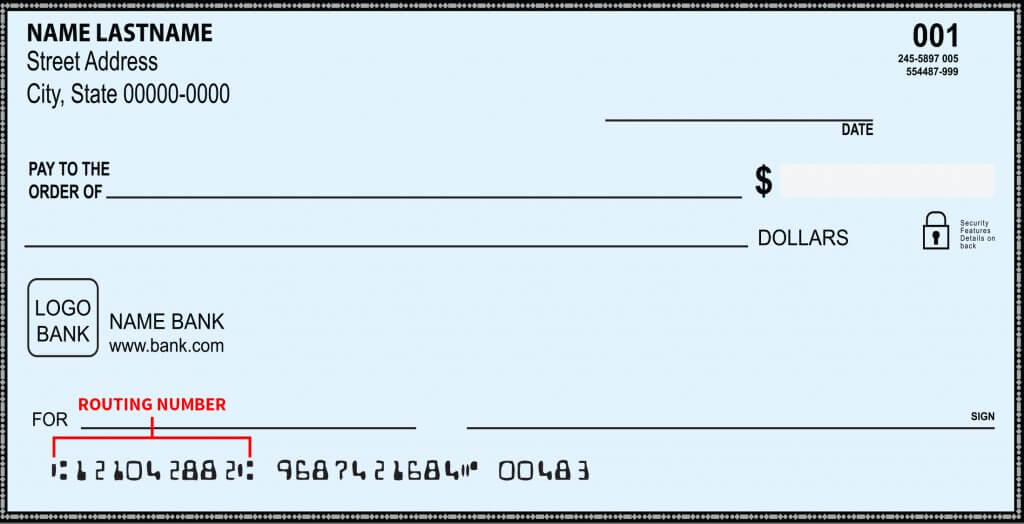 Learn: Every Type of Check Fraud You Have to Worry About
What Is a Routing Number?
Every bank is assigned a unique identifying numerical code, which is the routing number on a check that you write, deposit or cash. The routing number determines who will facilitate and who will receive payment in many kinds of transactions.
The American Bankers Association, the largest banking trade organization in the country, assigns a unique identifying number to federal or state-chartered financial institutions. That number is a bank's ABA routing number, also called a routing transit number. Institutions must be eligible to hold a Federal Reserve bank account in order to obtain bank routing numbers.
First developed in 1910, routing numbers are used to establish which bank will expedite the payment of a check. Like an address or a fingerprint, ABA numbers identify financial institutions during transactions. They also identify customers. When taken together, check routing and account number information is unique to each account holder. With both the routing number and account number on check deposits, it's clear both where the money is coming from and where the money is going.
See: 10 Best Checking Accounts of 2017
How Are Routing Numbers Determined?
Most small banks and many online banks operate with just a single routing number. Large, multinational banks, however, often use many different routing numbers where the account holder's state determining the check routing number.
For example, as you can see in the table, the online bank Ally Bank routing number is always 124003116 on check slips. This number sequence is called a universal routing number. The Chase Bank routing number, on the other hand, is different depending on the state. In large states, a unique routing number can be assigned to different regions. U.S. Bank routing numbers in California, for example, include one number for accounts in the northern part of the state and another routing number for accounts in the southern part. A quick online routing number search reveals that Bank of America maintains two Texas routing number options.
Check out the following table to find the routing numbers for 50 of the largest brick-and-mortar and online banks:
When Is a Routing Number Needed?
You won't likely need your routing number on a daily basis, but you will need it from time to time. Instances in which you'd need to find routing number information include:
Reordering checks: When you run out of checks, your check printer is likely to ask for your routing number before they give you new checks.
Setting up direct deposit: In order to have payroll checks deposited straight to your account, you'll have to submit the routing and account numbers on your check.
Paying bills: Consumer bills paid through ACH also require account and routing numbers.
Tax payments: Whether you're paying a tax bill or receiving a refund, you'll need to know your bank account routing number.
Alternate Ways to Find Your Routing Number
Most banks also provide their routing number information online, although you might have to log in to perform a routing number lookup for your specific account.
If you prefer, simply call the bank and ask, "How do I find my routing number?" In many cases, you can find out the routing number by going through the automated prompts. Another way is to simply do an internet search such as, "what is the routing number for" followed by the name of your bank. You should never volunteer any banking information or ever respond to a suspicious email that poses a question like, "What is the routing number on a check you wrote to the IRS in April?
Keep Reading: What's the Difference Between a Money Order and a Certified Check?