Savings and Loan Association: Is It Right for You?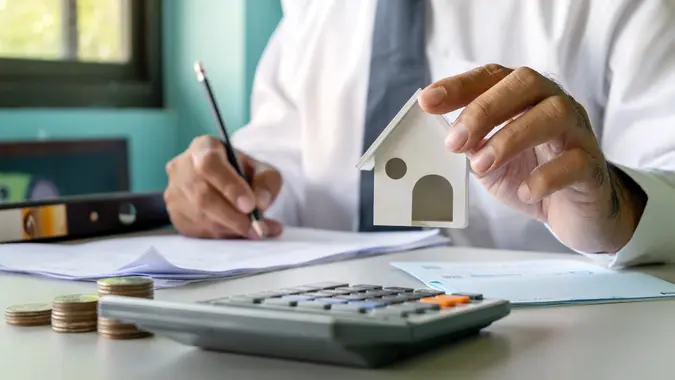 arthon meekodong / iStock.com
Are you dissatisfied with big banks? Perhaps the interest rates are low, loans are too expensive or you're just looking for friendlier and more personalized service. In these cases, a savings and loan (S&L) association may be perfect for you. 
S&Ls aren't the same as banks and don't always provide the same services. When one does offer the financial product you need, joining could result in huge benefits.
What Is a Savings and Loan Association?
S&Ls are financial institutions that specialize in offering customers savings accounts and mortgage loans. They are a type of thrift institution that can be state or federally chartered — federal S&Ls are overseen by the Office of Thrift Supervision.
To retain their status, S&Ls are required by the government to have at least 65% of their portfolio in housing-related or other qualified assets.
What Is the Main Purpose of a Savings and Loan Association?
The primary purpose of an S&L is to promote growth of the local housing and construction community specifically. S&L associations are much like credit unions because they are community-oriented: They are owned and operated by the people they exist to benefit.
Usually, these institutions are not-for-profits, and members have voting rights and may direct the managerial goals of the institution. Even so, it is possible for an S&L to become stock-based and publicly traded in some cases, which means members are stockholders and lose managerial control.
Maximize Your Savings Potential
What Is the Difference Between Banks, Credit Unions and Savings and Loan Associations?
The State of Connecticut Department of Banking describes banks as financial "department stores." They generally offer various financial services and products, including checking and savings accounts and different types of loans.
Credit unions are cooperatively owned financial institutions created by a group with a common bond, such as a local community. They offer a variety of services like a bank but are usually non-profits.
S&L associations are more specialized, focusing on investment and real estate lending. While they may offer fewer financial products, they likely offer better loan terms and interest rates.
History of S&Ls
The first United States S&L association was created in 1831. Members of S&Ls joined with the intention of developing and investing in their communities. The primary goal of S&Ls was to make mortgage and construction loans as affordable as possible.
What Happened to Savings and Loan Associations?
A financial crisis in the 1980s and 1990s led to the failure of many S&Ls due to a rise in interest rates. The S&Ls that survived the crisis began offering a wider range of products and services beyond just home loans and high-interest savings accounts. Nevertheless, these two offers remain the ultimate focus of these institutions.
Maximize Your Savings Potential
Are There Still Savings and Loan Associations?
While they're not as common as they once were, there are still savings and loan associations — there are currently over 600 S&L associations in the U.S.
While many failed during the financial crisis in the 1980s, interest in them surged again in the following years. This was caused by reinvestment and new regulations from the federal government.
How S&Ls Work
A person who deposits into an account at an S&L is essentially funding the mortgage loans and construction projects in the neighborhood. The money deposited in savings accounts is provided to the members who are borrowing from the institution.
Borrowers then pay interest on these loans, which is then returned to the bank as revenue, as well as to the depositors in the form of dividends.
Pros and Cons of Savings & Loan Associations
While S&Ls have certain advantages over banks and credit unions, there are drawbacks, as well.
Pros
Higher deposit rates. S&L associations provide higher interest rates on accounts to encourage more deposits, so they have funds available for loans.
Invests in the community. S&Ls are community-oriented financial institutions. When you open an account with one, you are helping your neighbors buy homes and make improvements to local housing.
Better customer service. Since savings and loan associations are smaller institutions, you can expect to receive a higher level of service and personal interest.
Maximize Your Savings Potential
Cons
Fewer financial products: Because S&Ls specialize in real estate lending and investment, they may not offer financial products like checking or business accounts.
Fewer branches: Because S&Ls are usually local associations, they will usually only have a few local branches. This can make banking inconvenient if you need to move or work in a different state or city.
These days, S&L associations are becoming more like commercial banks, but still maintain a unique interest in savings and mortgages. Anyone who wishes to earn higher rates or is thinking about buying a home should consider becoming a member of an S&L.
Final Take
If you're looking for a way to earn a higher interest rate while investing in the development of your local community, then an S&L association may be a good fit for you. Now that you know what they are and how they work, you can reach out to S&Ls in your area to find out what they offer.
Chris Ozarowski contributed to the reporting for this article.
Our in-house research team and on-site financial experts work together to create content that's accurate, impartial, and up to date. We fact-check every single statistic, quote and fact using trusted primary resources to make sure the information we provide is correct. You can learn more about GOBankingRates' processes and standards in our editorial policy.
Maximize Your Savings Potential