9 Christmas Stocks To Invest In This Holiday Season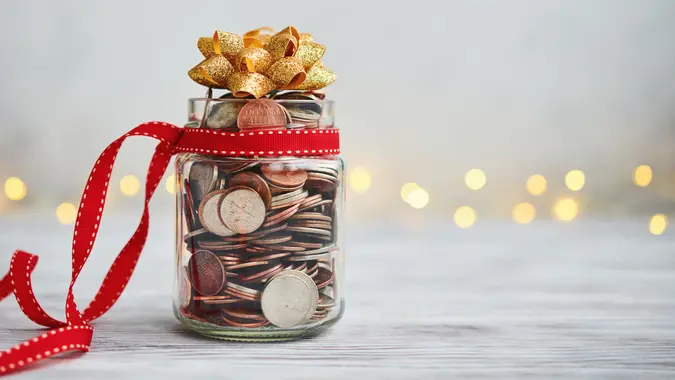 CatLane / Getty Images
Most, if not all, stores are open and operating as normal after the initial shutdowns of the COVID-19 pandemic, and for those who are still reluctant to shop in person, the online capabilities at most retailers have improved dramatically. The shopping season looks to be in good shape, with the average American expected to spend about $1,500 on Christmas experiences, gifts and non-gift purchases.
December is often associated with the "Santa Rally," which is a phenomenon that causes an increase in the stock market during the last week of December and a few days into the new year — meaning it's a good time to invest.
If you're looking to buy some stocks to take advantage of what many businesses hope will be a high-spending season, take a look at these nine names. Although heavily weighted toward retailers, every name on the list has its own niche, from online businesses to mall-based stores. As always, consult with your financial advisor to see if your investment objectives and risk tolerance match any of these names.
Christmas Stocks To Invest In This Holiday Season
Consider the nine businesses below for your Christmas investments.
1. Target Corporation
Ticker: TGT
Price: $153.88
Market Cap: $70.837 billion
Target took advantage of the pandemic to add and remodel stores, decrease delivery times and greatly boost its online presence — a program that it plans to continue throughout the 2022 holiday season. Target has been becoming a stronger competitor in an industry that contains powerhouses Walmart and Amazon, and shareholders have been rewarded greatly. Target's earnings per share increased to $14.10 in 2021 from $8.64 in 2020.  
As the stock has recently tumbled about 10% from its November high of $180.46, there may now be an attractive entry point on Target stock as the holiday season continues.
2. Amazon.com
Ticker: AMZN
Price: $88.42
Market Cap: $900.799 billion
If you're looking for a company to generate high holiday sales, Amazon should be at or near the top of your list. Although Amazon hasn't released specific figures, the company has announced record Black Friday weekend sales where independent retailers made over $1 billion.
Even with this announcement, Amazon stock prices are relatively low, hovering from about $85 to $100 throughout November 2022.
3. Etsy
Ticker: ETSY
Price: $130.10
Market Cap: $16.742 billion
Etsy is another retailer that could be poised for a good holiday season, but it's a bit different from stores like Target or Amazon. Etsy is primarily dedicated to online artists and those making handmade or unique items that they sell directly to consumers.
Since the beginning of 2022, Etsy stock has fallen significantly. However, it has seen quite a few increases in November and the lower price may be beneficial for new investors.
4. Walmart
Ticker: WMT
Price: $149.35
Market Cap: $406.937 billion
Walmart is another retail giant that has recently expanded its online offerings to compete with Amazon in the e-commerce industry. Its third-quarter results include total revenue of $152.8 billion, which is an increase of 8.7%. The company has improved its outlook for the full year's finances, and its stock prices have been relatively stable throughout the year.
5. Dollar Tree
Ticker: DLTR
Price: $144.98
Market Cap: $32.066 billion
Even though Dollar Tree is well-known for its hardships in recent years, the company has since bounced back remarkably well by filling its leadership positions with experienced executives and reevaluating its prices. Dollar Tree's 2022 third-quarter net sales have increased by 8.1% compared to 2021 third-quarter net sales. 
6. Williams-Sonoma, Inc.
Ticker: WSM
Price: $110.81
Market Cap: $7.376 billion
While Williams-Sonoma may not be an obvious choice, it is one of the United States' largest e-commerce sites for home goods. The company's diluted earnings per share increased 13.1% to $3.72 in the third quarter of 2022. While the stock price has fallen throughout 2022, new investors can get a good deal by getting in during the holiday season.
7. Signet Jewelers Limited
Ticker: SIG
Price: $73.60
Market Cap: $3.344 billion
Jewelry being a classic holiday gift, Signet Jewelers is a company you won't want to forget during your Christmas investing. Its brand names include Kay Jewelers, Zales, Jared and many other popular jewelry companies. Stock prices were concentrated around $63 in November before starting to climb in December, which makes it a more affordable choice for investors on a budget.
8. The Children's Place
Ticker: PLCE
Price: $35.94
Market Cap: $439.406 million
The Children's Place owns several clothing brands mostly for children, including PJ Place, which was launched in 2022.
Unfortunately, the company's third-quarter financial results may indicate some financial difficulties in 2022 with decreases in sales, profit and earnings per share. However, the company has also reported an increase in online sales, including sales made on Amazon, as well as good social media exposure. The Children's Place's stock has decreased since the beginning of 2022, but it may be a good bargain for investing this Christmas.
9. Marks and Spencer Group
Ticker: MAKSY
Price: $3.05
Market Cap: $2.991 billion
Marks and Spencer is a retailer that sells items like food and clothing while also offering services ranging from banking to renewable energy. It is a British company that operates internationally, but its stock is extremely affordable at $3.05 as of Dec. 7, 2022. According to Marks and Spencer's half-year results, the company saw an 8.8% increase in sales comparing its half-year results from October 2021 and 2022.
Investing During The Holidays
The Santa Rally hasn't yet begun, which means you might have time to get in the market and see some gains. This year has seen many decreases in stock prices amidst economic uncertainty, meaning that investors are more likely to find good deals. However, you must do thorough research before deciding to invest in any company, including the ones listed above.
Whether you want to invest in an e-commerce giant like Amazon or a smaller retailer like Marks and Spencer, it's a good idea to discuss your portfolio and investing goals with your financial advisor.
FAQ
Below are quick answers to some frequently asked questions about investing during the holiday season.
What should I invest in before Christmas?

Consider investing in retail companies that expect sales to increase for the holidays, like Amazon, Target and Walmart, among others. The stocks listed above are a good place to start.
You should base your decision on your investing goals and capabilities and discuss your investing decisions with your financial advisor.

Do stocks go up or down during Christmas?

December has seen positive stock market results 74% of the time since the 1970s.

Do stocks tend to increase during Christmas?

According to the Santa Rally phenomenon, stocks do tend to increase during Christmas.
While this isn't always true, in the majority of cases, the stock market will go up from the end of December into the beginning of January.

What stocks go up for Christmas?

Retail stores that see good sales during the Black Friday season may be viewed as favorable, and investors may be able to get a good deal by investing in blue chip stocks that dip before the holiday season and then increase during and after Christmas.
However, it's difficult to predict what stocks will go up during Christmas with 100% accuracy. This heavily depends on the economy as a whole and the individual performance of each company.
John Csiszar contributed to the reporting for this article.
Data is accurate as of Dec. 7, 2022, and is subject to change.
Our in-house research team and on-site financial experts work together to create content that's accurate, impartial, and up to date. We fact-check every single statistic, quote and fact using trusted primary resources to make sure the information we provide is correct. You can learn more about GOBankingRates' processes and standards in our editorial policy.