$1,400 Stimulus Checks and $15 Minimum Wage — Digging into Biden's Stimulus Proposal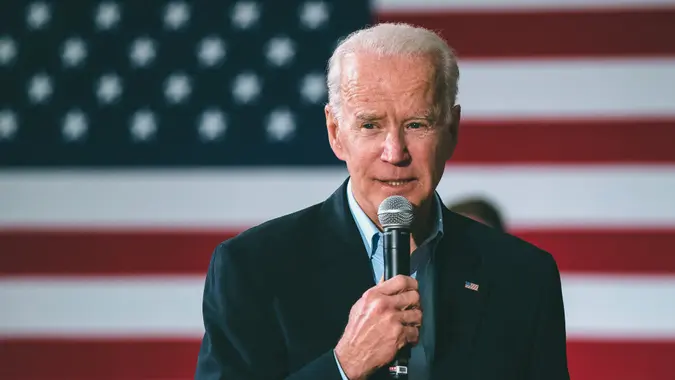 JIM LO SCALZO/EPA-EFE / Shutterstock.com
President-Elect Joe Biden released his stimulus plan, with an estimated price tag of $1.9 trillion dollars. It's ambitious, addressing both the economy and the pandemic.
See: Biden Presidency Could Bring $1.9 Trillion Stimulus Plan, Increased Minimum Wage and More Cash for Americans
Find: What a Biden Presidency Means for Your Wallet
The plan's proposals include:
Coronavirus relief: For $400 billion, President-Elect Biden's vaccination plan has the goal of 100 million shots administered in the first 100 days of his administration; a school reopening program with funding for testing, transportation, cleaning and sanitizing services, personal protective equipment and improved ventilation systems; and paid leave for people who are quarantined or need to care for family members who are quarantined.
Financial support: Along with $1,400 in stimulus checks, President-Elect Biden's proposal includes extended unemployment benefits with a $400 weekly supplement.
Food security: The plan calls for an extension for emergency food assistance through the SNAP program through the end of 2021 as well as an additional $3 billion in funding for the Women, Infants, and Children nutrition program.
Housing funds: President-Elect Biden is asking for rental assistance for the estimated 14 million families who are behind on rent.
State, local and tribal government assistance: This was cut from the last stimulus package, and it would help localities that have been hurt by both the pandemic and the loss of tax revenues. 
Small business grants: The new proposal includes grants that are aimed at small business, designed to overcome certain access problems with the Paycheck Protection Program.
Minimum wage increase: The $15-an-hour rate is part of this proposal.
Child care subsidies: The goal is to make it easier for parents to return to work.
See: Babies Born or Adopted in 2020 Are Eligible for up to $1,100 in Stimulus Money
Find: Raising Taxes — Where Does Joe Biden Stand?
The plan is ambitious, and it will be going through the Senate at the same time as President Donald Trump's impeachment trial. However, many of the items in it are items that have been proposed before, so they have constituencies.
More From GOBankingRates:
Make Your Money Work for You
Make Your Money Work for You