Living Off the Grid: Can You Afford the Costs?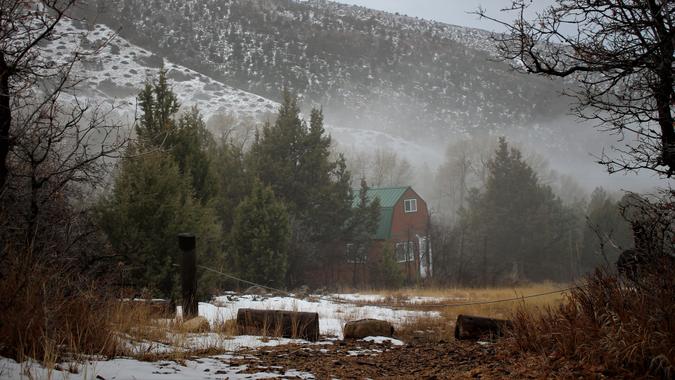 Kordale Bean / Shutterstock.com
Off-the-grid living is a reality for many people who want to save money by living simpler, self-sufficient lives. The idea can be a romantic notion, living off the land like the early settlers once did. You have to work the land, grow your food and maintain access to clean water. You're totally free without restriction or obligation beyond your own life and property. It sounds like a dream come true, right?
But what does it actually cost to live off the traditional grid? Is it something that ordinary people can do? Keep reading to learn what you need to know about truly living off the grid.
What Is Living Off the Grid?
Living off the grid is a lifestyle that involves living without any use of modern technology, being self-sufficient and removed from the rest of society. Living off the grid can mean different things to different people. It can refer to the billions of people living without access to traditional power grids across the globe, including 600 million in Africa alone. For others, it can mean living in modern society or near it without depending on electrical utilities or the latest technology. Some people pursue off-the-grid living to escape government or society.
Make Your Money Work for You
No matter the motivations, living off the grid means you're responsible for every need. That includes housing, food, water, power, sanitation and healthcare. It requires sustainable systems and living.
Who Should and Shouldn't Live Off the Grid?
Off-the-grid living can be a dream for many people, but it's not for everyone. You should consider some self-reflection to determine if off-grid living is right for you. If you aren't someone who could do without modern amenities and technologies, it might not suit you.
But if you love the idea of living a simpler life without the complications and distractions of modern living, it might be an excellent choice. It's also a perfect way for many people to save a lot of money.
It's important to know what you're getting into by choosing to live off the grid before diving in completely. Keep reading to learn what to consider before packing up and moving out.
Make Your Money Work for You
What To Consider Before Moving Off the Grid
Land
The first and obvious consideration is purchasing land on which to work and live. First and foremost, off-the-grid living requires land. Depending on your region, land might not be cheap. For example, here are average farmland values per acre, according to the U.S. Department of Agriculture:
Northeast: $5,710
Northern Plains: $2,210
Mountain region: $1,240
Southeast: $4,120
Pacific region: $5,910
As you can see, values differ widely across regions. Location is an important determination when living off the grid. Seasonality, average temperatures, soil and options for food and livestock are important considerations.
Did You Know?

There are many places in the United States where you can get parcels of land for $10,000 or less. You can find deals across the country in Alaska, California, New Mexico, Missouri, Oklahoma, Florida and many more. No matter where you want to settle down, the odds are you can find a good deal.
Housing
There are a few options when it comes to planning your housing. You can opt to purchase an existing home initially built to be off-grid. These homes can range from primitive shelters to multimillion-dollar mansions.
Make Your Money Work for You
Alternatively, you could elect to start with a tiny house. These are usually very small, portable homes that are a step up from traditional motor homes. Some of them can be pretty luxurious, though limited in terms of space. Tiny houses can range from $10,000 to over $100,000. You can also consider whether to rent or buy a tiny home.
Water
You'll also want to make sure you have a steady source of clean water. Water can come from a natural water source on your land, like a lake, river or well. If your property doesn't already have one, you'll need to hire someone to dig a well or do it yourself.
You might also consider a rainwater collection system to capture and store rain. You can purchase one or make it yourself for less than $100. Keep in mind that the  Centers for Disease Control and Prevention advises against assuming that rainwater is safe to drink. To reduce your risk of illness, it's a good idea to review the CDC's guidance on safety considerations before using collected rainwater.
Getting hot water is another story as you'll need a water heater and some power to fuel it. New water heaters and installation can cost anywhere from $1,000 to over $10,000.
Power
Living off the grid doesn't necessarily mean living without power. For many people, power is still an essential aspect of living off the grid. It just means that you're responsible for generating the power and fuel you need.
The recent power outages in Texas, for example, emphasized the need for sustainable energy where people with no power ended up with $16,000 energy bills.
One option for generating power is by using solar panels. The average cost to install solar panels can range from $10,000 to over $25,000, depending on how much energy you need.
Another renewable energy option is a residential wind turbine. These units vary widely in cost, depending on the size and output you need. According to EnergySage, a small wind turbine project that serves as a homeowner's main source of electricity typically costs anywhere from $15,000 to $75,000.
Food
Having access to quality food sources is critical for living a self-sufficient life off the grid. Depending on where you live, you might be able to rely somewhat on natural sources like berries and plants. You can also cultivate a vegetable garden and grow your own fruit trees and plants. You'll need to be able to preserve and store that food properly.
Is Living Off the Grid Right for You?
Living off the grid can be challenging. It's not for everyone. Knowing yourself, what your comforts and living preferences are, and what an off-grid life requires is important before making this life-changing decision. For many people, living off the grid is an excellent way to save money and live simpler, more sustainable lives.
You'll be responsible for food, shelter, water and power. For those with a pioneer spirit, this life may be a dream come true. But there are several upfront costs to pull it off, so you should carefully weigh those costs and decide if off-grid living is right for you.
Our in-house research team and on-site financial experts work together to create content that's accurate, impartial, and up to date. We fact-check every single statistic, quote and fact using trusted primary resources to make sure the information we provide is correct. You can learn more about GOBankingRates' processes and standards in our editorial policy.