What Are BBVA USA's Hours?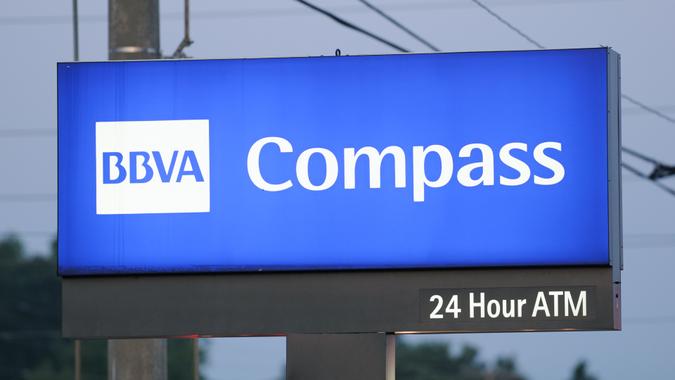 sshepard / Getty Images
Banco Bilbao Vizcaya Argentaria, or BBVA, started as Central Bank & Trust Co. in 1964 but later changed its name following a series of mergers and acquisitions. Today, BBVA USA offers a full range of products and services such as checking accounts, savings accounts, home loans and credit cards. The bank maintains branches from California to Florida.
BBVA USA Hours for Normal Days
BBVA USA is usually open from 9 a.m. to 5 p.m. Monday through Friday, though some branches stay open a bit later on Friday until 6 p.m.
Is BBVA USA Open on Weekends?
BBVA USA is not open on weekends. Below is an overview of BBVA USA hours during the week.
BBVA USA Bank Hours
Day
Hours
Monday-Friday
9 a.m. to 5 p.m.; sometimes 6 p.m.
Saturday
Closed
Sunday
Closed
Many branches have drive-up windows that operate during normal business hours, in addition to 24-hour ATMs.
BBVA Bank Hours for Holidays
Like many banks, BBVA USA observes federal holidays designated by the Office of Personnel Management. For 2021, BBVA USA closes its doors on the following holidays:
BBVA USA Holidays
Holiday
Date
New Year's Day
Friday, Jan. 1
Martin Luther King, Jr. Day
Monday, Jan. 18
Presidents Day
Monday, Feb. 15
Memorial Day
Monday, May 31
Junteenth
Saturday, June 19; bank closes at 1:00 p.m. CST
Independence Day
Monday, July 5; observed since the holiday falls on a Sunday
Labor Day
Monday, Sept. 6
Columbus Day
Monday, Oct. 11
Veterans Day
Thursday, Nov. 11
Thanksgiving Day
Thursday, Nov. 25
Christmas Day
Saturday, Dec. 25
In addition to branch closures, BBVA USA also closes its call centers on the following holidays:
New Year's Day
Independence Day
Thanksgiving Day
Christmas Day
How To Bank With BBVA USA After Business Hours
You have a few different options for banking with BBVA USA after normal business hours, including the following:
BBVA USA online banking: With online banking, you can set up alerts for your bank accounts that'll keep you in the loop 24/7. You'll also be able to transfer money online and pay your bills.
BBVA USA mobile banking: With BBVA's mobile banking app you can monitor your bank accounts from the comfort of your phone, set up banking alerts and handle tasks such as making deposits, transferring money, paying bills and checking balances.
ATMs: BBVA USA's 24-hour ATMs let you withdraw money at your convenience, offering one of the ways to access your funds when the bank is closed. You can also transfer funds between BBVA checking and savings accounts.
How To Contact BBVA USA Customer Service
If you need to contact BBVA USA' customer service department with questions or comments, here are the numbers to call:
BBVA USA Customer Service Numbers
Service
Number
Customer service and new accounts for Alabama, Arizona, California, Colorado, Florida, New Mexico and Texas
844-228-2872
Customer service and new accounts for other states
866-534-4482
Online and mobile banking
800-273-1057
You can also reach out to a branch representative using BBVA USA's branch locator.
Information is accurate as of Dec. 3, 2021
This content is not provided by BBVA USA. Any opinions, analyses, reviews or recommendations expressed in this article are those of the author alone and have not been reviewed, approved or otherwise endorsed by BBVA USA.