How To Find Chase ATMs Near You
Use the bank's app or website to locate a Chase ATM.
Thinking about standard banking hours is largely a thing of the past, particularly if you're a customer at a major bank like Chase. It's now easy to find an ATM you can use for withdrawing cash, making deposits or checking your balance, no matter what time or day of the week it is.
Follow these steps to use a computer or smartphone to find the Chase ATM locations nearest you.
How To Find a Chase ATM Nearby
Not all Chase ATMs are created equal — some offer more services and accessibility than others. Chase's online services provide this information, so knowing what you need can shave some time off your search. Before you begin looking, consider the following:
Are you looking for drive-up Chase ATM locations?
Do you need an ATM that accepts deposits?
In what language do you feel most comfortable conducting your financial business?
Do you want to find a 24-hour ATM?
ATMs offer more features than ever before. You can pay off your credit card, withdraw cash fast, and deposit cash and up to 30 checks at a time at virtually any ATM. Forgot your card? Don't worry — many Chase ATMs now offer cardless features, which means you can access your account via an ATM if your card is loaded onto an Apple Pay, Google Pay or Samsung Pay mobile wallet.
Sponsors of
Related: ATM Withdrawal Limits at Chase, Wells Fargo and 39 Other Banks
Search For an ATM Using the Chase Website
You can easily search from your computer for a Chase ATM near you. Simply visit the Chase website and follow these steps:
Use the link in the upper right corner of the website to access the ATM and branch locator.
In the field below "Find a Chase ATM or branch near you," enter the ZIP code or address for the area you want to search. You can also scroll down to browse by state or find international ATMs.
Click on "Search," which will take you to a list of locations.
Narrow your options by using the filters on the left side of the page, as shown below. For instance, you can choose to search for a Chase ATM with check or cash deposit functionality or drive-up access.
Click on the location nearest you, and you'll be brought to a page with information about the Chase ATM, including a map. You can also click on the map pin to request driving directions via Google Maps.
Sponsors of
Also See: 10 Banks With No-Fee ATMs 
Find a Chase ATM Using the Mobile App
If you're looking for a Chase ATM near you while you're on the go, try using the bank's mobile app. With a few taps, you'll be able to find one fast.
Follow these steps to use the Chase Mobile app to find an ATM:
Download the Chase Mobile app for your iPhone from the App Store or for your Android device from Google Play. Or, text "mobile" to 24273, and Chase will send you a download link.
Open the app and tap on the "ATM / Branch" link.
Enter the ZIP code or address information for where you want to find an ATM.
Review the list of locations and select the one you want. Tap the "Show directions" button, and you'll be brought to an interactive map on the app of your choice.
Sponsors of
Like the Chase website, the Chase Mobile app will display the features of each ATM, such as its access options (like walk-up or drive-up), languages and hours.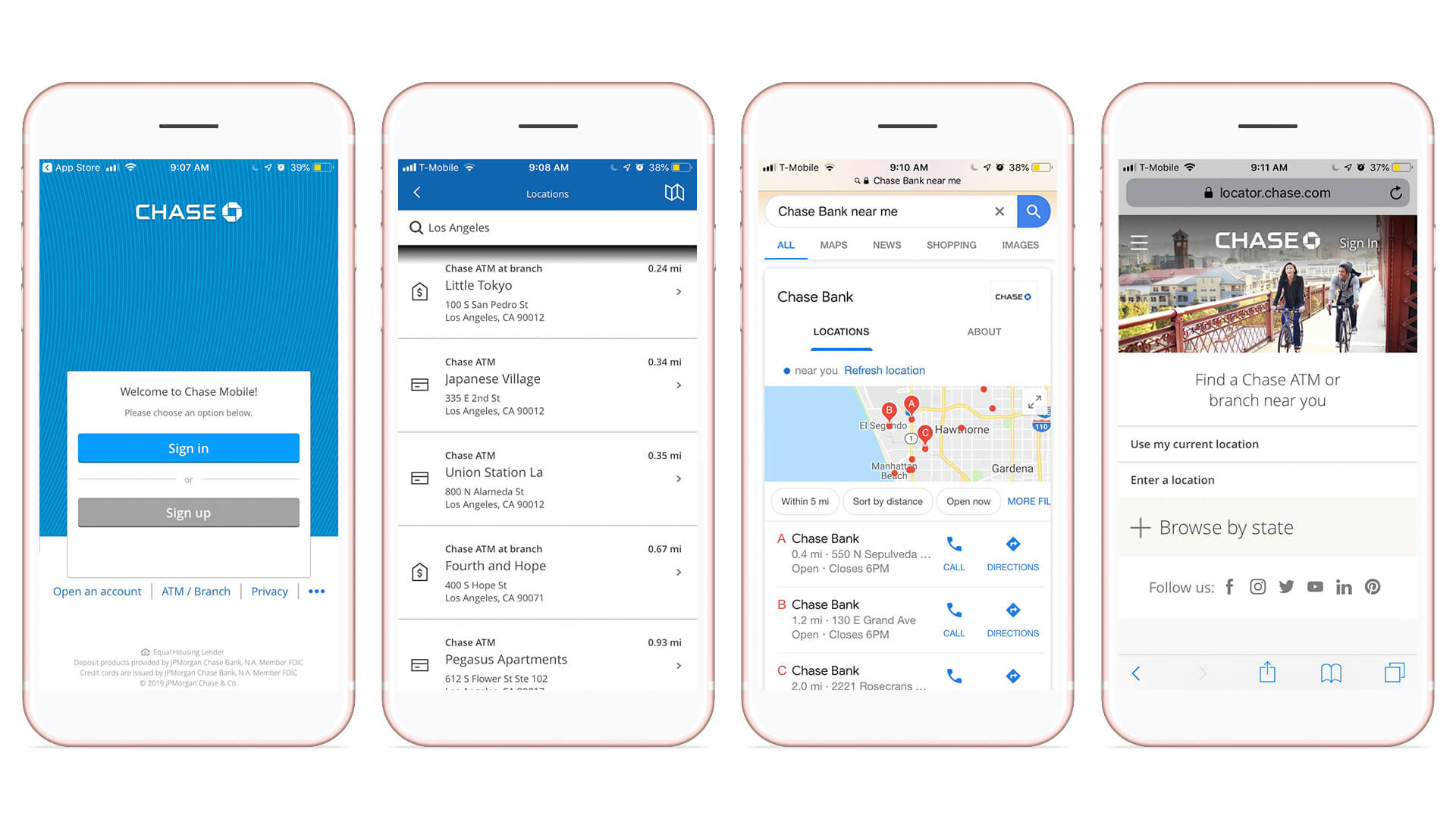 Using Google To Find Chase ATM Locations Near You
Google's interactive maps feature is simple to use. Just open Google in a browser on your phone or computer and search "Chase ATM near me." You'll be presented with a map like the one below.
You can use this feature to find directions to the nearest ATM or to be redirected to the Chase website. But no matter which search method you choose, you shouldn't have much trouble finding an ATM: Chase has 16,000 ATMs and close to 5,000 branches nationwide.
Sponsors of
To potentially save yourself a trip to the ATM, keep reading to find out how to use Chase QuickPay with Zelle.
More on Chase
More on Finding Banking Locations 
Erika Giovanetti contributed to the reporting for this article.
Editorial Note: This content is not provided or commissioned by the bank advertiser. Opinions expressed here are author's alone, not those of the bank advertiser, and have not been reviewed, approved or otherwise endorsed by the bank advertiser. This site may be compensated through the bank advertiser Affiliate Program.