How to Find Chase Bank ATMs Near Me
Locate a Chase ATM wherever you are with the mobile app, Chase's website or by phone.
Standard banking hours are a thing of the past, particularly if you are a customer at a major bank like Chase. It's now easy to find an ATM you can use for a variety of needs, including withdrawing cash, making deposits or checking your balance.
Follow these steps to use a computer or smartphone to locate your nearest ATM for Chase Bank.
How to Find a Chase Bank ATM Nearby
Not all Chase ATMs are created equal — some offer more services and accessibility than others. Chase's online services provide this information, so knowing what you need can shave some time off your search. Before you begin looking, identify what your needs are:
Are you looking for drive-up Chase Bank ATM locations?
Do you need an ATM that accepts deposits?
What language do you feel most comfortable conducting your financial business in?
Do you want to find a 24-hour ATM?
Related: ATM Withdrawal Limits at Chase and 49 Other Financial Institutions
Search for a Nearby Chase ATM Online
If you have a computer, you can easily find a Chase ATM near you. Just visit the Chase website, then follow these steps:
In the box under "Find a Chase ATM or branch near you," enter the ZIP code or street address for the area you want to search. You can also scroll down to search by state or find international banking services.
Click on "Search," which will take you to a page of locations.
Narrow your options on the left side of the location page. For instance, you can choose to search for a Chase ATM with 24-hour availability or drive-up access.
Choose a location and click the Chase logo that appears above it to view a page with information about the Chase ATM, including an interactive map. You can also request driving directions.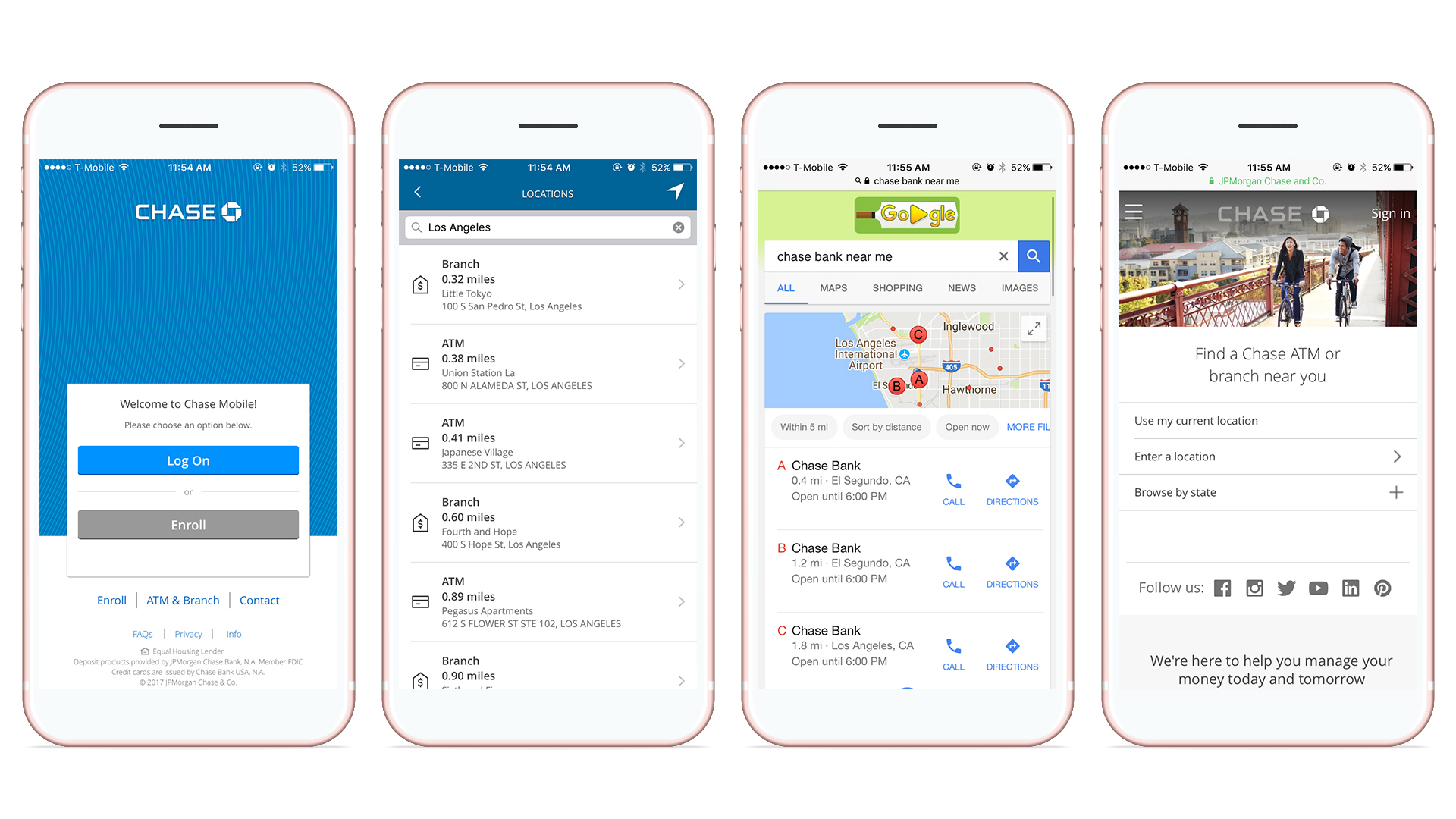 Find a Chase ATM With the Mobile App
If you're looking for a Chase ATM near you while you're on the go, try using the bank's mobile app. With a few taps, you'll be able to find one fast.
Follow these steps to use the Chase Bank app to find an ATM:
Download the app for your iPhone from iTunes or for your Android device from Google Play.
Open the app and click on the "ATM & Branch" link.
Enter the ZIP code or address information for where you want to find an ATM in the box.
Review the list of locations and select the one you want. Use the linked, interactive map to help you get there.
Find Out: What Is Chase QuickPay and How Do You Transfer Money With It?
Locate the Nearest ATM With Your Phone
If you prefer or need to contact Chase via phone to find ATM locations, call 800-935-9935 in the U.S. or call 405-935-9935 collect for international locations. When you call, pay attention to the automated menu instructions because Chase changes the options occasionally.
Follow these steps to call Chase for ATM locations:
Grab a pen and paper to write down the addresses of the nearest ATMs.
Dial the appropriate number. Once the system answers your call, you'll be prompted to enter your identifying information and PIN.
Press 2 when prompted, then press 4 for the ATM and branch locator.
Enter requested information and listen for a list of ATMs nearby.
Write down the address and end the call when you have the details you need.
Once you get familiar with these online and telephone services, finding a location should be straightforward. Then you can enjoy your ability to access your Chase account wherever you might be.
Up Next: Here's Your Chase Routing Number
Editorial Note: This content is not provided or commissioned by the bank advertiser. Opinions expressed here are author's alone, not those of the bank advertiser, and have not been reviewed, approved or otherwise endorsed by the bank advertiser. This site may be compensated through the bank advertiser Affiliate Program.