Here's Your Santander Routing Number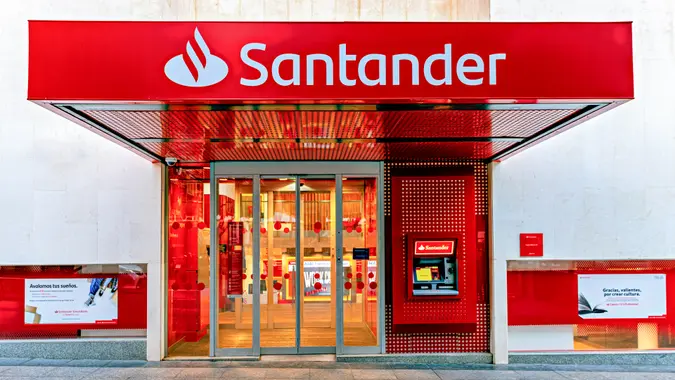 Lux Blue / Getty Images
Routing numbers are useful banking devices that designate where funds come from and where they go to during a wire transfer. When moving money between your Santander account and another bank, you'll need to know Santander's routing number.
What Is Santander's Routing Number?
Santander's routing number changes depending on where and when you opened your account. See the table below for a state-by-state breakdown of Santander routing numbers:
| State | Routing Number |
| --- | --- |
| Connecticut, Massachusetts, New Hampshire, Rhode Island — account opened on or before May 17, 2012 | 011075150 |
| Connecticut, Massachusetts, New Hampshire, Rhode Island — account opened after May 17, 2012 | 231372691 |
| Maryland, New Jersey, New York, Pennsylvania, Delaware | 231372691 |
Santander notes on its website that you can tell your routing number by how many digits your account number has:
011075150 for 11 digits
231372691 for 10 digits
What Is a Routing Number?
Routing numbers are made up of nine digits that banks use to identify each other during transactions. The American Bankers Association created routing numbers, also called ABA numbers, to verify checks at processing endpoints.
Since then, the routing number's role has expanded to "designate participants in automated clearinghouses, electronic funds transfer and online banking," according to the ABA.
Banks Can Have Multiple Routing Numbers
Yes, banks can have multiple routing numbers, as Santander proves. Some banks acquire additional routing numbers through acquisitions and mergers. When banking with an institution that has multiple routing numbers, it's important to know which one is associated with your account.
How Do You Find a Routing Number on a Check?
You can find the routing number on your check by looking in the bottom-left corner of the check. It's next to your personal account number. Don't confuse the routing number with your account number — remember that the account number is 10-12 digits and the routing number is only nine.
Different Routing Numbers for International Wire Transfers
SWIFT codes are the international equivalent of routing numbers. You'll use these when transferring funds to or from a bank outside the U.S. Santander's SWIFT code is SVRNUS33.
SWIFT codes are broken down into three portions:
Bank code: First four letters
Country code: Next two letters
Location code: The last two digits or letters
Some SWIFT codes contain an additional three digits or letters called the branch code, which just identifies a bank's particular branch.
Information is accurate as of Jan. 26, 2023.
Editorial Note: This content is not provided by any entity covered in this article. Any opinions, analyses, reviews, ratings or recommendations expressed in this article are those of the author alone and have not been reviewed, approved or otherwise endorsed by any entity named in this article.