Here's How Much Money Gen Z vs. Millennials Have in Their Checking Accounts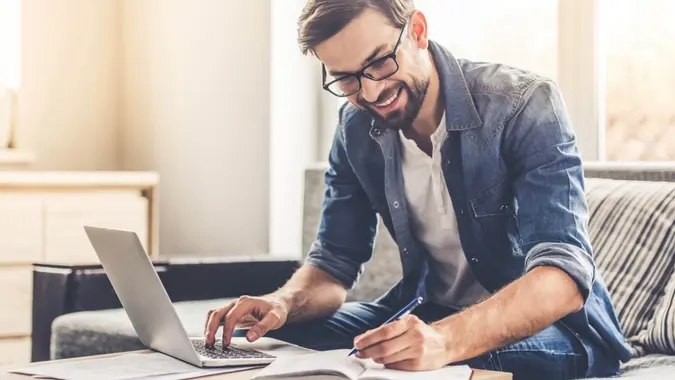 George Rudy / Shutterstock.com
A lot has been written about the financial lives of millennials and Gen Zers, as if the two generations are monoliths that operate in lockstep. But in terms of money management, there's a vast gulf between your mid-20s and early 40s — and millennials can fall anywhere within that range.
See the List: GOBankingRates' Best Banks of 2023
More: What To Know If You Deposit More Than $10K Into Your Checking Account
To get a more nuanced perspective, GOBankingRates asked 1,000 adults about their banking habits and filtered the results by the different age groups within the two broad categories of Gen Z and millennials. The results revealed some important differences, but also plenty of similarities — especially regarding how young adults manage their checking accounts.
A Checking Account for Every Age: Groups Within the Groups
To better understand today's age-based banking trends, the study asked about the minimum balance that people keep in their checking accounts and broke down the results into the following three sets:
18-24: The youngest Gen Z adults
25-34: Older Gen Zers and younger millennials
35-44: Older millennials and the youngest Gen Xers
Earn Perks With A New Checking Account
Roughly the same percentage of the second two groups — a little more than nine out of 10 each — reported having checking accounts. But only about 81% of the youngest adults in the first group can say the same. So, keep in mind when reading that roughly one in five young Gen Zers don't even have a checking account as part of their daily financial lives.
Barely Anything Is Par for the Course
The largest plurality among all three groups reports keeping a minimum balance of $100 or less in their checking accounts — 34% of young Gen Zers, 40% of young millennials and 36% of older millennials.
Another 26%, 24% and 17%, respectively, maintain a minimum of $500 or less.
Another 12%-16% of each keep up to $1,000 in checking, 10%-11% keep up to $1,500 and small percentages in the single digits maintain a checking account balance of $1,500-$2,000.
Although 9%-13% of all three groups have at least $2,000, it's impossible to ignore the study's biggest revelation. Over half of all Gen Zers and millennials — well over half for the two youngest segments — have less than $500 in their checking accounts.
Take Our Poll: Are You Concerned About the Safety of Your Money in Your Bank Accounts?
Earn Perks With A New Checking Account
So, How Much Should They Have?
Unfortunately, there is no secret formula that everyone can follow to nail down the right dollar figure for a healthy checking account balance. There are guidelines, though, and at a glance the three age groups within the Gen Z and millennial generations are way off.
"While there is no 'right' amount of money to keep in your checking account, you should keep enough to cover bills and expenses for at least two months if you can," said Sacha Ferrandi, founder of Source Capital Funding in San Diego. "You should also keep enough in your checking account to cover any automatic payments like your mortgage or rent, bills, car payments and more."
Not Enough Is Better Than Nothing at All
Since checking withdrawals and debits are sporadic and inconsistent, experts recommend adding a little extra to avoid overdrawing and bouncing checks. Maybe $500 or even $100 would be enough for that cushion, but it's not nearly enough for the entire balance of an account meant to handle all your transactions in a given month.
Earn Perks With A New Checking Account
But the 50%-plus among all three age groups who have $500 or less are still in better shape than the one in five young Gen Zers who forgo checking accounts altogether.
"There are several risks to not having a bank account at all," said Ferrandi. "For one, you limit your access to financial services and will have difficulty building credit and tracking your expenses. No bank account may also mean higher fees for financial transactions. Alternative financial services like payday lenders or check cashing stores charge high fees for their services, whereas with a bank, much of these processes go free of charge. Without an account, you also have lowered security — with a bank, your funds and assets are protected by the FDIC. Without an account, you're left without options should something happen to your money."
So, Why Are Their Checking Accounts so Thin?
Running a lean checking account is one thing, but anemic is a more fitting description for the accounts of young adults across the spectrum.
There are undoubtedly many contributing factors that are as unique as the individuals who participated in the survey, but one reason could be that they simply don't know the basics that Ferrandi outlined.
"One of the reasons why young adults don't have enough money is the lack of financial literacy or skills needed to effectively manage their finances," said Aurelie Biehler, CEO of Memoria and a former financial expert with Morgan Stanley and IBM.
It might also be that such a large percentage of the youngest adults don't have checking accounts because they opt for emerging technologies designed for their demographic instead of traditional banks.
"Neobanks and investment apps have become increasingly popular among young adults because of their user-friendly interfaces, low fees, and convenience," said Biehler. 
When it comes to experimenting with these kinds of banking alternatives, young adults should be willing but wary.
"These platforms may not offer the same savings and investment opportunities as traditional banks, which could limit young adults' ability to grow their savings over time," said Biehler. "It is crucial for young adults to prioritize financial literacy and develop a solid financial plan that includes both traditional and alternative financial tools to help them achieve their long-term financial goals."
More From GOBankingRates
Earn Perks With A New Checking Account