How To Set Up Wells Fargo Direct Deposit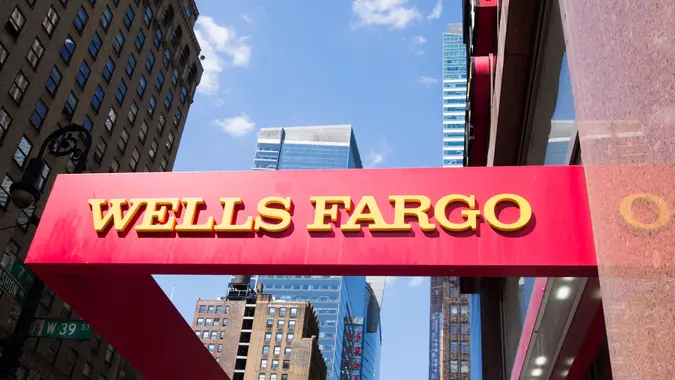 wdstock / Getty Images
Opting to use direct deposit instead of requesting a paper check has advantages such as convenience, security and reliability. It's also popular. According to a 2020 survey by the American Payroll Association, almost 94% of more than 34,000 respondents stated they receive their paychecks by direct deposit.
Wells Fargo customers can also take advantage of this payment method. Discover how to set up Wells Fargo direct deposit to better manage your finances.
What Is Direct Deposit?
Direct deposit is a simple and cost-effective way for employers, government institutions and other agencies to pay you electronically using your bank account information and your bank's ABA routing number.
Good To Know

A routing number is a nine-digit code that identifies your bank. You can find it printed next to your account number on the bottom of your checks or ask your bank for the number. Wells Fargo also has an online routing number lookup that gives you your routing number after you answer just a few questions.
Earn Perks With A New Checking Account
The following types of payments qualify for direct deposit:
Paychecks from your employer
Benefits from the federal government, including Supplemental Security Income, veterans benefits, Social Security and civil service checks
Benefits from state government agencies, such as pensions, retirement funds or unemployment checks
Investment income, like profits from certificates of deposit, mutual funds and annuities
How To Set Up Direct Deposit With Wells Fargo
Follow these steps to set up Wells Fargo direct deposit:
Use the pre-filled Wells Fargo direct deposit form. Sign in to your Wells Fargo account and select the account you want the direct deposits to go in. With this method, Wells Fargo will automatically enter your account number, routing number and account type in the appropriate fields on the form.
Fill out the Wells Fargo direct deposit form by hand. Download the blank Direct Deposit/Automatic Payment Information Form. Manually write in your name, account number and routing number and select the account type.
Print out the completed form and give it to your payroll department or HR representative. You might have to fill out a separate direct deposit form for the organization's records or provide a Wells Fargo voided check to process your request. Here's how to get a Wells Fargo voided check: Remove a check from your Wells Fargo checkbook and write "VOID" across the check in large letters, but make sure not to write over the numbers at the bottom of the check.
Verify that the direct deposit has taken effect. Log in to view your account or set up free alerts within your account that notify you when the first direct deposit posts. It might take one to two pay periods before the process is complete.
With direct deposit from Wells Fargo, your money will be automatically deposited and available the same day. If you have questions, call Wells Fargo customer service, which is available 24/7, at 800-869-3557.
Wells Fargo Direct Deposit Time: When Does It Go Through?
Wells Fargo direct deposit times can vary — there is no specified Wells Fargo direct deposit time, nor does the bank provide a precise amount of time it takes for a direct deposit to post to your account. Wells Fargo does, however, state it will add the direct deposit amount to your available balance on the same day it receives the deposit. If deposited after the cutoff time or on a nonbusiness day, it will be credited on the next business day.
Earn Perks With A New Checking Account
You can sign up for online alerts and set up direct deposit notifications, which will notify you when your money is available.
Does Wells Fargo Process Direct Deposits on the Weekend?
Wells Fargo will process direct deposits on the same business day they're made. Wells Fargo's business days are Monday through Friday, except for holidays.
How Long Does It Take for a Wells Fargo Direct Deposit To Start?
Wells Fargo will process your direct deposits once the payer begins submitting them. So, the amount of time it takes for your Wells Fargo direct deposit to take effect depends on how quickly the payer (the organization paying you) takes to process your direct deposit request. This process usually takes one to two pay periods, but Wells Fargo warns this could take one to two months.
Does Wells Fargo Offer Early Direct Deposit?
Wells Fargo does not offer early direct deposit. All direct deposits received by 8 p.m. PT on a business day are processed and credited that day.
This content is not provided by Wells Fargo. Any opinions, analyses, reviews or recommendations expressed in this article are those of the author alone and have not been reviewed, approved or otherwise endorsed by Wells Fargo.
Earn Perks With A New Checking Account
This article has been updated with additional reporting since its original publication.
Earn Perks With A New Checking Account