Best Payment Apps To Send and Receive Money for 2023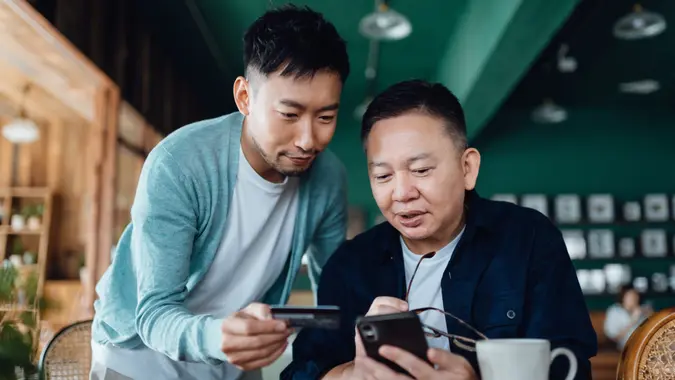 AsiaVision / Getty Images
Technology has changed the way people do just about everything, and managing money is no exception. Payment apps are arguably one of the most important technological innovations in the finance industry in the past decade.
These apps make it easy to send and receive money between friends and family, pay for goods and services and manage your spending. Some even allow users to invest or earn cash-back rewards on purchases, all from the palm of your hand.
5 Top Payment Apps To Send and Receive Money in 2023
Learn the key features and fees associated with these five great payment apps for sending and receiving cash.
1. Cash App: Best for Free Tax Filing
Founded in 2013, Cash App quickly became the go-to option for many people to transfer money. You can easily send and receive money between friends, but the app also goes above and beyond — you can even use Cash App to file your taxes.
Key Features
File your taxes for free.
Enjoy free online banking.
Enjoy exclusive discounts.
Buy, sell, send and receive bitcoin.
Buy, sell, send and receive stocks.
Fees
Instant Transfers: 0.5% to 1.75%
ATM Fee: $2.50
2. Google Pay: Best for Android Users
Google Pay is Google's digital wallet product. Although the app is available for both Android and iOS users, it's naturally best for Android users, as Android is also a Google product. You can easily send and receive money between friends and keep track of all of your financial accounts on the app.
 Key Features
Create groups to split expenses like dinner, rent, utilities and more.
Keep all of your cards and account information in one place for easier management.
Easily track your spending patterns and find opportunities to save.
Search for specific transactions.
Fees
Transfer Money: A 1.5% fee applies when you transfer money out of your Google Pay balance to a debit card. Standard bank transfers are free.
3. PayPal: Best for Online Shoppers
PayPal is a pioneer in the fintech industry. The company was one of the first payment apps and easily the most successful early on. Today, this solution is the best for you if you shop online because of its widespread availability. The vast majority of e-commerce websites operated in the United States accept PayPal.
Key Features
There is widespread acceptance among e-commerce websites. 
You can send and receive money internationally. 
Enjoy cash-back rewards when you shop with select merchants. 
There are buy now, pay later options with most merchants that accept PayPal. 
Get a Cashback Mastercard.
Fees
Send Money Using a Debit Card: 2.9%
Send Money Internationally: 5%
4. Zelle: Best for Direct Bank Transfers
Zelle is a fast, free and easy way to send and receive money between friends and family. You may already be familiar with the brand, as it has partnered with major banks like Wells Fargo, Chase and several others. In fact, the Zelle money transfer features are available at more than 1,700 financial institutions. 
Key Features
Send and receive money directly to and from your bank account.
Use the app to send and receive money even if your bank doesn't offer the service.  
Send and receive money using an email or phone number.
Fees
Zelle doesn't charge any fees to use its service. Although, your financial institution may charge a fee when you do.  
5. Venmo: Best for Splitting the Bill
Founded in 2009, Venmo hit the scenes even before PayPal. The company quickly grew to become a top choice among users looking for peer-to-peer payment options. Today, Venmo remains one of the best peer-to-peer payment solutions.
Key Features
Easily split expenses like bills, dinner or even a trip to Las Vegas.
Get 3% cash back for purchases in the category in which you spend the most with the Venmo Credit Card.
Accept payments for your side hustle.
Fees
Send Money Using a Credit Card: 3%
Cash Payroll Checks: 1%
Cash Non-Payroll Checks: 5%
Instant Transfers: 1.75%
Final Take
Mobile payment apps make it easy to send and receive money, pay on the go, earn rewards and more. Use the apps above to send money quickly and securely while taking advantage of other exciting features.
FAQ
It's normal to have questions before you use any financial tool -- payment apps are no different. Find the answers to the most common questions about the best payment apps below.
What are some four-payment apps?

Popular buy now, pay later solutions include Affirm, Afterpay, and "Pay in 4" by PayPal.
Four-payment apps are solutions that allow you to complete purchases in four monthly, interest-free installments rather than all at once.

Which is the number one payment app?

PayPal is the most popular peer-to-peer payment app around the world.

Which payment app is most secure?

All the payment apps listed above offer several security features that include two-factor authentication, account activity notifications and biometric scanning, such as face and fingerprint scans.
If security is your main concern, it's best to use an app like Cash App -- it allows you to send money via QR codes, which are inherently secure, adding another layer of protection to your transaction.

What apps are like Venmo?

Cash App, Google Pay, PayPal, Xoom and Zelle are all payment apps that function similarly to Venmo, although Venmo uses proprietary algorithms for data protection, as well as additional proprietary features, so no other payment app is exactly like it.
Information is accurate as of Feb. 17, 2023, and is subject to change.
Our in-house research team and on-site financial experts work together to create content that's accurate, impartial, and up to date. We fact-check every single statistic, quote and fact using trusted primary resources to make sure the information we provide is correct. You can learn more about GOBankingRates' processes and standards in our editorial policy.