How to Apply for a Target Credit Card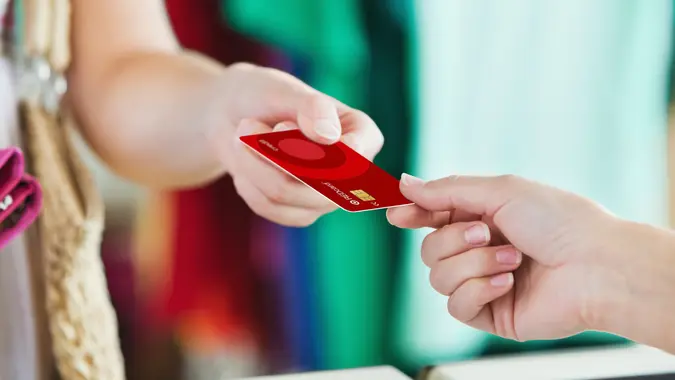 wavebreakmedia / Shutterstock.com
The Target RED credit card is a familiar sight to Target shoppers. The line of REDcards available from Target include a debit card and a credit card, the Target Mastercard. Target rewards all cardholders with discounts, free shipping, extended return periods, and advance notice on sales and other events. Customers who have a Target store credit card reap the additional benefit of paying for purchases over time. Here's what you need to know about how to apply for a credit card with Target.
Advice from CardCritics: Why It's Time To Ditch Your Store Credit Card
Applying for a Target Credit Card
The debit card approval process includes verifying an applicant's identity and bank information. Target credit card applicants must also meet credit and income requirements. You can submit a Target REDcard application online, by mail or in person. TD Bank will issue your card after your application has been approved. Here are three ways to apply for a Target credit card:
Apply Online for a Target Card
You can easily apply for a Target credit card online. Take advantage of this convenient option and follow these steps to apply online:
1. Gather your Social Security number, driver's license, state ID or military ID number, and gross annual income. 2. Navigate to the Target credit card application page at Target.com. 3. Complete each page by entering the required information, and click "Continue." 4. On the last page, click "Submit" after reviewing your information.
How to: Shop at Target — Without Buying the Whole Store
Apply in Person for a Target Card
You can apply for a Target credit card in person at your local Target using the steps below. Be sure to bring your driver's license.
1. Navigate to Target's Find a Store page, then enter your ZIP code or city and state to find your nearest store location. 2. At the store, have your driver's license handy. 3. Visit a store cashier and ask to apply for a Target REDcard. 4. Give the cashier your license, and receive instant credit approval if you qualify.
Learn: All the Benefits of the Target REDcard
Apply by Mail for a Target Credit Card
A third way to apply for a Target REDcard is by mail. Here's how to find and submit a paper application for a Target REDcard:
1. Get a paper Target REDcard application from your local Target store or navigate to a downloadable PDF version by clicking the "Apply by Mail button" on the Target REDcard website homepage. 2. Read the information page to review the card's annual percentage rate, late- and returned-payment penalties, and other conditions of applying for and using the card. 3. Complete the application in its entirety. 4. Mail the application to Target Card Services, to the address printed on the form.
By submitting a credit application, you give Target and TD Bank permission to look at your credit reports and verify your salary and employment information. Because decisions are based on creditworthiness, not all applications are approved. You can check the status of your application calling by Target Guest Relations at 800-440-0680 and selecting the option for questions about Target debit and credit cards.
If your credit application isn't approved, or if you prefer not to use credit, consider applying for a Target debit card. Whereas the Target credit card is useful for those who prefer to pay with credit, a Target debit card might be more appropriate if you want the option to withdraw cash at Target checkouts.
Keep Reading: Best Store Credit Cards