How To Make a Lane Bryant Credit Card Payment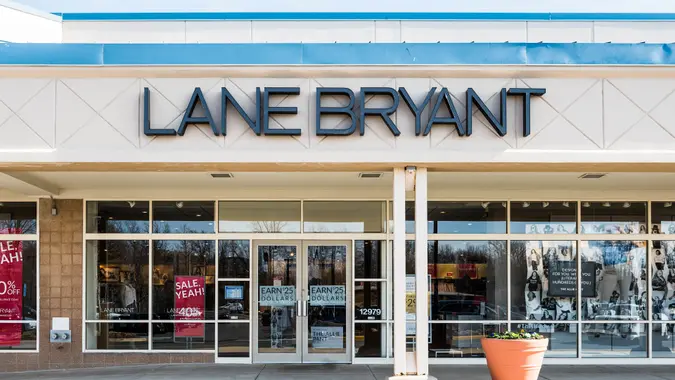 Andriy Blokhin / Shutterstock.com
Lane Bryant, established in 1904, embraces curvy women with elegant, trendy plus-size clothing designed with a flattering fit in mind. The brand's product line includes career and casual wear, athleisure, shoes, accessories and lingerie.
Frequent shoppers can benefit from getting a Lane Bryant credit card. The card, backed by Comenity Bank, comes with perks like free shipping on website purchases, birthday offers and rewards points. Cardholders earn points for each dollar they spend and can convert those points to cash rewards redeemable on future purchases.
Advice from CardCritics: Why It's Time To Ditch Your Store Credit Card
Whether you already have a Lane Bryant credit card or are planning to apply for one, it's important to know how to pay your bill. Comenity Bank gives cardholders several options for making payments: online, by mail or over the phone. Unfortunately, stores no longer accept payments.
How To Make a Lane Bryant Credit Card Payment Online
Making online credit card payments is convenient and fast. Before you can make an online payment, you'll need to register your credit card account. Here's how:
Click "Register for Online Access" on the Lane Bryant credit card account login page.
Enter your credit card number,  ZIP code and identification details.
Follow the prompts to complete the account setup.
After registering for an online account, you can log in to view statements, update personal information and make payments. However, you won't be able to use a debit card to make a payment. Here's how:
Gather your credit card account number, bank account number and bank routing number.
Go to the Lane Bryant credit card account login page.
Enter your username and password you created when you registered your account to sign in.
Follow the prompts to complete your payment.
How To Make a Lane Bryant Credit Card Payment by Phone
Another option is to make a Lane Bryant credit card payment by phone. Here's how:
Gather your account number or Social Security number and payment information to process the payment.
Call the automated system at 800-888-4163 and follow the prompts.
The system will provide you with your minimum payment amount and due date.
Note that a fee may apply if you request an expedited phone payment.
How To Make a Lane Bryant Credit Card Payment by Mail
If paying by way of the internet or over the phone is not for you, Lane Bryant accepts traditional mail-in payments by check or money order. Be sure to make at least the minimum payment and include your account number on your payment. Make the check or money order payable to Comenity-Lane Bryant.
Mail the payment to:
Comenity-Lane Bryant
P.O. Box 659728
San Antonio, TX 78265-9728
Late Fees
If your payment is late, you can still pay your Lane Bryant credit card bill through one of the available methods. However, a $29 late fee will apply. Additionally, if you were charged a late fee during the prior six billing cycles, a fee of up to $40 will apply.
This content is not provided by Comenity Bank. Any opinions, analyses, reviews or recommendations expressed in this article are those of the author alone and have not been reviewed, approved or otherwise endorsed by Comenity Bank.
This article has been updated with additional reporting since its original publication.