Which Generation Has Had the Most Success in Crypto?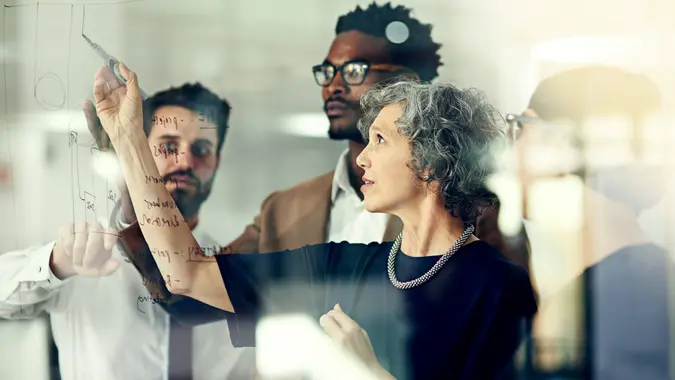 PeopleImages / Getty Images
If you had to guess which generation is experiencing the most success investing in cryptocurrency, chances are you might place your bets on Generation Z. In April 2022, GOBankingRates surveyed 1,037 Americans aged 18 and older across the United States to learn if they invest in crypto and if so, how much have they profited from digital currency.
Cash App Borrow: How To Borrow Money on Cash App
SNAP Schedule 2022: May Payments
Survey findings revealed that nearly 36% of investors between ages 18 to 24 and 34% of investors ages 45 to 54 have made at least $5k off cryptocurrency. Using the findings from our survey, here's a breakdown of each age group that has been investing in cryptocurrency and their profit earnings.
Ages 18 to 24
Respondents between the ages of 18 to 24 are investing in cryptocurrency for the long haul. Findings from our study report that a little over 45% of respondents have been investing in crypto for one to two years. An overwhelming 75% surveyed are investing in bitcoin, often referred to as "digital gold" in the crypto industry.
The earnings for this age group are steadily rising as well. While 32% of respondents report earning a little under $500 from crypto investments, slightly over 20% have earned nearly $5k in profits. Nearly 17% report profits in the $5k to nearly $10k range, too.
While time will only tell how much this age range stands to earn in crypto investments, an increasing number of respondents are prioritizing crypto investments. 30% have been investing in crypto for six months to a year while a little over 20% of respondents have started investing in crypto over the last six months.
Find Out: 6 Alternative Investments to Consider for 2022
Ages 25 to 34
The length of time respondents between ages 25 to 34 have been investing in crypto is creeping upward. 40% of respondents have been investing in crypto for one to two years while a little over 22% have been investing for two to five years. 
How has that extra amount of time spent in the crypto space paid off? 20% say they have profited $500 to $1k while another 20% have profited $1k to nearly $5k in all-time crypto investments. And a little over 35% of respondents surveyed reported earning a little under $500.
As these earnings gradually rise, it's interesting to note how crypto investors in this age group are diversifying their crypto investments. 80% of investors are still investing in bitcoin, but nearly 48% are investing in ethereum. 
Ages 35 to 44
Respondents in our survey between ages 35 and 44 have profited the least from cryptocurrency investing. Only 49% surveyed said they have earned under $500 in crypto through all-time investing. Trailing in second place are 19% of respondents that have earned nearly $1k through crypto. 
It's a bit difficult to track why this age range is lacking in crypto profits compared to other groups. One guess may be in investment timing. Nearly 29% of respondents ages 35 to 44 have begun investing in crypto under six months, compared to age ranges like 25 to 34 where only 14% started investing in crypto under six months. And only 7% of ages 35 to 44 have been investing in crypto for the last two to five years, compared to 22% of ages 25 to 34 that have been investing for the same amount of years.
Ages 45 to 54
Crypto investments are making the biggest strides forward with ages 45 to 54. 
While 37% of this age group has made at least $500 in crypto profits, their percentages continue to steadily tick upward. 12.50% have earned nearly $5k in crypto investments, while another 12.50% have earned between $5k to almost $10k in profit. And still another 12.50% have earned $50k or more through crypto investments — the highest earnings out of anyone surveyed! 
Ages 55 to 64
A little over 44% of respondents in our survey between the ages 55 and 64 reported earning between $500 to $1k in crypto investments while 22% have hit the $5k profit mark. Like most age ranges, bitcoin continues to be the most popular crypto investment at 88.89% with Ethereum at 33%. The main goal for crypto investments for ages 55 to 64, according to 50% of respondents, is to diversify investing portfolios.
Ages 65 and Over
Where do ages 65 and over stand when it comes to investing in cryptocurrency? Quite well, as it turns out! 33% of respondents surveyed reported earning under $500 in crypto with another 33% earning nearly $1k. 22% have profited, all-time, $5k to nearly $10k while 11% are profiting $10k to nearly $50k in crypto investments. 
Similar to other age range respondents, 66% of ages 65 and over are investing in bitcoin with 22% in Ethereum. But, another 33% have classified their crypto investments under "other" and we can't help but be curious as to what these other types of crypto investments are and how much they are allowing investors to profit.
More From GOBankingRates