Instacart IPO: What Investors Should Know and How To Buy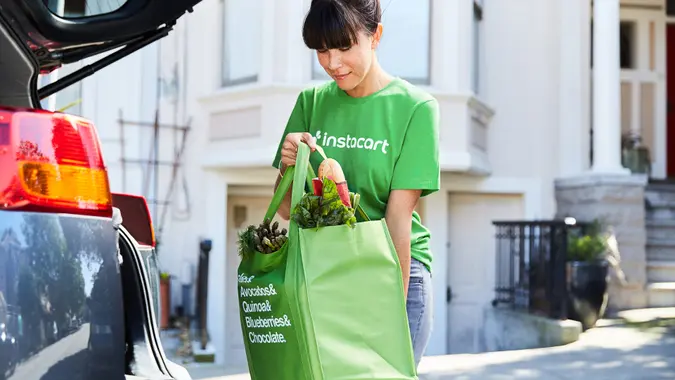 ©Instacart
If you didn't know what Instacart was prior to the COVID-19 pandemic, chances are you've heard of it by now – and maybe even used it to have groceries and household supplies delivered to your home.
Having acquired a host of new customers and garnered fresh attention by delivering groceries to millions of customers in lockdown, online grocer Instacart is poised for its next chapter. Rumor has it that the company is considering going public — potentially without raising capital through a stock sale.
Fresh off of a recent fundraising effort that infused the company with $265 million in new capital, Instacart is said to be considering a direct listing as a way of going public without being tied down to a pricing process that could potentially undervalue the company.
What Is Instacart?
Instacart bills itself as the world's largest online grocery service — and says that it serves millions of American and Canadian customers in more than 5,500 cities and 40,000 stores. It boasts 500 million products for sale across a bevy of retailers, including but not limited to Bed Bath & Beyond, Best Buy, Costco, CVS, Dick's Sporting Goods, Kroger, Petco and Publix.
Groceries and Goods for Pick Up or Delivery
Consumers have a couple of options using Instacart: pick-up and delivery. After downloading the Instacart app and completing the sign-up process, the customer sees a list of retailers that sell through Instacart in the customer's zip code.
From there, a customer selects the retailer they want to order from — for example, Costco or Kroger — and begins to search that retailer's inventory on the Instacart app. Items of interest get added to the customer's shopping cart and at checkout, the shopper chooses to either pick up the order, if the service is available, or schedule delivery.
Customers are allowed to specify whether they want a replacement or a refund for any unavailable items, as well as schedule a delivery tip.
Instacart's Role in Changing Grocery Shopping Trends
Although grocery delivery had been an option available to consumers for several years before COVID-19 struck, the pandemic prompted waves of new customers to try the service.
Instacart began making news for being a part of how consumer habits were transforming at a rapid-fire pace, and Instacart itself produced similar insights. The company surveyed more than two thousand U.S. adults with help from The Harris Poll and found that nearly half of all Americans — 48% — ordered some groceries online in the grips of a pandemic.
Growth Under Fire
As both consumers and investors might expect, Instacart has paid a price for its recent growth. After millions of consumers went into coronavirus lockdown, Instacart found itself in a prime position for that growth, but without the necessary resources.
Instacart hired 300,000 new shoppers quickly and hustled to re-calibrate its machine learning models after the pandemic forced completely new customer habits.
It wasn't enough, however, to keep service issues at bay and more recently, complaints began to emerge from Instacart shoppers — who essentially operate as independent contractors — whose work accounts had been deactivated without notice or much explanation.
An Increasingly Competitive Climate
Online grocery ordering has been a growing business for some time, with stealthy competitors like Amazon Fresh, FreshDirect and Shipt well-entrenched by now. More recently, Uber unveiled plans to compete with Instacart via Uber Grocery.
Considerations Before Investing in Instacart
If Instacart goes public, investors should be informed about these ongoing developments:
1. Instacart Continues To Invest in Its Product
The company has continued to invest in itself throughout the COVID-19 pandemic, giving retail brands control over their product information on the app. Instacart also has a new partnership with The Container Store to offer same-day pick-up or delivery for customers eager to improve their homes.
2. The Competitive Climate Is Likely to Heat up Further
A recently leaked Walmart memo revealed just how tight the grocery delivery market is — and how concerned the giant retailer is about competing with Amazon, Instacart and Target. Although that may appear to be positive news for Instacart, it may also indicate an intensifying battle for market share.
3. No One Knows What Consumer Habits Will Look Like Post-Pandemic
Will consumers continue to buy groceries and goods online at the same rate that Instacart observed during the COVID-19 pandemic? That still remains to be seen.
Where To Buy Instacart Stock, if It Becomes Available
If you're interested in investing in Instacart when it unveils its initial public offering, you should be able to buy it with any brokerage firm that offers individual stock trading. Make sure that you've established a brokerage account and learn about any account requirements that will apply, such as minimum balances.
Tried and Proven, With Much Left To Do
For months, Instacart has been a staple for millions of families, ensuring grocery deliveries on a routine basis. The company sits in the limelight still, with competitors and investors awaiting its next move.
Good To Know

Some brokerage accounts, such as robo-advisor Acorns Invest, operate in the same way as typical brokerage accounts but don't allow for trading of individual stocks. A 401(k) will likely restrict individual stock purchases as well, so know which avenues are available to you for stock purchases.
Regardless of what happens next, it seems clear that opportunity exists in the online grocery space — for Instacart, for its competitors, for consumers who have rapidly changed their habits and for investors who want to capitalize on that change.
For Instacart, the question might be — if nearly half of Americans have ordered groceries from the app in the last year, how many of those might want to buy stock, and at what price?
Frequently Asked Questions
Here are answers to some frequently asked questions you should know about Instacart's IPO.
How much is Instacart worth?
Instacart currently values itself at $39 billion, although there's speculation that Wall Street could value it at more than $50 billion.
How does Instacart make money?
Instacart offers a membership and assesses delivery and service fees, some of which are reduced for members. It distributes 100% of tips to its shoppers and delivery drivers.
When is the Instacart IPO?
At present, Instacart's plans are unknown. The company may be considering going public later this year via a direct listing or an initial public offering.
Our in-house research team and on-site financial experts work together to create content that's accurate, impartial, and up to date. We fact-check every single statistic, quote and fact using trusted primary resources to make sure the information we provide is correct. You can learn more about GOBankingRates' processes and standards in our editorial policy.