Sen. Orrin Hatch's Side Gig Income Will Surprise You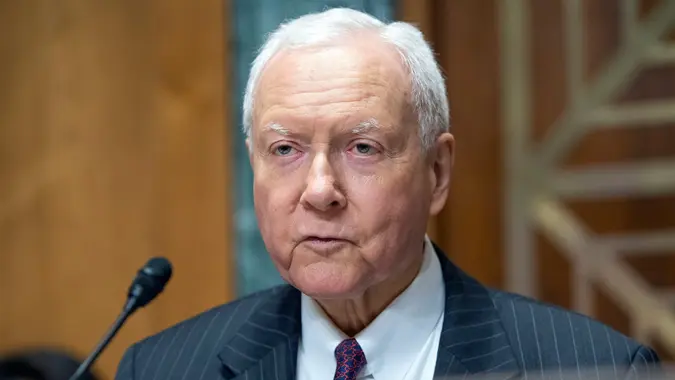 REX / Shutterstock.com
Sen. Orrin Hatch has made news both for his position on the Senate Judiciary Committee — putting him right in the thick of the drama surrounding Supreme Court nominee Brett Kavanaugh — and also for comments like saying President Donald Trump "may have to give up those [tax] returns" in response to the New York Times expose that alleged Trump's family dodged taxes in the 1990s.
Of course, for long-time followers of American politics, Hatch's name is nothing new: He has been serving as a Utah senator for over four decades. But Hatch's planned retirement after completing his current term in 2018 — and his references to Trump's finances — presents an opportunity to take a look at how he has leveraged his political career to build wealth and how he'll make money during retirement.
Click to read more about the richest politician in every state.
Orrin Hatch Net Worth: $1.5M-$6.7M
Orrin Hatch's 2017 personal financial disclosure reveals he has maintained smart financial habits, as he has at least $1.5 million to his name between assets he holds personally and those held jointly with his wife, Elaine Hansen Hatch.
His joint holdings with his wife represent the largest portion of his holdings, accounting for $1.3 million to $5.7 million. Most of that money is held in a trust agreement worth between $1 million and $5 million that produced between $50,000 and $100,000 of investment income last year.
Related: Trump, Putin and the Richest World Leaders, Ranked
As for assets held specifically by Hatch or his wife, Hatch has between $284,000 and $985,000 — mostly in mutual funds — and his wife Elaine holds between $252,000 and $531,000, with almost all of that being held at Edries N Hansen Properties, LLC.
Make Your Money Work Better for You
Orrin Hatch's Side Gig in Music
Hatch's income statements  produce some interesting insights, namely that the senator might have given up a potential career as a professional songwriter. In 2017, Hatch took in nearly $4,000 in song royalties from six different companies. Royalties fluctuate though — in 2005, for example, he earned nearly $40,000 in royalties, according to The New York Times.
Hatch has written hundreds of songs in the past two decades, including a song about Sen. Ted Kennedy called "Headed Home" and patriotic songs. In Sept. 2018, he channeled his love for music and understanding of the music industry to push the Music Modernization Act through the Senate. He co-wrote the bipartisan bill to "help songwriters be paid fair market value for their work," according to his website.
Read: How Cory Booker Became a Millionaire Through Politics and Investing
Sen. Hatch's Political Legacy as Retirement Nears
Orrin Hatch was born in 1934, the great-grandson of the man who founded what is now Vernal, Utah. He worked in metal lathing early in life and was a member of the AFL-CIO, working his way through college at Brigham Young University, where he earned a degree in history and graduated in 1959.
After receiving a full honors scholarship to the University of Pittsburgh Law School, he worked nights to support his family before graduating with his Juris Doctorate in 1962 and practicing as an attorney in Pennsylvania and Utah.
Hatch entered and won the 1976 senate race in Utah and was re-elected to seven terms — serving the state for over 40 years.
Make Your Money Work Better for You
Click through to read more about the money behind Trump's cabinet and advisors.
More on Politicians