Here's Your East West Bank Routing Number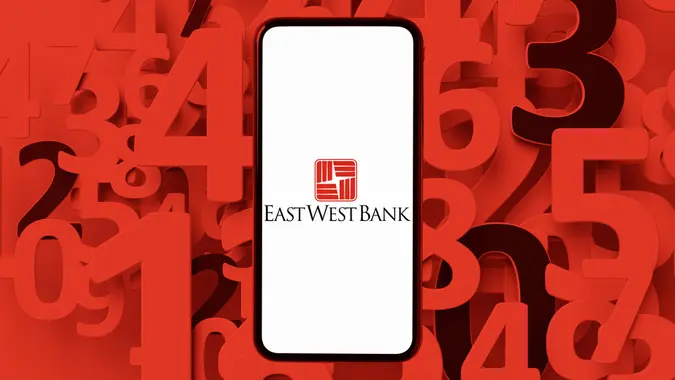 If you're a customer of East West Bank, you'll want to know the bank's routing number when it comes time to make a wire transfer or order new checks. Routing numbers identify individual banks and help facilitate transactions. Keep reading to learn what East West Bank's routing number is and how to use it.
East West Bank Routing Number
East West Bank's routing number for ACH Transfers and Wire Transfer is: 322070381. East West Bank has only one routing number you'll need to remember This is the number you'll use to set up a wire transfer, pay a bill online or over the phone, and order new checks.
What Is a Routing Number?
A routing number is a nine-digit security feature used to identify the banks in a money transfer. The number confirms that the bank is chartered by the state or federal government and has a Federal Reserve account.
The American Bankers Association introduced routing numbers more than a century ago to identify check processing end points, which is why they're also known as ABA numbers. Nowadays, routing numbers serve a variety of different purposes that go beyond their original intention.
Can Banks Have Multiple Routing Numbers?
Although East West Bank has only one routing number, plenty of banks have multiple routing numbers. Large national banks such as Wells Fargo, Citibank and Bank of America might have dozens of routing numbers because of their wide geographic reach and history of mergers and acquisitions. Some banks have multiple routing numbers for different states, while others have separate routing numbers for wire transfers and automated clearing house transactions such as direct deposits.
How Do You Find a Routing Number on a Check?
You can find your routing number in the lower left corner of your check, just before the account number and individual check number. The routing number is nine digits long and printed first.
What Is the Routing Number for International Transfers?
SWIFT codes are used in international wire transfers instead of routing numbers. Here's the info on East West Bank:
East West Bank SWIFT Code
EWBKUS66
You can think of SWIFT codes as worldwide routing numbers. They function the same way by identifying financial institutions involved a transfer, only for international rather than domestic transfers.