Here's Your US Bank Routing Number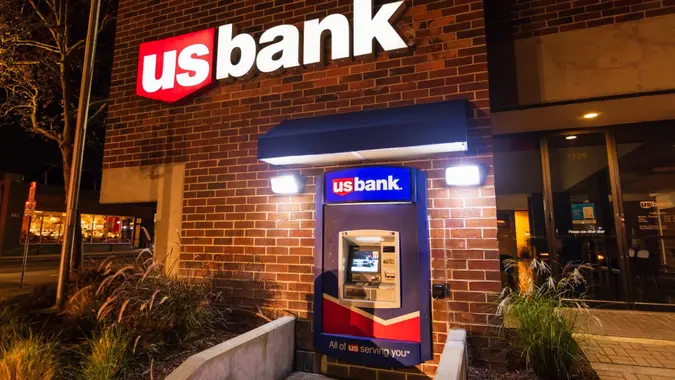 Sundry Photography / iStock.com
If you need to find your U.S. Bank routing number in a hurry and don't have your checkbook handy, don't worry. Consult the table below, which shows each U.S. Bank routing number for every state and its regions.
US Bank Routing Numbers by State
You can use your routing number to set up bill payments online, transfer funds and more. The following information explains why banks use routing numbers and how to find the routing number you need.
What Is a Routing Number?
Routing numbers, also known as ABA transit numbers, identify specific federal- and state-chartered financial institutions so that when people conduct banking transactions, their money goes to the right place. The American Bankers Association established the ABA number in 1910.
Each routing number is comprised of nine digits that serve as an identifying code for financial transactions. The first four digits comprise the Federal Reserve routing symbol, the next four comprise the ABA institution identifier and the last represents a mathematical calculation that verifies the accuracy of the routing number.
How To Find Your US Bank Routing Number
There are a few ways to find a U.S. Bank routing number. If you remember which state you opened your account in, just use the chart above or simply follow the steps below.
If you have a U.S. Bank checking account, you can also find your routing number on a check — the routing number is the first nine numbers in the lower left corner. You might not have a check handy, however, so you can also call U.S. Bank at 800-872-2657 to find the routing number for your account.
If you are at all confused about which number to use, you should consider calling U.S. Bank because using the right number could mean the difference between your money going into the right or wrong account.
US Bank's SWIFT Code for International Wire Transfers
If someone is wiring money to you from another country, you must supply your specific information with U.S. Bank. You need to provide your U.S. Bank account number and your name as it appears on the account.
You also must use SWIFT code USBKUS44IMT, which is the U.S. Bank number for international wire transfers. A SWIFT code used for an international wire transfer is comparable to an ABA number used in a domestic banking transaction.
Use Accurate Routing Numbers for Successful Transactions
Using the right bank routing number is essential to expediting banking transactions and ensuring their accuracy. Errors in entering routing numbers for direct deposits can result in tax refunds being delayed or even being deposited in the wrong account, according to the IRS.
You can usually find your routing number on a check in the lower left corner, but you might not always have access to a check when you need your number. In that case, consult the chart above to help you find the routing number for the area where you opened your account.
Information is accurate as of Nov. 28, 2022.
Editorial Note: This content is not provided by any entity covered in this article. Any opinions, analyses, reviews, ratings or recommendations expressed in this article are those of the author alone and have not been reviewed, approved or otherwise endorsed by any entity named in this article.