Where Can I Cash a Check? The Best Places and Fees You Might Encounter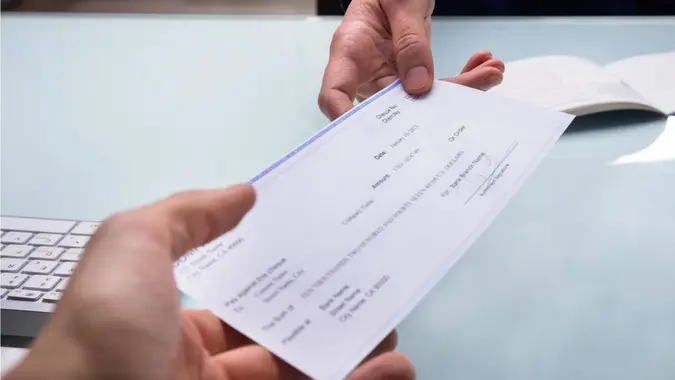 Approximately 5.9 million households are unbanked, which means they do not have an account at an insured financial institution, according to the Federal Deposit Insurance Corp's 2021 National Survey of Unbanked and Underbanked Households.
So where can you cash a check if you don't have a bank account or you simply can't get to a bank? Luckily, you can cash a check at a number of different places besides banks, including retail stores, check-cashing apps or check-cashing outlets.
Best Places You Can Cash a Check
Even if you don't have a bank account, you still have options if a paper check lands in your hands. First, learn how to cash a check. Then look at places you can go to cash it and find out about the typical fees, requirements and limitations involved.
Checkwriter's Bank
You can go to the bank or credit union the check is drawn upon to cash it. You'll find the name of the financial institution on the face of the check.
Follow These Steps:

Endorse the check by signing your name at the top of the reverse side.
Present it to a teller inside the bank or credit union for cashing.
You'll need to show your driver's license or some other form of acceptable identification.
Reading Checks
Here's a visual guide to help you read a check.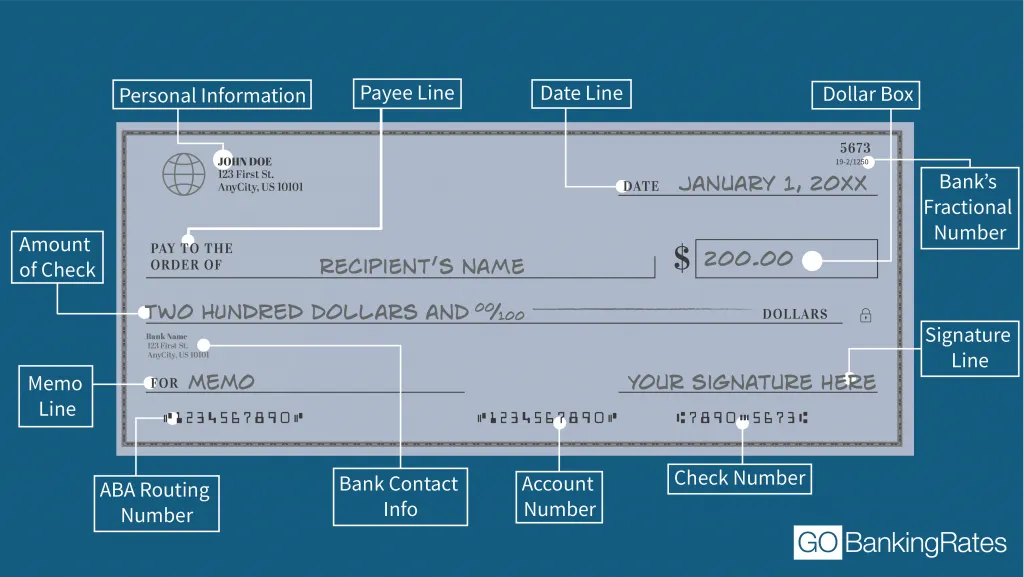 Fees
Note that many banks charge a fee for cashing a check if you aren't an account holder there, like the following:
Bank of America, Member FDIC: $8 for checks greater than $50
Regions Bank: 1% of check amount — $5 minimum to $20 maximum — for checks over $25
Truist: $8 for checks greater than $50
Check-Cashing Apps
With check-cashing apps, you can load checks via your mobile phone whenever you need to. You can send the funds to a connected bank account, PayPal account or prepaid card. Once the funds hit your account or card, the money is all yours.
To get started, you'll need to download the mobile app and link it to an outside account or prepaid card. Select the mobile check load feature and follow the instructions. This includes taking pictures of the check.
Fees
Transaction fees and other costs and restrictions may apply and will vary according to the provider. Here are examples of what some providers charge:
Ingo Money (Standard):

2% for payroll and government checks
5% for all other checks
No fee with a 10-day wait

Ingo Money (Gold):
Netspend:

No fee with a 10-day wait
2% for expedited government and payroll checks
5% for all other expedited check types

 PayPal:

1% for payroll and government checks
5% for all other checks
No fee after a 10-day wait
Feature not available in New York
The minimum fee for each of these providers is $5.
Retail Stores
A bank isn't the only place you can trade a check for cash. Some stores, including supermarkets and discount department stores, will cash checks for individuals.
Here are some stores that offer this service, the types of checks, the maximum amount they will accept and the fees they charge.
Walmart
Kroger
Types of Checks Cashed
All preprinted checks, including payroll, government, tax, cashier's, 401(k), insurance settlement and two-party personal checks
Payroll, tax refund, government, insurance, business and child support checks
Maximum Amount of Check

$5,000 for preprinted checks
$200 for two-party personal checks

$5,000
Fees

Preprinted check up to $1,000: $4
Preprinted checks from $1,001 to $5,000: $8
Two-party personal checks up to $200: $6 or less

Checks up to $2,000: $4 to $4.50
Checks between $2,001 and $5,000: $7 to $7.50
Employer
Although direct deposit and payroll cards are popular ways for employers to pay employees, some employers might still hand out paper checks. In such cases, your employer may be willing to cash your check for you — with or without a fee. There's no harm in asking if your employer will cash your paycheck for you.
Check-Cashing Outlets
Cashing a check at a check-cashing outlet, such as The Check Cashing Store, ACE Cash Express or United Check Cashing, is likely the most expensive option. Instead of a flat fee, these stores charge a percentage based on the value of the check.
Good To Know

Percentage fees can add up quickly even when they're as low as 1% to 4%. For example, if you cash a $1,500 check, you could pay from $15 to $60 in fees, depending on the percentage the fee is based on.
If cashing your check at a check-cashing outlet is your only available option, call ahead to find out the fees. You might be able to save if you shop around.
Things To Consider When You Cash a Check
Cashing a check outside of a bank where you have an account involves a lot more than endorsing the check and handing it over to get fee-free cash. Here are some things to consider before you head to a retailer or check-cashing store to exchange your check for a pile of green:
Fees
Expect to pay a fee for check-cashing. Start by going to the issuing bank first. You can call ahead to check on possible fees if the bank is not nearby. If you don't want to travel to the issuing bank, look for a retailer that charges low fees to cash checks.
Documentation or Identification You May Need
You'll need at least one form of valid identification to cash your check at a business. Some businesses may require two forms of ID.
Here are some different types of documentation or identification you might need when you try to cash a check:
Driver's license
State-issued ID
U.S. passport
Military ID
Mexico Matricula Consular ID
Tribal ID
Green card
Resident alien ID
Types of Checks
You may not be able to cash certain types of checks, depending on where you go. For example, many retailers will happily cash payroll, government and tax refund checks, but they might balk when it comes to other types of checks.
Here's a list of check types that you might find difficult to cash:
Non-U.S. traveler's checks
Handwritten payroll checks
Insurance checks
Counter checks
Rapid refund tax checks
Credit card checks
Checks exceeding a certain dollar value
Multi-party checks
Postdated or predated checks
Starter checks
Benefits of a Checking Account Over Check Cashing
Having a checking account can provide you with a variety of benefits that cashing checks at retailers, check-cashing outlets or the checkwriter's bank can't. Plus, it's possible to open a bank account online. Here are a few benefits to consider:
No fees to cash a check
Options to make withdrawals, write your own checks, use a debit card or initiate digital transfers with your money
Record of the transactions you make with your pay
Faster access to your money by participating in direct deposit.
Depending on how often you find yourself needing to cash a check and access your money, it will likely be easier to open a checking account. This is especially true if you consider that you will no longer have to pay expensive check-cashing fees or travel to random check-cashing destinations. Many of the best checking accounts available have no fees.
Where Is the Best Place To Cash a Check?
The best place to cash a check is at your own bank. Cashing a check where you have a bank account can help you avoid unnecessary and expensive fees from check-cashing services and keep your money where it belongs — with you.
Even though it might seem convenient to cash checks at your local grocery or check-cashing store, you're undoubtedly spending more than you need to. For example, if you fork over a $4 fee each time you cash your biweekly check, which you'll get 26 times per year, you'll end up losing $104 per year minimum in check-cashing fees.
But it gets worse. If you pay a fee of 2% — which equals $30 on each $1,500 check — each time you take your biweekly check to the check-cashing outlet, you'll pay $780 in check-cashing fees per year. Handing over that $780 is the equivalent of flushing over half of one of your biweekly paychecks down the toilet.
Daria Uhlig contributed to the reporting for this article.
Information is accurate as of Feb. 27, 2023.
Our in-house research team and on-site financial experts work together to create content that's accurate, impartial, and up to date. We fact-check every single statistic, quote and fact using trusted primary resources to make sure the information we provide is correct. You can learn more about GOBankingRates' processes and standards in our editorial policy.