How Much Is a Walgreens Money Order?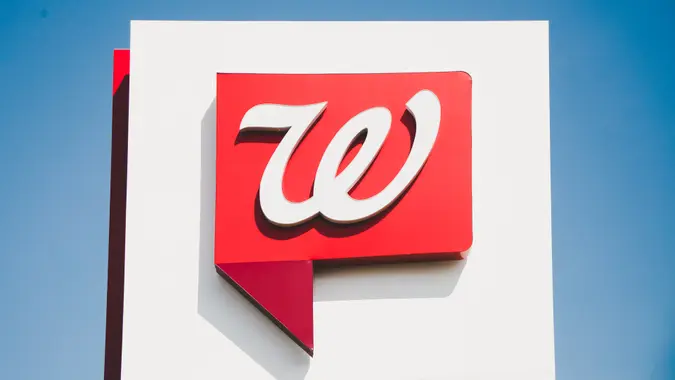 Sally Minnick / Shutterstock.com
Money orders are a safe way to send money to anyone in the world. They also guarantee payment to whoever you're sending your money to. Because money orders are paid for upfront — with either cash or a debit or credit card — you won't have to worry about being short on funds whenever your recipient cashes your money order. You also won't have to worry about sharing any personal banking information, like you would with a personal check.
Many grocery stores and retailers sell money orders, so it's natural to assume that Walgreens would do money orders as well. Although Walgreens does not sell any Walgreens money orders, you can get a Western Union money transfer at most Walgreens locations. Keep reading to find out how much a Walgreens money transfer is, as well as how to make and receive one. 
Earn Perks With A New Checking Account
Here's a quick preview of what you'll find in this guide to Walgreens money transfers:
Does Walgreens Sell Money Orders?
No, Walgreens does not sell money orders. It does, however, sell money transfers via Western Union. 
The difference between a money order and a money transfer is negligible. The only difference is where you get them and the amount caps — with money transfers typically having higher caps for sending money. Money transfers are still paid for upfront, with the amount you want to send plus any fees. The payment is still guaranteed to the recipient, and like money orders, money transfers are considered one of the safest ways to wire money. They are also both great ways to get and receive money when banks are closed. 
At Walgreens, you can send a money transfer of up to $6,000 and receive up to $300 per transaction. Compare those limits to a similar service, MoneyGram, which offers online money transfers at a limit of nearly $10,000 per month. 
Get Started: How To Fill Out a Money Order: A Step-by-Step Guide
How Much Does It Cost To Send a Walgreens Money Transfer?
Because Walgreens uses Western Union to send money transfers, you'll find that their fees mirror Western Union's. Unfortunately, Western Union's fees change daily and depend on which country you send money to. Don't think that domestic senders have a one-fee transfer either; domestic senders will also see fee price changes depending on which state they want to send their money to.
Earn Perks With A New Checking Account
Western Union does have a price estimator online, so you won't be subjected to doing guesswork. 
How To Send a Walgreens Money Transfer
So, you've decided how much you want to send and you've checked your fees. Sending a Walgreens money transfer is simple and takes no time at all.
First, make sure that the Walgreens you plan on using has money transferring capacity. You can do this with the Walgreens/Western Union locator.
Once you've done that, you can either go directly to your Walgreens or you can use the Western Union app to kick-start your money transfer. If you are a Western Union member, you may find using the app to be to your advantage, as Western Union has rewards for money transfers. If you decide to use the app, the Walgreens kiosk will have a convenient way for your app to link up with the kiosk.
Once you've decided to either use the app or the in-store kiosk, follow these next steps to ensure the smoothest money transfer.
Check Out: Cashier's Check vs. Money Order: Here's the Difference 
1. Gather Payment
Make sure you have enough money to cover the fees, as well as the amount you want to transfer.
Money transfers through Western Union allow you to use your cash, debit or credit card. You might find, however, that there is a higher fee when using your debit or credit card than there is when you use cash. That fee depends on your bank's fees regarding money transfers. 
Earn Perks With A New Checking Account
See: What Is MoneyGram and How Does It Work?
2. Collect the Information Needed
To send a money transfer, you'll need to provide a few basic pieces for information. 
Name

Address

Phone number

State-issued ID
You'll also need to provide the full name, address and phone number of the person receiving your money. 
3. Double-Check the Information
Before you pay for or sign anything, the kiosk will give you a pre-receipt which includes the information you've given, so you can double-check its accuracy. Maybe you got an address number wrong or you put a comma where a period should be. Either way, check for those mistakes. 
After you've double-checked your pre-receipt, you will pay upfront for your money transfer with your chosen method — either cash, credit or debit card. Remember to factor in your fees. Once you've paid for your money transfer, you will receive a final receipt with a 10-digit tracking number. Hold on to that number, as your recipient needs it. 
Alongside that tracking number, some states require that you include a private question and answer to make sure the transfer is doubly secure. For example, the question could be something like, "What color are my eyes?" Whatever answer you choose, your recipient will need to know it to be able to pick up the cash from Western Union.
4. Gather Information for the Recipient
To pick up the money you've sent, your recipient will need the following information:
Recipient's address

Phone number

State-issued ID

10-digit tracking number

Answer to the secret question, if applicable
What Hours Can I Send a Walgreens Money Transfer?
You can send money transfers 24 hours a day, seven days a week. Therefore, as long as your local Walgreens is open and is partnered with Western Union, you should be able to send a money transfer with no problem.
Does Walgreens Cash Money Transfers?
Walgreens does cash money transfers through Western Union. However, be warned that Walgreens can only cash up to $300 a transaction — even though you can purchase a money transfer up to $6,000. If someone is sending you more than $300, make sure to go to another Western Union location.
Learn More: Online Money Transfers, Your Complete Guide
Walgreens Money Transfer vs. the Competition
If you're wondering how Walgreen's money transfers stack up to those providing a similar service, check out this table for the details.
Walgreens vs. Competition
Service
Fees
Maximums

Walgreens Money Transfer

$0.99 and up

$6,000, but only up to $300 if receiving a money transfer

MoneyGram

$5 and up

Approximately $10,000 per 30 days

United States Postal Service money orders

$1.45-$1.95

$1,000
Note that while the 24/7 factor of Walgreens and Western Union money transfers is certainly tempting, the United States Postal Service provides the most bang for your buck. But that's only if you can make your local post office's open hours.
Is Walgreens the Right Place To Transfer Your Money?
Whether you want to send a money transfer through Western Union comes down to convenience versus cost. While it may be easier to send money with your debit or credit card rather than just cash, Western Union's fees can be steep — especially in comparison with the U.S. Postal Service. Make sure you look over all of your options before sending a money transfer. And, of course, make sure you know the person you're sending the money to; you don't want to be scammed. 
Click through to see details about free and easy money transfers from Zelle.
More From GOBankingRates
Information is accurate as of Jan. 18, 2022.
Earn Perks With A New Checking Account